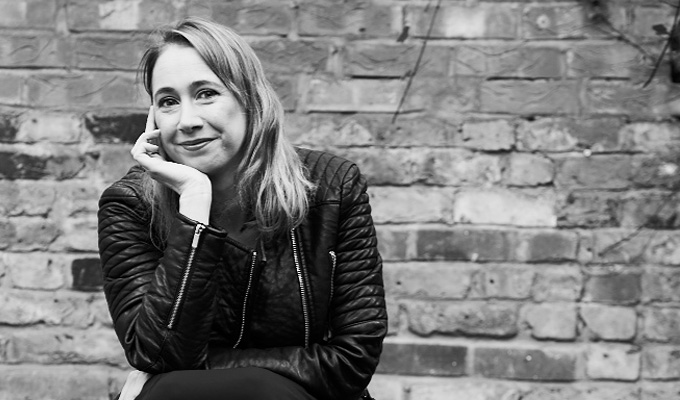 Tiff Stevenson: Mad Man
Note: This review is from 2015
With the gender pay gap and music videos still pandering to male fantasies of lipstick lesbians, this remains very much a man's world, as if conceived by some Madison Avenue exec from the 1960s. That's the premise of Tiff Stevenson's show and it's difficult to find fault as she rails against it, putting herself forward as a sexually confident, assertive woman in her thirties, challenging the existing order.
The shining apex of misogyny for her is not Hollywood sexism, noxious though it is, but Dubai, mixing the worst oppression of the Middle East with the superficial materialism of the West. The latter is a temptation she's not immune to, a working-class comic with a Dickensian insecurity about her wealth, sporting it in glittering bling on her fingers.
As much a slave to the hedonic treadmill as the rest of us, whereby an ongoing desire for objects is only temporarily sated by their acquisition, she's invested in the women's magazines that promote a desire to look good over reflecting your true self and real passions, critiquing from within the system. Similarly, she's an act who's appeared on panel shows and is amusingly sardonic about the BBC's quota approach to booking women.
Less personally, she's as subject to Jack Daniels' homespun, sepia-tinted commercial nostalgia as anyone. Although it's shooting redneck fish in a bourbon barrel, this is the most effective routine in her hour, the brand's straining efforts not to seem racist deliciously conveyed through her characterisation of more-or-less on-message good ole boy Fat Bob.
However, when she then appropriates black American and gay rights as her fight too, she's less trenchant. Although informed and a reasonable cultural commentator, she has a habit of pitching herself against the most extreme and regressive opposition, even in her examples of sexism, ensuring attacks against the likes of Donald Trump, conservative bigots or the US police are indistinct from those of countless other comics.
Arguments delivered with pretensions to profundity rarely seem that ground-breaking. And while, within the context of this show, no one can object to a closing celebration of periods that champions women and mocks men's incomprehension, the familiar feeling of lecture in Stevenson's delivery undermines her message, when a more subtle, less oppositional discourse might have more impact.
Review date: 24 Aug 2015
Reviewed by: Jay Richardson
Reviewed at: Stand 5 and 6
Recent Reviews
What do you think?