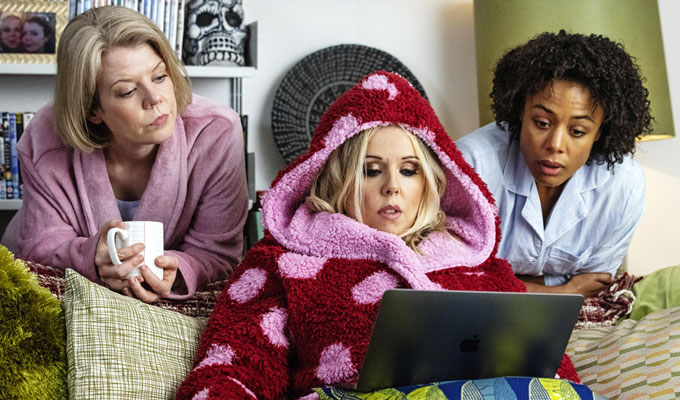 GameFace Series 2
Roisin Conaty's sitcom has got a deserved promotion to Channel 4 for its second series, and things seem to be going well for her character, Marcella, too. She's finally got an acting job – the opening slo-mo sequence follows her preparing backstage en route to the spotlight – and she's even passed her driving test.
But since this is a comedy of endless humiliation, not quite is all it seems. Her job isn't in the least glamorous and getting her licence is the trigger for a needless lie – that staple of sitcom plotting – as she tries to get closer to her inscrutable but dishy driving instructor Jon (Damien Molony). Both characters in this messy will-they-won't-they are far too awkward to address their feelings directly, and so seem doomed to mess it up.
Yet for all the setbacks, personal and professional, Marcella remains mostly happy and optimistic. While the title character in Fleabag – to which GameFace has some superficial similarities – greets life's complications with irony and cynicism, Marcella just keeps bundling and bumbling on through, keeping her pecker up.
Her liveliness means the funny moments are funnier. Much of the best come from the sessions she has with her therapist (Karl Theobald), whose professional incompetencies are further highlighted this season with the addition of an eager student, Frances (Eliot Salt) who brings the naive clarity of youth to their sessions.
As a writer, Conaty's generous in giving laughs to her co-stars, who are mostly even larger-than-life than Marcella. Most notably they include Pauline McLynn as her batty mum – do we detect shades of Mrs Doyle in the way she insists on handing cake out? – Tiff Stevenson as the new, highly-strung wife of Marcella's ex Simon (Dustin Demri-Burns), and Llewella Gideon as her busybody neighbour Linda.
It's a fine ensemble. Arguably her funny flatmates – the only people Marcella seems to be herself around –are underused in this first episode, and it'd be a shame if this was all we saw of Alfie Brown's 'stinking Tory rat', who's having a fling with Caroline (Caroline Ginty).
The first half of the opening episode is jaunty, with flashbacks to embarrassing memories ramping up the gag rate, while the second puts more stock on the emotional aspects as Marcella and Jon test out their relationship. Conaty holds this mood longer than you might expect from a comedy – and the atmosphere is eventually punctured by drama, not a joke. It shows there's some substance beyond the punchlines. But definitely it's the witty, silly, but-still-grounded-in-reality humour that makes GameFace a winner.
Review date: 17 Jul 2019
Reviewed by: Steve Bennett
Recent Reviews
What do you think?