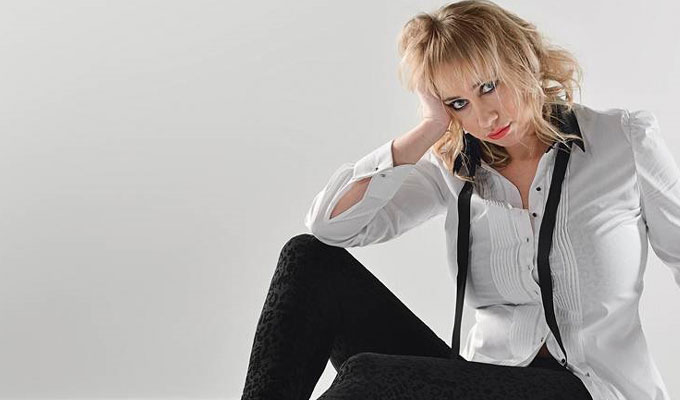 Tiff Stevenson: Optimist
Note: This review is from 2014
Tiff Stevenson, jokily dissatisfied with her initial entrance, aborts it in favour of a bigger one with more music and greater applause. As she momentarily retreats from the stage she chivvies us with the words: 'You know, like when you're at the darts.'
You'd be forgiven for thinking that this show was going to be full of pumped-up anecdotes about her exploits, as she's obviously a gal who likes a good time, or at least has done in the past. After all, within the first few minutes she lets slip she's popped two pregnancy tests and 'everyday' vodka into her basket on the same shopping trip before now, tells of Stevie Nicks' apparently preferred method of taking cocaine and confesses to being an irresponsible carer to her cat/ imaginary child.
But there are far more layers to Stevenson. A former optimist, Stevenson's 'horrible anus' of a year has questioned her previously hopeful disposition. After a foreign body appeared on her tongue her doctor diagnosed her as 'having a lump' that would need to be removed as well as pointing out that she was somewhat pessimistic in outlook.
But she hasn't always been that way and she begins to wonder what happened to that optimistic 14-year-old with a sense of social justice who went on Kilroy to defend free education.
As well as the worry of possibly losing nerve endings in her tongue, when talking is what she does for a living, the lump trauma also gave her first-hand experience of the NHS she feels is slowly being destroyed. This is truly where Stevenson the class warrior emerges. She's passionate about social injustice, taking away from the have nots by those that have too much. Even as a schoolgirl from the local comp she flicked off the public school boys' hats, already able to see the privilege some are awarded for no good reason.
Not that's she's always had such a positive outlook. Stevenson delves deep to tell of her OCD, nervous behavioural habits and a couple of suicide attempts. These confessions are frankly told, though it's hard to believe of the strong woman who stands before us. That said, it's often the same kind of sensitivity that manifests mental health conditions that results in heightened awareness of social injustice, recognising a need to protect the vulnerable.
But don't worry, she's OK, reassuringly ending the show with a joyous denouement. A defiant yet heartfelt hour.
Review date: 16 Aug 2014
Reviewed by: Marissa Burgess
Reviewed at: Gilded Balloon Teviot
Recent Reviews
What do you think?