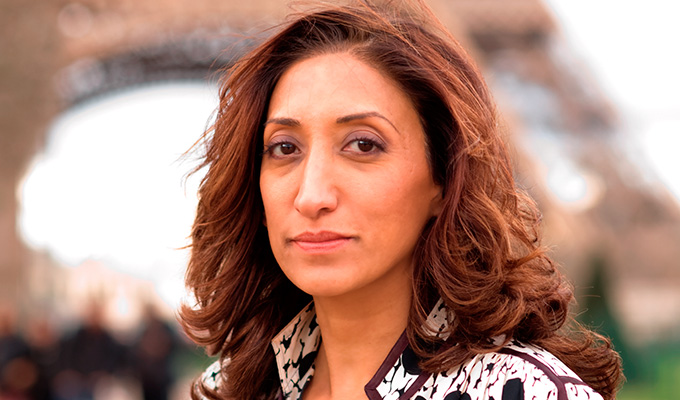 Shazia Mirza
'This pilgrimage has made me more tolerant'
Shazia Mirza is one of the celebrities in the new series of BBC Two's Pilgrimage. She joined Laurence Lewellyn-Bowen, Monty Panesar, Louisa Clein, Nick Hewer, Scarlett Moffatt and Will Bayley on a 1,600km journey to follow in the footsteps of St Columba who 1,500 years ago helped spread the Christian faith from Ireland to Scotland. Here the comedian talks about the experience – and what she learned from it.
---
Why did you decide to join the pilgrimage?
I thought it would be an interesting and unusual thing to do, with people that I wouldn't normally meet in comedy. I was intrigued and curious and thought it might be an adventure walking across Ireland and Scotland whilst talking about religion at the same time as getting fat eating 11 Kit Kats a day. I thought this would be something unusual to do, so far away from comedy.
Did you have to prepare in advance for the pilgrimage? What did you do?
I got the appropriate clothes- all waterproof; lots of cheap knickers and ate loads of burgers; did some Pilates and shaved my legs, none of which helped. I thought I was fit and well-dressed enough for a Pilgrimage though.
What did you NOT do?
I did not talk to God, and ask him lots of questions about why I am doing this? And am I one of the chosen ones?
What was the biggest challenge you faced during this pilgrimage?
Coping with the non-stop rain and being constantly wet and damp.
Tell me about your experience on the series…
We went to some really interesting places and slept on floors of churches, slept in monasteries. It was difficult at times, walking in the rain, and sleeping in cold places, but that's what a pilgrimage is, and you just have to get on and endure it. It was great being with different people who have different beliefs though and talking to them about faith and religion so honestly and openly without them thinking I'm weird or a fanatic.
What was your highlight?
Staying in a monastery with monks was really special. It's an experience I've never had before and will probably never have again. The Monks were special and unusual, and I found their lives very interesting. Their dedication to God, was amazing. The one man I met had joined the monastery when he was 25, and he is now 75. I really hope there's a God waiting for him at the end of all that.
What was the hardest part?
The hardest part was staying in a bothy overnight which was freezing cold, on a stone cold floor, and having to walk ages to get there through bushes and treacherous and muddy land, downhill. That whole bothy experience really pushed me to the edge of discomfort.
What was the most emotional part of pilgrimage for you?
It was very emotional going to Derry and hearing stories from people about their time growing up in The Troubles. To hear a woman talk about how her husband was killed by the IRA was really shocking, sad and moving.
How did the weather affect your mood during the journey?
It rained most of the time, of course it did - it was Ireland and Scotland. I was wet and damp most of the time, and it was hard to keep going, but what made it easy was being with the other celebrities. We laughed a lot and told each other stories and had really interesting and fun conversation and that made time pass quickly.
Did you see others behave differently during the harshest weather conditions?
Some people took it better than others. Some cried, some moaned, some got offensive, and some got hungry. We all reacted differently but one thing we all did was just get on with it. We all carried on, at various speeds but no one got a lift home.
What's your religious affiliation, and do you practice?
I'm Muslim. But that doesn't mean I do everything all the time. So, I'm always trying to get better and do what I'm supposed to, but it's easier to do what I'm not supposed to.I love the smell of a bacon sandwich, but I've never eaten one. I'm not supposed to, but I really shouldn't be smelling one either.
Has the experience changed or increased your faith?
The experience taught me that you don't actually need faith. You don't need religion; you don't need to believe in anything. It's a choice, and sometimes a privilege, but it doesn't mean that you live a better or worse life; it helps some people, and other people feel they don't need it. That's fine also, we all die in the end - that we know for sure, no matter what religion you are.
Has the experience changed you in any way?
It has made me more tolerant. People can believe or not believe whatever they want, it doesn't affect you and it doesn't change your life, so there is room for everyone and whatever they believe. It's interesting to hear people's beliefs and how they came to them. It made me see people for themselves rather than for what they believe.
You spent two weeks with a group of strangers. Did you learn anything new about yourself through the experience? Your strengths/weaknesses.
I learnt that if someone is talking too much or just talking rubbish, then get a Mars Bar and stand behind a tree on your own eating it. You don't have to argue with them or be confrontational, just step out of it, it probably doesn't matter.
Based on your experience on the Pilgrimage, what might you do differently in the future?
In future I would have no hesitation in going to a Mass if I was passing by a church or popping into a synagogue to pray if there was one near me. I see every religious place as a place for worship, no matter what religion you are, or what you believe; I would feel comfortable anywhere.
What did you learn about the other pilgrims' faiths that you didn't know before?
I didn't know that in Judaism they don't believe in the afterlife. I just assumed that Islam, Christianity, and Judaism all believed in the afterlife, but they don't.
What fascinated you about their beliefs?
That there are many ways of looking at the different aspects of religion. In Sikhism they believe in Oneness. In Judaism they believe in getting together on a Friday and eating altogether. In Christianity people get together and have mass and sing hymns. It's all about how people come together in different ways for the same thing.
Prior to this pilgrimage, had you ever found yourself discussing faith and religion with your contemporaries before?
I have talked about faith and religion with other Muslims, but it was the first time I spoke so in depth about Islam to people of other faiths and of no faith. We talked about religion a lot, all day every day, very easily and comfortably. It was very freeing.
Did anything about this pilgrimage surprise you?
I'm surprised about how easy going and non-judgmental people really are about religion and faith. People are more accepting than you think they are. They really don't mind what you are or what you choose to do in your spare time as long as you don't force it on them.
How did you get on with the other pilgrims? Was it a bonding experience for you all?
We had a really good laugh. Everyone was a strong character, everyone had strong opinions and was intelligent and interesting, so we were never bored and always had good banter. Everyone threw each other into each other's religions, which was fun.
Have you stayed in touch with the other pilgrims?
We have a WhatsApp group where we keep in touch, some of them too much. Some people are messaging things in the middle of the night. Some miss each other more than others.
Describe your feelings/emotions when you reached the end of the Pilgrimage and arrived in Iona?
There was a sense of achievement that we had reached the end. We made it. We didn't die. We were all still talking, and some of us had eaten so much we had put weight on and didn't know how we were going to lose it.
Would you do it again?
Yes definitely. Maybe somewhere hotter, that would be nice, somewhere like Sri Lanka. But the experience I'd definitely like to repeat. It was a joy and a privilege.
• Pilgrimage: The Road to the Scottish Isles launches on BBC Two and BBC iPlayer on Friday at 9pm and continues for three weeks, through Easter.
Read More
Published: 7 Apr 2022
Ben Elton's return to TV comedy has been a ratings…
26/04/2007
The weeks' trivia, in case you missed it:Readers of…
19/01/2007
Shazia Mirza has performed her bridge-building gigs…
13/11/2006
Some trivia sparklers for your bonfire weekend... Zharmakhan…
3/11/2006
Shazia Mirza is to tour India, courtesy of the British…
23/10/2006
Channel 4 is planning a series of countdown shows featuring…
28/04/2006
The Richard Pryor award for the best ethnic comedian…
25/07/2005
The annual hunt for the best new female stand-up gets…
3/03/2005
Past Shows
Agent
We do not currently hold contact details for Shazia Mirza's agent. If you are a comic or agent wanting your details to appear on Chortle, click here.