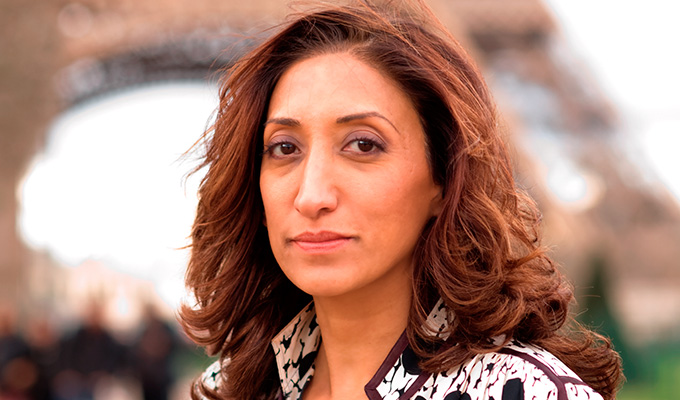 Shazia Mirza
Meera Syal's Asian Comedy Night
Note: This review is from 2012
In one of their sketches, comedy duo Asians Provocateurs struggle to list high-profile Asian women: 'Baroness Warsi, Meera Syal and, erm, Meera Syal?'
It would be just as much of a struggle to name famous British-Asian comedians, certainly without resorting to one of those same names. Yet there is clearly a demand – 8,000 people applied for the 300 tickets to this BBC radio recording – while the content was resolutely mainstream, resonating with everyone, albeit stronger with those who shared a background with the comics.
The night – fronted by Syal, who else?, and BBC Asian Network's breakfast presenter Tommy Sandhu – will be split into two showcases for a short comedy season on the digital station in July. But for the purposes of tonight, it was one continuous show, starting off with Shazia Mirza.
With a rather more human attitude than her traditional steely-cold deadpan, she offered a mixed plate: some funny observational material about her family and their bizarre attitudes to relationships – strictly instructing her to keep away from men but desperate for her to reproduce – mixed with pedestrian mentions of Facebook pokes, 'paedophile' Michael Jackson and a witless section on fingering that is seemingly designed solely to shock the conservative. She does that rather too often – seek to provoke reaction by saying something naughty rather that something funny – when her first-hand experiences are far more rewarding.
Young livewire Mickey Sharma slipped into cliche too easily – Norfolk people are inbred, gingers are to be pitied and so forth – but he has an engaging energy, best exemplified by his Bollywood take on nursery rhymes. Plus some of his more descriptive passages, such as Indians' lax attitude to road safety, strike a real chord.
Speaking of livewires, few spark with more volts than the wiry Imran Yusuf, delivering some of the greatest hits that earned him the Edinburgh newcomer nod a couple of years ago. He retains a childlike cheek when describing playground teasing, but his primary asset is being a great orator – with all the tricks of stance, of repetition and of emphasis that requires – which he then undermines with a deft flick. The writing isn't always the most original, but he's a master of presentation.
A real treat next, in the form of Sami Shah, pictured, the stand-up who performed the first ever English-language show in Pakistan, back in 2005. However, he's not in the Radio Theatre tonight, but in an anonymous hotel room in Singapore, where it's the early hours of the morning, and he's performing into a tiny webcam, to be Skyped back to London.
Incredibly, none of these obstacles dent his precision timing, and he delivers a masterclass in comedy. A set list might suggested some quite hackneyed topics: airport immigration, young people and their text speak and the like. But this self-diagnosed 'paranoid narcissist' combines insight with oblique wit and linguistic flair which brings such subjects to life. He should come to Britain; he'd surely be a smash.
Asian Provocateurs next – Sajeela Kershi and Yasmeen Khan, who bill themselves as the only female British-Asian sketch duo. Though of course the words 'female', 'sketch' and 'duo' mean they are inevitably introduced as the Asian French and Saunders.
The comparison stacks up in as far as the pair are likeable performers of exaggerated archetypes – from posh Hooray Henriettas to BNP wags – but their scenes feel very underwritten and often too predictable. There's usually a good gag or two in each skit, but padded with such comic white noise as the Sloanes fretting about their hummus coming from Ocado.
Hyde Panaser managed a double-cliche with a gag that mocked ginger people and ended with the line '...so I stabbed him'. Such slips into the predictable feel like rookie mistakes for someone who's being going for five years, especially when other parts of his jaunty, conversational set are more engaging as he discusses the pitfalls of living at home at 29 with malapropism-spouting relatives.
There were some fans in for Humza Arshad – aka Humza Badman, an internet sensation who has racked up more than 34.5million views for his 26 videos on YouTube. Live, this arrogant, fast-talking, high-pitched would-be rapper is a chaotic character, but in a good way – with his engaging, energetic personality more than making up for a scrappy script. Plus he's excellent at bringing to life supporting players in the drama of his life, such as his uncle who picks fights with the TomTom navigation system. It's easy to see why he's so popular online.
Finally, more fine character work from Kulvinder Ghir, as a wisftul corner-shop owner. His tender and evocative reminiscences of life in Amritsar seemed to spark fond memories in some of the audience, while his repeated pondering of whether he did the right thing in coming to Britain add a pathos to his performance. That's not to say this closing act was not funny – Ghir worked with Syal on Goodness Gracious Me back in the day, and he hasn't lost his impish touch – but this was a more mature presentation than gag-heavy standup.
Meera Syal's Asian Comedy Night will air on the BBC Asian Network at 10pm on July 11 and 12.
Read More
Published: 1 May 2012
The British Library is fast becoming an unlikely fixture…
19/01/2011
The world of comedy can be an insular place. Acts hailed…
1/01/2009
Shazia Mirza has all the warmth of the Arctic shelf,…
14/07/2008
Rather like Ali G's 'Is it cos I is black?' catch-all…
1/01/2008
The annual International Women's Day gala organised…
1/03/2006
Shazia Mirza is starting to develop as a comic, four…
1/01/2005
Yesterday was an important date in the world calendar.…
1/01/2005
Catapulted too early into the media spotlight simply…
1/01/2004
Past Shows
Agent
We do not currently hold contact details for Shazia Mirza's agent. If you are a comic or agent wanting your details to appear on Chortle, click here.