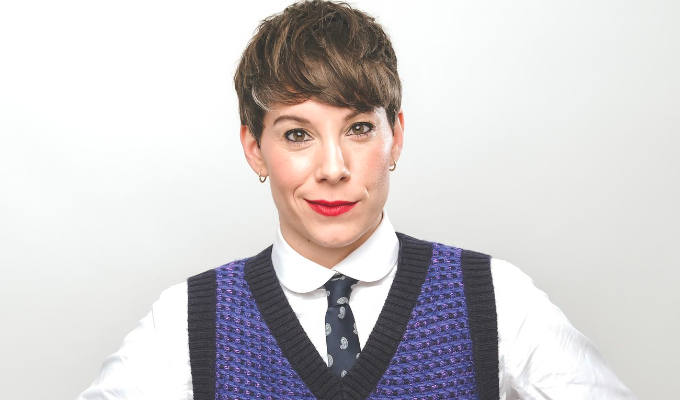 Suzi Ruffell
Suzi Ruffell: Stand Up The O2
If you object to wearing a mask for health and safety reasons, ascending the O2 is probably not for you. To reach the summit of the London landmark, you must empty your pockets, secure your phone and get trussed into a tight safety harness which is manacled to a steel cable.
All this for a comedy gig! At a time when coronavirus is forcing promoters everywhere to get creative with their venues, the roof of the Greenwich arena must be the strangest yet.
Suzi Ruffell is here for a string of events – surely less of a viable long-term venture than a publicity coup, both for the newly resumed regular trips up the venue and for the comedian, who can now add 'selling out the O2' to her CV, even if it might require an asterisk of explanation.
Rather than the 16,000 or so who could attend a gig inside in normal circumstances, there are just a couple of dozen of us, socially distanced, on the platform 52 metres up – the height representing the number of weeks in the year. Everything here, so close to the prime meridian, has a time-related significance. The 12 struts that hold up the dome represent the months of the year, and the 365 metre diameter the days.
We learn this in a brief video before the ascent, a challenge which is demanding enough to lend a sense of achievement to reaching the peak (and, just as importantly getting back down again), without being too physically tough. The fantastic 360-degree panorama from atop the O2 is certainly worth the climb, especially as twilight turns to darkness and Canary Wharf, and the cable-car gondolas of the Emirate Air Line illuminate the skyline.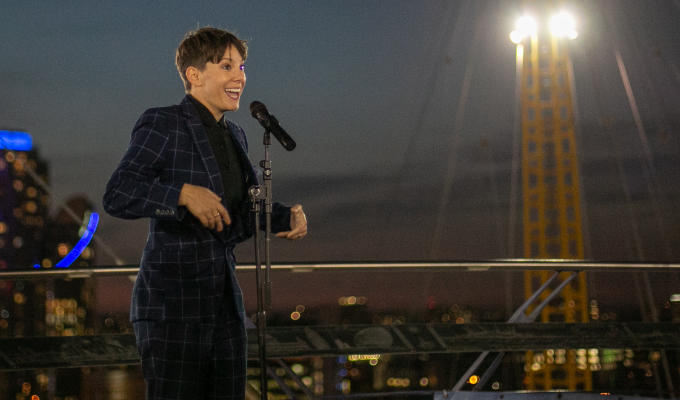 Ruffell joked that competing with such a vista was a different challenge compared to drunk hecklers or the usual distractions of a comedy club. But her effervescent, commanding style was more than up to the task.
The view inspired her in a different way, too: from here she could see the flat she once lived in, prompting an engaging self-deprecating anecdote about a scary neighbour there and the day she locked herself out in her least flattering clothes, and with a petrified cat, all told with her usual zest.
She also regaled the audience with well-honed tales of coming out to her geezerish dad and vivacious mum, a woman unable keep a secret. As an aside, Ruffell revealed that she should have been getting married this summer, had Covid not struck.
Such a unique gig above London might not be compensation for that, but it's nonetheless a memorable experience for both her and her audience. Come for the views, stay for comedy that hits the heights in more than one way…
• Suzi Ruffell will be performing again at Up At The O2 on Saturday, and the subsequent two Saturdays, at 7pm, 7:30pm and 8pm. Tickets.
Read More
Published: 18 Sep 2020
With her gregarious, in-control nature, it was probably…
22/03/2020
The Greenwich Comedy Festival is always a late-summer…
5/09/2019
Suzi Ruffell has a frank and disturbing admission:…
13/08/2019
Oddly, ITV2's new way of presenting stand-up…
28/01/2019
Day two of the Greenwich Comedy Festival and the quality…
14/09/2018
Tricky thing, class. Suzi Ruffell thought she was working-class,…
10/08/2017
This is a joyous hour. Suzi Ruffell has nabbed the…
22/08/2016
The Brighton Comedy Festival opening gala is usually…
10/10/2015
Tesco had to close a supermarket in storm-lashed Brighton…
11/10/2014
How do you sum up a whole festival of 520 shows in…
13/01/2013
There's so much to like about Suzi Ruffell that it…
12/08/2012
Someone once remarked that the one consolation of a…
12/08/2011
Another day, another new act competition... this one…
16/06/2011
It's always a joy to take in the Leicester Mercury…
20/02/2011
Past Shows
Agent
We do not currently hold contact details for Suzi Ruffell's agent. If you are a comic or agent wanting your details to appear on Chortle, click here.