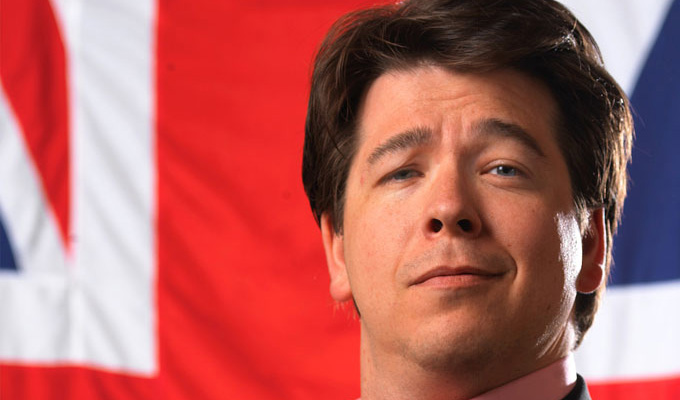 Brighton Comedy Festival 2014 opening gala
Note: This review is from 2014
Tesco had to close a supermarket in storm-lashed Brighton last night as the Roof collapsed. And just around the corner the Brighton Dome risked similar structural damage thanks to the roar of the crowd when they learned that the surprise headliner at the comedy festival gala was none other than Michael McIntyre.
Most the crowd, that is. One couple were seen pointedly heading for the exit when his name was announced. Well, you can't please everyone, and McIntyre has an understandable but largely undeserved reputation for twee observational material.
Had they stayed, that couple would have found 'it's all right once you're in', to coin a catchphrase of one of McIntyre's new routines about the universal encouragement given to anyone making tentative steps in to a swimming pool. As is his forte, he took this familiar situation and wrung every drop of comedy from it through painstaking reconstruction, far more detailed than simple 'have you ever noticed…?' fare.
Other routines, presumably being worked through ahead for his Happy & Glorious tour – not due to start for another 11 months (dates) included moving to the countryside and discovering that the bucolic idyll becomes a terrifying cacophony of noise after dark, and the ego-denting effects of using himself as the celebrity in the Akinator The Genie guessing-game app. More familiar, possibly over-familiar, concerns included how to confront potential intruders downstairs, and the humiliation of misjudging the number of steps in a flight.
But his finest moment was a 'funny walk' routine to rival Mr Cleese's finest, which demonstrated his own, peculiar gait, and a few others to boot. Rolling up his trouser leg creates a wonderfully stupid image, almost like a McGill seaside postcard, in comic contrast to his usual well-tailored look. Meanwhile the effect of his microphone transmitter pack making his jacket tails rise up provided an inadvertent Donald Duck effect. This will surely be a highlight of that 2015 tour.
McIntyre's surprise appearance added some stardust to a night that, until that point, had largely been dependably funny, but with only sparse sparkles of anything more special to match the big occasion.
Compere Adam Hills, wandering into the auditorium, did typically great work in engineering some spontaneity. Although his suggestion of a hammy-legged can-can never got enough momentum; and the farm shop owner he brought into the spotlight was a little too starstruck and/or drunk to be of much use; though Hills handled the situation as expertly as ever.
The biggest reaction was when the Last Laugh host announced the news about Tesco's Roof – to triumphant cheers from the crowd. It could have been mistaken for a proud anti-capitalist stance, but turned out to be just snobbery. There's Brighton for you.
Local boy Romesh Ranganathan opened the show, joking that because it was a charity benefit – supporting the fine work of The Sussex Beacon does with people with HIV – he 'won't be doing my best shit'. There's more than a touch of Jack Dee in the attitude of this self-proclaimed 'grumpy prick', especially when he comes to having patience educating his own children. This ex-teacher combines such grouchiness with valid points about racial representation or the importance of education, making an attempt at a rallying cry.
More cantankerousness from Jo Brand, lovingly welcomed by the crowd. Her delight at getting to host a TV show about cakes has clearly nothing to lighten her mood towards other aspects of life, especially her long-suffering husband. After a couple of groan-inducing old-school gags, Brand also paid tribute to Addison Cresswell, the larger-than-life agent behind Off The Kerb, which represents all tonight's acts and whose brainchild this annual fundraiser was. He died in December, she explained, and his absence was keenly felt.
Off The Kerb's latest protege is 17-year-old South Londoner Elliot Steel, who's certainly growing in confidence, unfazed by an audience of 1,700 and a dodgy radio mic a minicab controller would be embarrassed by. His material is pretty unambitious, challenging someone calling him a 'bit gay' or recounting a mugging story, but it's increasingly well put-together. That Croydon performing arts school education is proving its worth…
Rich Hall shunned the mic for his audience chit-chat, perhaps wisely given Steel's experiences, to solicit personal information to embed into his improvised, or semi-improvised, songs. A nicely cynical line about internet dating led into a wittily descriptive track about pulling in Wetherspoons, while his classic routine about all Tom Cruise films being essentially the same was given a British reboot. Bravely evoking the horrors of ISIS in the intro to one religious-themed song, he voiced the concerns of the whole audience when he announced: 'This had better be funny…' It was, too, as well as demonstrating his strong country-music songwriting skills.
After the break, Josh Widdicombe had the best pre-McIntyre reception with his relatable material, delivered with voice cracking with his trademark incredulity. At this festival last year, his show was, I thought, a lazy and contrived example observational comedy – but he hit a far more confident stride here, notably with routines about his idiot flatmate who can't even take a shower without calamity, and his idiot self, come to depend on contactless card payments.
Finally before the star headliner, Suzi Ruffell put her love life under the microscope, talking of cyber-stalking her girlfriend on Facebook – apparently turning into Catherine Tate's disgusted gran as she unearths evidence of happiness in another relationship. Ruffell also offered a new take on the old 'gays cause storms' claims of the religious nutjobs – with a line obvious in retrospect yet overlooked by so many – and the funny story about coming out to her father. Apt as today is National Coming Out Day.
There's two more weeks of festival to go – not to mention a revived Fringe in a few smaller pub venues – and the gala made for a confident, if a relatively safe, introduction to the jollities ahead.
Review date: 11 Oct 2014
Reviewed by: Steve Bennett
Reviewed at: Brighton Dome
Recent Reviews
What do you think?