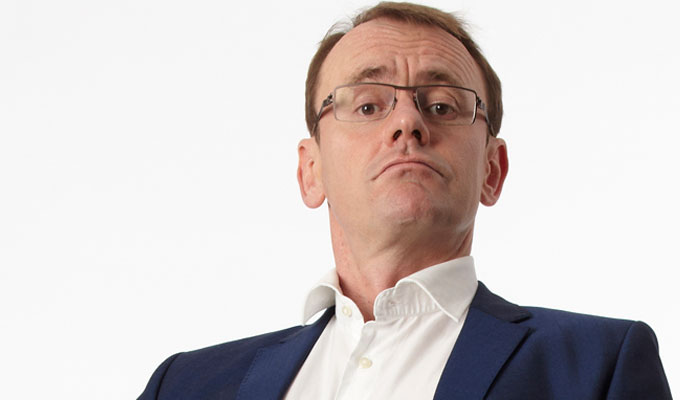 Greenwich Comedy Festival 2019 opening night
The Greenwich Comedy Festival is always a late-summer treat: a chance to catch top names on a line-up bill, often after they've done boot camp of Edinburgh and before their autumn tours. And it's in a charming setting – a marquee in the grounds of the historic National Maritime Museum – at a time when the weather should just about hold up.
This year's event got off to a typically illustrious start last night, headlined by Sean Lock – a comic who's probably due a tour, although nothing has been announced. He used the live arena to make the sort of jokes he's not allowed to make on TV, explaining that producers nowadays instantly shut down contentious topics on panel shows, fearful of social media leaks from the studio audience about material that once they would have simply left on the cutting room floor.
Lock would have given any lazy gossip-writers in the tent plenty of fodder, with pointed attacks on others in the entertainment business, from Ant McPartlin's drink-driving, ITV's record of tragic reality-show exploitation, Lorraine Kelly and Cats Do Countdown colleague Jimmy Carr's tax affairs. Even David Walliams's children's books come in for a pasting for their over-reliance on cheap fart gags. Not that Lock would stoop so low as to sully kids' classics with such smut, of course (Spoiler alert: he does)
The joke for much of the set is that he's one false move from a career-ending outrage, whether it's a #MeToo incident he might have unwittingly instigated or an ill-advised social media post. That's why his agent won't let him on Twitter.
Such jeopardy, however exaggerated, underlines the fact that there's still a bit of bite to Lock's material, as well as a distinctive, inventive streak. He hasn't succumbed to panel-show blandness and can still be teasingly provocative and relevant at 56, playing with the line of acceptable taste but with the experience and underlying good intentions not to trample it completely.
In a set whose segues were often non-sequiturs, Lock also subverted the comic trope of the shock of seeing your parents having sex, flashed some disdain for the posh, and portrayed the internet as a godsend for the shy, launching into an impassioned complaint against a hotel that he'd want to do in person, not TripAdvisor. At the heart, this was fairly superficial observational comedy, but the passion with which he escalated it – as well as its universality – struck home.
The opening night was compered by Fin Taylor, although he was the first to admit that the usual MCing techniques did not hit gold tonight. A weird early shout-out threw him and he had to negotiate around a group far too eager to participate (when asked his job, one bloke said 'dildo tester', which says it all). But even so, every interrogation about a punter's job seemed to hit a brick wall.
Still, Taylor had the awareness to bail quickly and head for the safer ground of his material, which soared the more smartly provocative he got. Goading 'fat activists' probably isn't politically correct, but a mixture of common sense and portraying himself as something of an insensitive arsehole keeps the laughs coming from both sides.
Suzi Ruffell opened the gig by telling she was getting married soon – and describing how her mother couldn't help herself from ruining the surprise of her girlfriend's proposal. It's the first introduction to Ruffell's skill with the act-out, deliciously portraying sozzled Mum's poor attempts to be subtle.
The incident stemmed from the world of working-class Portsmouth, where men are geezers and women are birds, and where her family easily accept her sexuality but don't quite get it right. Her dad's reaction to some of the other letters in the LGBTQ+ acronym is especially priceless.
Grim tales followed of house-hunting as a millennial couple with the tightest of budgets and eventually finding somewhere with annoyingly over-friendly neighbours. However, her story of the block's WhatsApp group felt unfinished.
Not to worry, though, as it allowed time for her hilarious routine about a smear test. As a premise, it's a comedy staple – even the student medics getting involved could have come from a 1960s Doctor film – but Ruffell's anecdotes takes an outrageous turn, while again being hugely elevated by her vivid description and all-in performance, transforming the mic stand into a probe, but wielded as if it were a flaming torch keeping monsters at bay. Great stuff.
The middle slot was taken by Rhys James, who apologised for covering some similar ground as Ruffell, explaining that it was inevitable given they are both at the same point in life. And even, he joked, look alike.
His contempt for the rental home market was visceral, a heartfelt howl at the shitholes being offered in his price bracket. Ranting is his metier, with further disdain reserved for murder-mystery themed dinner parties. His attitude can be a bit haughty, even smug, but he's more than funny enough to get away with it
In a signature routine, he suggested a Three Ages Of Man, based entirely on bathing procedures, that was thought out with typical rigour. There's humour in the attention to detail, occasional barely-related asides that condense a whole train of thought into a pithy gag, and the power of his conviction.
By the time he'd got to the end of this theory, we'd all forgotten how it started, and he got a huge, satisfying laugh from suddenly bringing us back to that point. The sign of a smart operator who's always one step ahead of the audience.
• The Greenwich Comedy Festival continues until Sunday. Website
Review date: 5 Sep 2019
Reviewed by: Steve Bennett
Reviewed at: National Maritime Museum
Recent Reviews
What do you think?