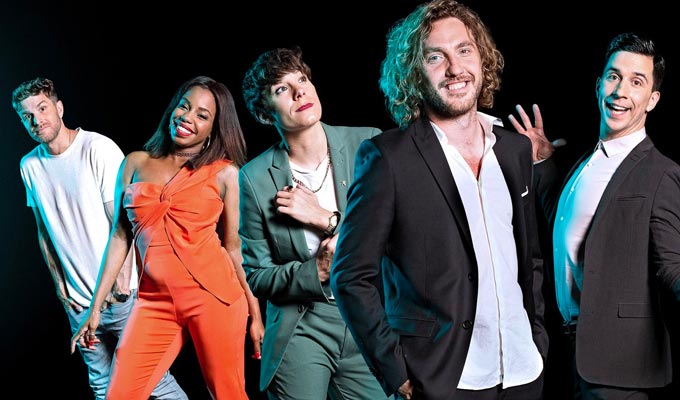 The Stand Up Sketch Show
Oddly, ITV2's new way of presenting stand-up appears to have come from someone with no faith in stand-up at all.
Received wisdom in Tellyland is that the one-comic-and-a-microphone format doesn't translate well to the screen, although clearly no one told Netflix that, given its plethora of specials and multi-million pound deals.
So the Stand Up Sketch Show format tries to spice things up. We start with the comics telling their routines at a comedy club – albeit from the sort of neon-decorated stage not seen since late 1980s episodes of Top Of The Pops – before cutting to a dramatisation the scenario being described, with the commentary continuing beneath. It's a technique viewers of Comedy Central's Drunk Histories will be familiar with.
The problem is that, in this case, the old TV maxim of 'show don't tell' doesn't hold true. The actual image of the scene rarely lives up to the mental picture the comedians build up with their carefully honed descriptions. Not only is each scenario better left to the imagination, often you long to see the comedian's faces on stage, rather than the action unfolding.
For example, Adam Hess's story about an embarrassing past job interview is built on him cringing, still now, as he recalls every humiliating detail of that day. Showing his awkwardness in real time loses this valuable hindsight.
The way stand-up is written often leads to the bizarre situation of the comic inside the sketch having to break the fourth wall to address the audience with the contemporary commentary from their routine, thus destroying the point of having the scene acted out at all.
Only in one case does the sketch part of the show add something to the stand-up, and that's when Dane Baptiste is describing a Breaking Bad-style operation, thus allowing the director to use the visual language of the original meth-lab drama to emphasise the parody.
In every other case, the act-outs subtract, rather than add from the stand-up. There can be a way to add value to such material by offering a different presentation – such as the Lego version of Eddie Izzard's Death Star Canteen routine – but in this programme, the literal approach to recreating each scenario is too unimaginative to do so.
What saves the Stand Up Sketch Show, though, is the quality of the acts they have chosen, picking the cream of an emerging generation of comics. Seann Walsh is established, but any opportunity to show the likes of Glenn Moore, Catherine Bohart, Brennan Reece, Alex Edelman and Suzi Ruffell doing their thing has to be welcome. Their routines here are witty, tight and self-deprecating, and joys in themselves. We don't need the hand-holding of being shown what they are talking about
Review date: 28 Jan 2019
Reviewed by: Steve Bennett
Recent Reviews
What do you think?