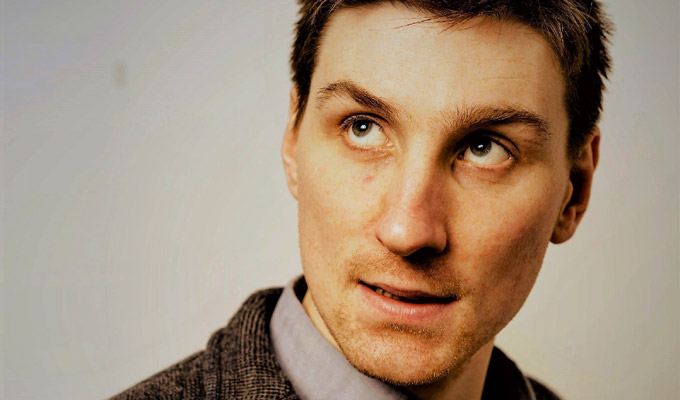 Sean McLoughlin
Sean McLoughlin: Hail Mary
Well, Sean McLoughlin's a massive liar. Ever the struggling comedian, he reckons that after five consecutive Edinburgh show, his creative tank had run dry when it came to writing his sixth. Yet this impassioned, urgent broadside on the state of both the nation and his own life is fizzing with ideas, intensity and bloody great jokes.
It's certainly his tightest hour yet, with his many incisive and funny thoughts combining organically to form a cohesive polemic, delivered with frustrated pique and building to a fine conclusion. But while it's an impressive invective, there are gags at every turn, and he leaps between them as quickly and nimbly as you like.
While he starts from familiar set-ups, such as feeling he lacks the maturity, stability and achievement he should have at 30 and mulling a future with a partner he loves, he spins them off in insightful directions.
One core idea is that society is divided between the forward-looking, who eagerly consume each quantum leap in technology, and the backwards-looking reactionaries, nostalgic for an ideal that never really exist. Of course, every comic who's brought up Brexit has entertained similar thoughts, but McLoughlin has the unique observation that both sides are winning, making for a weirdly uncertain time for everyone, and creating a massive grey area, which he incisively prospects for many a comedy nugget.
Our changing world is illustrated by his namesake, a YouTube gamer with the handle Jacksepticeye, whose zany commentaries have made him wealthy from his 20million followers. The comedian McLoughlin does understands that this world exists – but only just. The next technological iteration adopted by the youth will be the one that leaves him behind, and he has a wonderfully surreal suggestion of what that might be.
More significantly, McLoughlin also considered the intrusions into our privacy we accept for convenience for tech giants, pondering just how malicious they can be.
Meanwhile, on the traditionalist side, lapsed Catholic McLoughlin finds himself drawn back towards religion – another angle where he bucks the comedy status quo. Arguing that the cheap joke of branding all Catholic priests is just as lazy and ignorant as branding all Muslims potential jihadists, he seeks out the good in the Bible. If nothing else, he concludes, it's a cracking read. More crucially it's a bold stance for a comedian to be leaning back towards faith in these atheistic times.
Bringing up Jacksepticeye allows McLoughlin to indulge his low-status shtick as he's not the most famous Sean McLoughlin out there (he also loses out to a professor of Islamic anthropology and a footballer). He is a battler, pushing valiantly but impotently against a callous world, but his frustration at the lack of progress earned from his significant effort is the grit from which his comedy pearls grow.
Even now, with acclaim and some Ricky Gervais support slots under his belt, he's still playing a grim underground Free Fringe venue: hardly the dream when he started off all those years ago. It's the sort of cramped hotbox that could have audience dozing off, but his intellectual and comic brilliance means he has everyone rapt.
If there's any justice, Hail Mary will be the show that breaks him through, and he'll have to find a new set of grievances beyond his career stagnation for his ineffectual anger. But it's probably not a major concern: McLoughlin can surely find wretchedness in any situation.
Read More
Published: 17 Aug 2018
Sean McLoughlin's keen to tell us how hard he's…
24/08/2016
Fate has most definitely crapped on Sean McLoughlin…
20/08/2015
Sean McLoughlin had a tough year, and this show lets…
14/08/2014
Early reviews for the first night of the capital's…
1/04/2014
If it's a ruse to help fill his donations bucket, it's…
15/08/2013
The second week of Comedy De Luxe – a Tuesday-night…
3/02/2013
The Royal Albert Hall is, without a doubt, one of…
24/05/2012
Sean McLoughlin, though relatively new, offers some…
21/10/2008
Gong shows are springing up almost everywhere these…
1/01/2008
Past Shows
Agent
We do not currently hold contact details for Sean McLoughlin's agent. If you are a comic or agent wanting your details to appear on Chortle, click here.