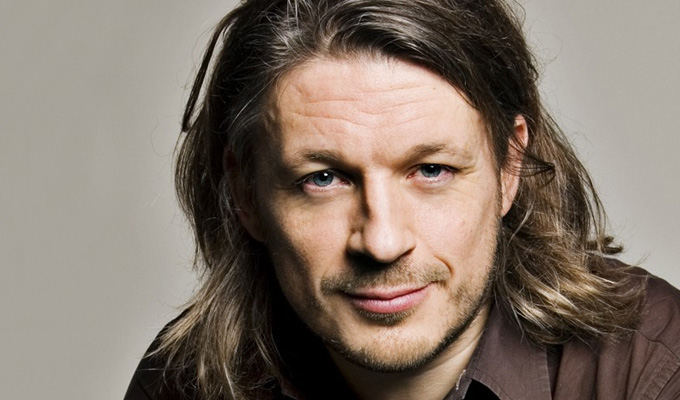 Richard Herring
Date of birth: 12-07-1967

Taskmaster series 10
Channel 4's task in poaching Dave's best programme was simple: don't screw it up. And by barely changing a single thing for Taskmaster's tenth series, they passed with flying colours.
Of course there was no need to meddle with a winning format, unlike when they snatched Bake Off and failed to secure the talent. Here the omnipotent Greg Davies and creator Alex Horne came as part of the package. What were they going to do, suddenly introduce a fair and transparent judging process, not dependent to the fickle whims of a grouchy, imperious man? As if!
Covid did mean some tweaks. 'I've removed the studio audience,' Davies intoned. 'Nothing to do with recent events, I just don't like them.' And the five new panels were socially distant across the vast stage, which did seem awkward at first.
But with all the usual elements in place, from the abusive relationship between host and sidekick to contestants that were both competitive and inventive, and not always in a good way, the ice was quickly broken.
Key, of course, is everyone's determination to succeed in whatever stupid challenge they have been assigned, such as to trying to get eggs from a balcony to a frying pan. And why not when there are such glittering prizes on off as Johnny Vegas's acid reflux medicine?
Well, that's the theory. Initially it seemed like Daisy-May Cooper was barely trying when responding to the first task of brining along something that's nice In The Mouth to impress the Taskmaster - and thinking no further than a bottle of wine. More surprising, that turned out to be the best on offer.
But for two-thirds of the show Cooper laughing uncontrollably and infectiously at her own ineptitude, while trying to avoid Davies's steely gaze, was a delight. And then she pulled off a victory… maybe. The genuine reactions of the competitors to how they – and, more importantly, their rivals – fared is another element to the show's success.
Of the rest of the line-up, Mawaan Rizwan is the unknown quantity. He has the rare gift of being able to simultaneously overthink and underthink a problem. When his lateral inventiveness pays off, he can be quite impressive. When it doesn't, he looks dumb, and happily accepts either fate.
Perhaps aptly for someone who played a lawyer in the comedy Defending The Guilty, Katherine Parkinson is Ms Loophole, trying to twist the rules as much as she can. Given the pedantry that's often found in his stand-up, you might have expected the same as Richard Herring… and that's true to an extent, but his intellectual need to win overrides that trickery. He quickly vocalised the dynamic of the show: he, and the others, are the eager children desperate to please the demanding father figure of the Taskmaster.
This is a show that lets the comics' personalities under stress shine through, which is why the viewers become so invested. Watching Herring suspending his eggs off a balcony has the nail-biting drama of a penalty shoot-out, but for geeks. And the heartbreak of Vegas watching his hopes of winning a task literally drift away was tragic, even for a man who's made a comedy career out of misery and pathos.
It all added up to an entertaining return of a joyous show...
Read More
Published: 15 Oct 2020
For those of us who meter our lives in Edinburgh Fringes…
8/08/2017
There are no wellies at this festival… Manolo Blahnik…
11/07/2016
When Richard Herring first joked on TV about mishearing…
7/08/2014
Given the nature of this website, this is an odd phrase…
4/08/2014
It's a busy time for comedy benefits, with at least…
8/05/2014
Among other things, he's already tackled the three…
9/08/2013
The traditions of Burns Night are well-established:…
27/01/2013
However erudite your comedy tastes there's always…
15/10/2012
Richard Herring returns with an updated version of…
22/08/2012
Ah, love – inspiration for poets everywhere. Though…
10/08/2011
Some hae jokes and cannot tell 'em,Some cannot joke…
26/01/2011
Ah, what more festive way to mark the birth of Christ…
20/12/2010
What an absolute pleasure it was to watch this show. …
25/08/2010
Even at the peak of his GLC powers, I'm fairly sure…
27/11/2009
Richard Herring hits the crowd with his robust, and…
13/09/2009
Richard Herring has accidentally found himself one…
12/08/2009
Richard Herring's a brilliant one-hour act, but sometimes…
28/08/2008
DAY FIVEAn outdoor comedy festival with Pimm's on…
1/01/2008
Why do we end up like we do? Richard Herring blames…
1/01/2008
Frank Skinner has chosen Montreal for his first major…
18/07/2007
Every comic of any standing deserves their own memorial…
28/01/2007
When you hear of a benefit gig for a comedian who's…
1/01/2007
'A fundraiser for a theatre?' Al Murray splutters…
1/01/2007
Richard Herring is a 40-year-old middle-class man who's…
1/01/2007
Richard Herring seems to have written more Fringe shows…
1/01/2007
After so many visits to the city, Richard Herring's…
1/01/2005
The personal comedy documentary, detailing some 'madcap'…
1/01/2004
It's a wonder no one thought of this before. Given…
1/01/2002
Richard Herring's had a busy year - churning out an…
1/01/2001
Products
Past Shows
Agent
We do not currently hold contact details for Richard Herring's agent. If you are a comic or agent wanting your details to appear on Chortle, click here.