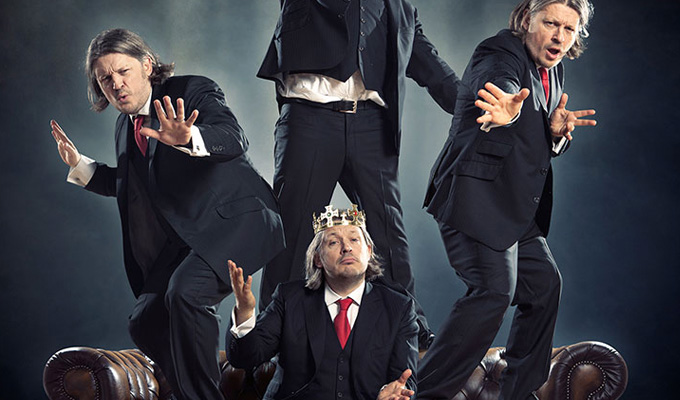 Richard Herring: Lord Of The Dance Settee
Note: This review is from 2014
When Richard Herring first joked on TV about mishearing the words of Lord Of The Dance, Stewart Lee slapped him down for making too much of a simple childhood mistake that happened years before.
But 'making too much of things' is Herring's currency, so here we are, 15 years later, with a further expansion on the theme.
Not that there is, in fact, much of a theme to Herring's 23rd – and possibly last – year on the Fringe. He suggests a motif for the benefit of critics who like that sort of thing, but for everyone else it's just a load of 'stupid uncool stuff', reflecting his distrust of any stand-up who seeks to be cool, an artifice that's instantly against the vital honesty comedians should aspire to.
As if to prove his commitment to the uncool, Herring portrays himself as a lonely young man, sat alone on a sandbank island on holiday, or as a sadder older man, sat in the window of KFC. Given the very public way Herring develops his material, from blog, to download, to newspaper column, to finished show, elements of these stories might be familiar to fans, but he builds on them here.
Seeing a fast-food employee with the name badge 'Dave Manager' sparks a fanciful chain of complex possibilities as to whether that was his given moniker, or just a job title, to great effect. A similarly ambitious string of logic about kisses that span centuries is not quite convincing, though it does open the door to some playful 'grab-a-granny' gags.
Not that his own ageing is beyond a joke, as he recalls a physical gag he did at his first ever Fringe that his fragile bones would no longer sustain, or recalling the time he heckled 3-2-1 host Ted Rodgers, assuming him to be an ancient dinosaur when, in fact, he was little older than Herring is now.
About half the stories in this miscellany don't really go anywhere, although the journey is fun, with all manner of sly digs along the way. The exception being a run-in with an aggressive urban child, a variant of which just about every comic has, and Herring's isn't outstanding – even though he can usually make a lot out of nothing. Even a misspelled sign, as he does here.
If they are not pedantic, his routines are generally celebratory, and often both. Dance as if no one's looking, if you're seeking a theme, which you shouldn't be, as it doesn't exist.
Despite that, there's certainly a structure and flow to the hour, as you might expect of a man with so many Edinburghs under his belt, and it all culminates in an enthusiastic payoff that neatly, satisfyingly ties up many of the strands.
Review date: 7 Aug 2014
Reviewed by: Steve Bennett
Reviewed at: Assembly George Square
Recent Reviews
What do you think?