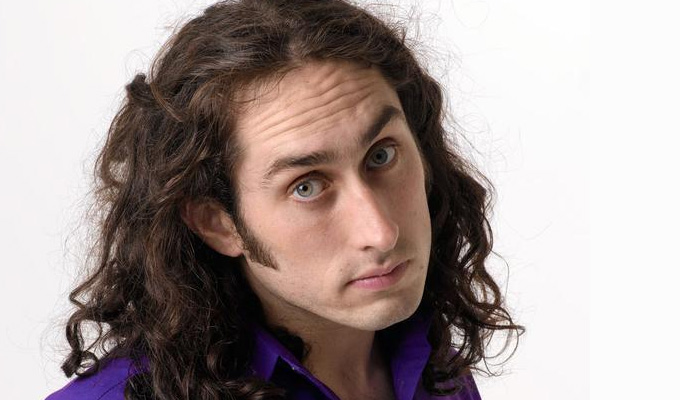 Ross Noble
Date of birth: 05-06-1976

Ross Noble: El Hablador
The trend in comedy is towards the carefully authored show, tightly structured with resonating themes and neatly resolved plot points. Needless to say the digressive, easily-distracted style of Ross Noble is the antithesis of this, with the comic launching off on wild tangents and generating as much from the audience as he can, to create the feeling that the show you're watching could only ever have happened here and now.
His approach gives the evening a spark you can only get with live comedy, even if mixing the spontaneous with prepared material is a difficult balance, and is probably only a qualified success in Tunbridge Wells.
On the positive side, he sets up a couple of fine running jokes, not least imagining the woman in the front row to have Worzel Gummidge-style interchangeable heads that's a prime example of Noble's knack for imaginative, improvised whimsy.
But some of the more scripted routines feel contrived in comparison. 'Shaving a monkey' is almost a parody of the sort of surreal material you would expect him to do, yet it's an actual cornerstone of the show, albeit couched in a rather elaborate reverie about drug cheats in sports. Other notions, such as the blasé hippopotamus, are initially charming, but indulged too much in inelegant callbacks.
At their best, Noble's vignettes play out as delightful sketches, with the comedian creating vividly absurd comic scenes from nothing. Certainly his section on celebrity travelogues, which starts as an Alan Partridge-like catalogue of unlikely TV ideas, bursts into life with his suggestion of how Gerard Depardieu might show us around the Parisian sewers.
The fact not everything lands squarely feeds back into Noble's shtick. He exaggerates the sense of tension with the audience, not just in their occasional reluctance to check in for his flights of fantasy, but more effectively when he senses politically correct jitters when he skirts hot-button issues like gender politics or racism, even though he's only ever going to be silly with them. His shorthand for the gender-fluid as just 'the fluids', for example, is a particularly rewarding line of surrealism. And if anyone's fluid, it's Noble, given his freewheeling trains of thought.
As befitting the title, the show nominally has a Mexican Day Of The Dead vibe, topical for this week at least, with a set comprising giant calaveras (those stylised skulls you'll be familiar with) and some slightly off-kilter Spanish-language versions of pop classics played in the interval. A faux mariachi number at the top of the show tells a folk story that they call Noble El Hablador – which means 'the talkative one' – although the subtitles reveal the legend to be as much BS as you would expect.
It's little surprise that this is as far as the Mexican theme extends, unless you count a determinedly absurd routine that comprises Noble only mispronouncing the word 'chihuahua' with peculiar stresses, and occasionally in an Elvis voice, which again treads that fine line between admirable commitment to an idea and a point laboured. It just about stays on the entertaining side of the line.
For he's not afraid to play the fool, the idiot butt of almost all of his stories – not least when he thought it a good idea to sandwich the Great North Run between two stand-up gigs in 24 hours. This story allows him to display a fine funny walk, too, thanks to the seized muscles and injuries he suffered.
And when he inadvertently released a belch into the microphone mid-story – an accidental highlight of the show – that only served to undermine any sense of decorum or authority that Noble had left. Fuelling the naif image, many stories have him doing something allegedly innocent which appears lascivious to the uninitiated bystander, a trope that could have come straight out of the Carry On movies.
One thing we could probably end is the tradition of punters leaving him gifts in the interval. Where once this might have yielded some quirky home-made items, now it's pound shop tat and requests for him to give shout-outs to birthdays in the house.
And the 'any questions?' encore produced a few good gags, but also encouraged idiots to shout nonsense. It's definitely better when the jokes spring from Noble's head.
By this time – more than 2hr 30min into the show once he interval's included – the self-indulgent had also come to outweigh the delights. It may be impossible to discipline Noble without losing his mischievous essence, but El Hablador could nevertheless be tightened a little more than this.
• Ross Noble is on tour with El Hablador until December 14. Click here for dates
Read More
Published: 9 Nov 2018
He wanted to tell us something about feminism, but…
14/10/2016
Just before Laughs In The Park, Eddie Izzard became…
23/07/2011
Even at its best, stand-up cannot hope to capture the…
22/09/2010
To call Things a consistent, easily definable show…
22/09/2009
Talk about souring the mood. Telling 2,000-plus comedy…
23/07/2009
You don't often get the chance to see Ross Noble…
22/07/2009
Ross Noble has built such a cult of personality around…
6/03/2008
DAY ONE: FridayLatitude has always strived to be more…
1/01/2008
Here's a first. A big live theatre gig simulcast…
1/01/2007
Many comics develop a catchphrase. Ross Noble must…
1/01/2006
The backdrop to Ross Noble's latest offering is a jumble…
1/01/2004
Freewheeling his way into the West End for that 'difficult…
1/01/2003
Expectations are always high with Ross Noble. He's…
1/01/2002
If comedy is the new rock and roll, then Noble is…
1/01/2001
Cheeky yes, but this is not nasty. Noble is laughing…
1/01/2001
The comedy cognoscenti have already made much of Noble's…
1/01/2000