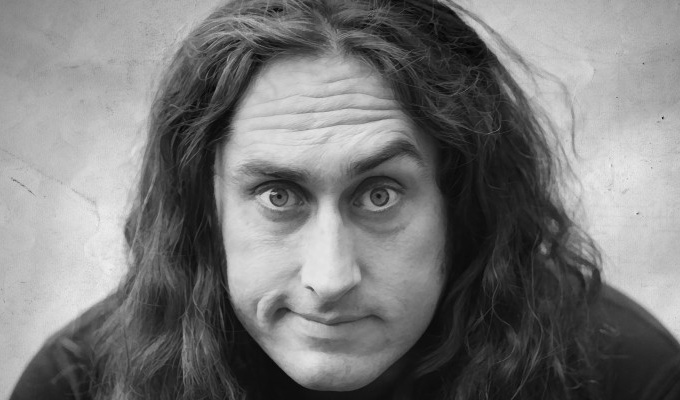 Ross Noble: Brain Dump
Note: This review is from 2016
He wanted to tell us something about feminism, but true to the form of the past 20-plus years, Ross Noble got distracted.
That's how we got onto a time-jumping, donkey-molesting Tom Cruise, an alternative take on Olympic diving that made 'Hello Tom Daley' into a silly catchphrase, and a jumper morphing into devil pug with flaming eyes.
Noble has always been king of the 'in the moment' comedians. And if there isn't a moment, he'll do his darndest to create one. Even getting stuck in traffic on the way to the gig prompts one of his long digressions, each of which sprouts creeping branches that wrap themselves into later routines.
'If I have an idea I am contractually obliged to pursue it as far as possible,' he says. Unless, that is, something else strikes him en route.
He makes bullshit look easy, as demonstrated whenever an audience member attempts to match his smartassery. But he only ever teases those making interjections, never slapping them down cruelly, for he needs these comments from the stalls to fuel his invention.
It's a very conversational set, albeit one-sided.Much of his material comes from what response he gets, or imagines he's getting, from the room. 'Don't make me out to be some Frankie Boyle character' he'll say when one of his random thoughts could be misconstrued, or 'please yourself' he'll concede when a bit doesn't fly. Frankie Howerd lives… 
In return, it's easy to like his loose, carefree approach which yields hilarious moments you know will never be repeated. It also gives him the latitude to fail – at least a little bit – as he did when talking about indulging in the pastime of 'geocaching' without explaining to the unsavvy what it was.
When someone in the front row references a bit Noble did on TV, it seems to miss the point: he'll never have the one classic, honed routine that everyone can share. What's in the theatre today is for us alone. Rarely has 'you had to be there…' been more apt.
There are, of course, sections that are actual routines. They're not always the strongest moments – and occasionally even deploy an old joke or two that are forgiven with his exuberance and execution – but they do provide necessary waypoints for his flightiness.
That said, he's certainly got a strong, written bit about Brexit – combatting what he sees as the mass insanity of the 'leave;' vote with surrealism, the best weapon in his arsenal and his own little dadaist protest movement at meaningless statements like 'Brexit means Brexit'.
His extravagant fantasy could be an absurd Stewart Lee routine, albeit infected with a big dose of cheek and enthusiasm. He clearly delights in his own invention, whether planned or improvised – and especially when it's got a naughty double meaning.
We got to the feminism bit in the end, after being prompted by a punter in the Q&A encore. It probably wasn't worth the wait – but the meandering journey was well worth taking.
Review date: 14 Oct 2016
Reviewed by: Steve Bennett
Reviewed at: High Wycombe Swan
Recent Reviews
What do you think?