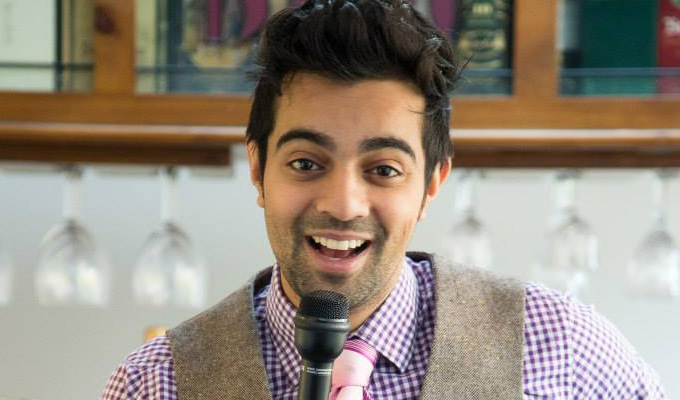 Raul Kohli
Raul Kohli: All My Heroes Are Dead, in Jail or Touched Up Your Nan
Raul Kohli outlines this show as offering 'no solutions, just a series of questions'. And what a lot of questions he crams into the hour, covering public shaming, racism, sexual abuse, transgender identity, empathy, the rise of the populist right, the simplification of historical narratives and more – all in the name of exploring how almost no one can be seen as an unvarnished hero when you consider the full picture.
So where do you draw the line? Is Aziz Ansari a villain for his behaviour on a date? Should Winston Churchill continue to be lionised, despite being responsible for a genocide? Kholi's set-up includes reeling off a list of public figures whose reputations have recently been tarnished – and it's a very long list.
He presents a nuanced, complex picture, unafraid of shades of grey – even if simplicity and certainty would be more direct routes to laughs.
Kholi does, nonetheless, find comedy in all this, but not consistently. There are large chunks here, especially at the start, that come across as extracts from a sociology lecture – albeit a well-argued sociology lecture – rather than a comedy routine.
Often untroubled by jokes, he outlines his subtle points from imploring sympathy for Isis brides, arguing for nationalism (though his version is more like patriotism), and trying to unpick Kodak Black's comments about not finding dark-skinned women attractive. When he does remember to put a gag in as a counterbalance to the arguments, it is not always strong.
Kohli is a compelling orator, however, with passion, integrity and eager likability. He holds the audience rapt when he tells some of his more dramatic stories, from a post-Brexit racist encounter on the streets of Glasgow to his aunt's horrific flight from newly partitioned India.
Kohli hits his stride about a third of the way through when he focuses more on sexist behaviour in the light of #MeToo, confessing that he fully bought into the laddish culture as he grew up in Newcastle, admitting to conduct the current, 28-year-old, him finds abhorrent. Though there's a delicious twist in that tale.
The personal touch makes it more pertinent than his more abstract speechifying, and he has this part of the show down pat, probably because he told and honed much of it in Edinburgh last year, when the show had the same name, even if he didn't. (His first name was originally spelt Rahul, but he recently changed it, perhaps to avoid confusion with his iZombie actor namesake)
Kohli exudes the confidence, honesty and intelligence that he needs to walk the tightrope of sanity over the abyss of offence. He does argue himself towards some hard-hitting – and funny – bad-taste jokes, safe in the knowledge audiences will see them in the way they were intended.
There are also some standalone bits, probably from his club set, that he melds in seamlessly, from astutely observing how women treat royal weddings like men treat football to contrasting smoking and masturbation – which is rather low-hanging fruit, comically speaking. Other routines on separating the art from the artist when it comes to R Kelly and Jimmy Savile so obviously being a paedophile, are the stuff of a lot of comics' sets, too.
But Kohli covers a lot of ground here in a polemic that argues that there's good and bad in everyone. Aptly, the same could be said of this show, which has brilliant moments, easy targets hit squarely, and proper duds in roughly equal measure.
Read More
Published: 4 Aug 2019
Rahul Kohli's hot-topic show is swelling with…
5/08/2018
It's always the most eclectic of the new act…
30/01/2017
Rahul Kohli discusses big issues – often rather…
26/08/2016
A gloriously diverse bunch of new comedians, a hugely…
17/08/2016
The Beat The Frog World Series line-ups are always…
10/11/2015
Past Shows
Agent
We do not currently hold contact details for Raul Kohli's agent. If you are a comic or agent wanting your details to appear on Chortle, click here.