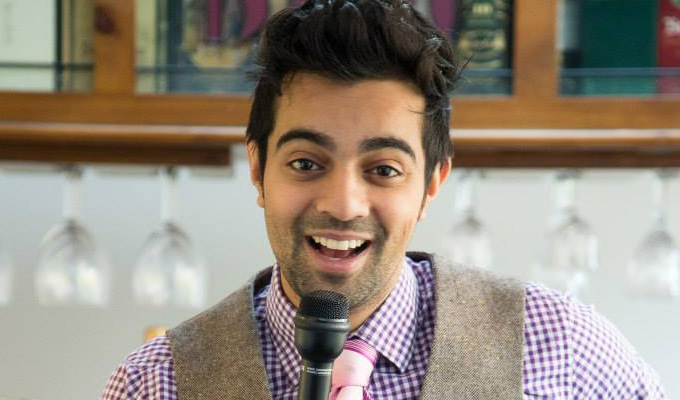 Raul Kohli
Rahul Kohli: All My Heroes Are Dead, In Jail Or Touched Up Your Gran
Rahul Kohli's hot-topic show is swelling with relevance. As the title suggests it's about the downfall of heroes from Bill Cosby to, erm, Rolf Harris. The list is so long Kohli spends a good couple of minutes cataloguing them all in a We Didn't Start The Fire-style list.
As a former fan of R Kelly and The Lostprophets, his aim is to consider whether art can be separated from the artist or whether the enjoyment they gave is forever tainted by their actions.
It's a grey area, as life does not just offer up binaries between heroes and villains. Many great people had more shameful sides (Russell Kane has a BBC podcast about this very issue) but should we be tearing down the statues for transgressions that were more acceptable in their time? Should we be tearing down every public figure for an ill-judged tweet or a clumsy unwanted sexual encounter? Once everyone's ostracised, who's left?
These are choppy waters for any comedian to navigate. One false gag and it could be career over, the very point Kohli is making about the other performers. But he steers a firm course, condemning bad behaviour while being more circumspect over the reaction to it.
For example, rapper Kodak Black was castigated for racism when he said he doesn't find dark-skinned women attractive. But his long list of convictions suggests he should never have been anyone's role model in the first place. Do we need to act outraged?
Few in this world are blameless. In a gutsy move, Kohli admits to moments when his own judgement has lapsed in the past, for which he still bears some shame.
His delivery's always cheery, even when the subjects aren't, and he's more than personable enough for that gap between content and style not to jar. He occasionally tweaks at the provocative or the contentious but always with a glint in his eye. Other times, this lively 26-year-old Geordie gets a laugh from the sudden gear change from the significant to the trivial.
In truth, this show could definitely do with more gags. But as a call for us to all try to be better, and to acknowledge that none of us is perfect, however much we signal our virtue, the subject is broached in an engaging an entertaining way.
Read More
Published: 5 Aug 2018
It's always the most eclectic of the new act…
30/01/2017
Rahul Kohli discusses big issues – often rather…
26/08/2016
A gloriously diverse bunch of new comedians, a hugely…
17/08/2016
The Beat The Frog World Series line-ups are always…
10/11/2015
Past Shows
Agent
We do not currently hold contact details for Raul Kohli's agent. If you are a comic or agent wanting your details to appear on Chortle, click here.