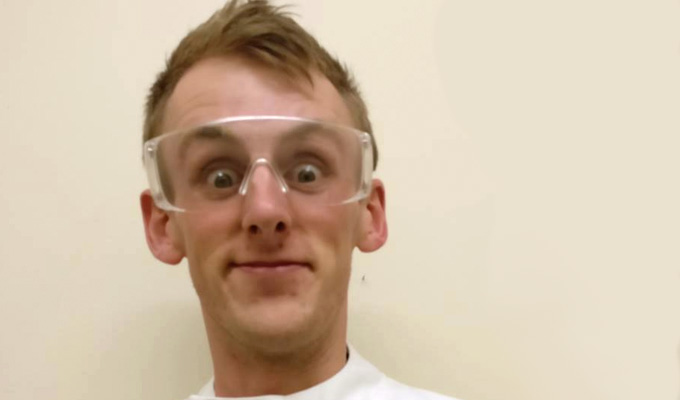 Chortle Student Comedy final 2016
Note: This review is from 2016
A gloriously diverse bunch of new comedians, a hugely excited audience and the encouraging, freewheeling compering of Mark Watson conspired to make this year's Chortle Student Comedy Award Final the most consistently strong in years.
First on to the stage, to an explosive round of applause, was Adam Mastroianni, an American currently based in Oxford. He played on differences between the reticent Brits and our more optimistic transatlantic cousins, as might be expected, but hit new angles with polished, punchy jokes. A couple of recurring themes gave the set coherence, and the gag count from this slick, efficient comic got the show off to a cracking start.
Roya Shadmand has a looser, more casual approach - but then floored the room by proudly declaring herself a 'pervert', especially when contrasted with her naive Iranian mother. That was one of a handful of killer lines in her routine, which occasionally meandered a bit – including a strange animal impression which closed her set – but generally felt refreshingly open and relaxed. A raw talent, for sure.
Michael Odewale was appearing in his second new act final in a week, following his sterling showing at the BBC New Comedy Award final at the weekend. Now, as then, he displayed an engagingly sardonic wit as he discussed his lot, underscored with social points about race. That he addresses points softly and with a wry wit is appealing, and he mixed the astute with more personal observations, that were even more quirky. One or two lines were a little less solid, but only because he set the bar so high for himself.
Tom Gidman couldn't make it, Watson informed us, so in his stead, Andy Murray – a version of the Olympian as a variety show host, his monotonous deadpan in perfect contrast to the talents normally required for the job. Gidman's a gifted mimic (we also got Ed Miliband and David Attenborough as acts on that fictional show, as well as a hapless, corny magician) but more importantly he's a strong, original writer. The gags did not just depend on recognition of his target alone, but strong characterisation, imaginative gags, and a fine, expertly timed performance. He's got shades of a young Steve Coogan, and on a strong line-up, stood out enough to take the title.
In writing and demeanour, Eric Rushton portrayed himself as the sad, lonely sap, racked with self-doubt and crippled by low confidence, finding it difficult to connect with people. In a performance situation, though, his low status engendered sympathy and empathy – and it certainly took confidence to open his biggest gig to date with his worst joke, as he acknowledged,to reinforce his underdog status. The performance was low-key, and probably a couple of the jokes were, too. But he's intriguing and amusing, we'll hear more from him.
The super-camp delivery of Josh Jones sugar-coated material that could have seemed bleak. His childhood abuse, for example. His writing needs to get a bit more disciplined – some of the material about his sexuality could have been tighter, although it led into a strong point about being barred from donating blood, summed up in delightful brutality. He has a very engaging personality, and a back-story that should keep him in routines for years to come.
Rahul Kohli already has the poise, confidence and punchiness of a pro; and indeed has already secured a coveted slot at the Stand for his solo debut this year. In a seven-minute spot, he nimbly raced through the hot topics of racism and rape, packing in the punchlines while hitting back at the offenders with a warm, cheeky wit. It's a robust, set that hits big topics with a sense of fun, oven-ready for any club. With plenty to say, Kohli took the silver prize on the night.
Morgan Rees is full of slightly-off-the-wall Welsh charm, engaging the audience with cheery stories of disappointing school trips and his love of custard – a small passion, but one he conveyed appealingly. A great joke about his knowledge of the Welsh language led to discussion of the words for microwave and jellyfish being 'popty ping' and 'pysgod wibbly wobbly', which seemed like he was going down an old (and largely inaccurate) route. But actually the punchline was fresh and funny, establishing him as another comic to watch, on a night that was full of them.
Review date: 17 Aug 2016
Reviewed by: Steve Bennett
Reviewed at: Pleasance Courtyard
Recent Reviews
What do you think?