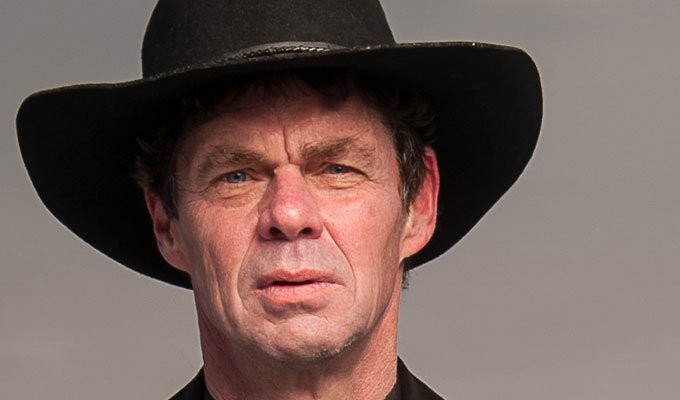 Rich Hall
Date of birth: 30-11-1953

Rich Hall: 3:10 To Humour
Note: This review is from 2015
Rich Hall is back with a new tour, obscurely titled after a 2007 Russell Crowe remake of a half-century old Western.
Whether it needs such a monicker is a moot point, as Hall does not go in for heavily authored shows. Comedy's favourite curmudgeon is always gigging and his material evolves on the road, so you'd be hard-pressed to know where one tour ends and another starts.
Certainly there are elements of this performance that have been in his repertoire for a while, such as the improvised song asking what 'Big Bad Richard', selected from the from row, would do to save a poor boy stuck down a well. And towards the end we get a rendition of Bob Dylan Is Getting Back Together, which is a couple of years old, but remains a fine example of how to tszuj up a comedy song, thanks to his unique harmonica technique.
Yet other routines are peculiar to this specific gig, whether emerging from audience banter or giving him the chance to show off local references, such as Melbourne's not-exactly-classy Exford pub.
A great new set piece revolves around the next US Presidential election, which he depressing envisages as a sequel to the last Clinton vs Bush showdown. His analogy for the seemingly endless supply of Bushes making their unwelcome entrance on to he political stage is especially strong, playfully testing the audience's tolerance for his ever-escalating idea, and becoming hilariously 'meta' as he strides into the audience to heckle his own piss-poor characterisations. It is an absurd reaction to absurd politics, and wonderfully done.
What supercharges all his material is that distinctively growly, grumpy delivery, barking out his observations with a disillusioned incomprehension that no one else has seen through this bullshit. His attitude is like the landscape of his native Montana: unchanging, craggy, impressive.
It gives comments about dumb Americans, the Tesco horsemeat scandal of 2013 and the gun-toting NRA a pointed edge, even if they are based on thoughts any sane person might have had themselves. Plus the fact that he's one of their own provides added bite to the Yank-bashing – and who doesn't enjoy that?
Read More
Published: 20 Apr 2015
Tesco had to close a supermarket in storm-lashed Brighton…
11/10/2014
He's has been coming to the Melbourne International…
8/04/2013
It's often asked why London doesn't have a comedy…
19/07/2012
This is comedy as an endurance event – the sort…
25/05/2011
Rich Hall has never been a man with a sense of occasion.…
27/09/2009
Despite the best efforts of the traffic noise leaking…
24/08/2009
Fringe veteran Rich Hall returns with another hour…
15/08/2009
Grumpily disillusioned American Rich Hall mixes an…
1/09/2008
While Rich Hall is spending the festival coolly reading…
1/08/2008
DAY ONE: FridayLatitude has always strived to be more…
1/01/2008
There's been little hoo-ha about Rich Hall's return…
1/01/2008
DAY FIVEAn outdoor comedy festival with Pimm's on…
1/01/2008
Rich Hall's second Fringe play, Best Western, is…
1/01/2007
Rich Hall leaves every other stand-up in the dust.…
1/01/2006
'There's a thin line between comedy and a hostage…
1/01/2006
It's been a while since Rich Hall performed a full-length…
1/01/2003
At the time, it was said that September 11 marked…
1/01/2002
Products
Past Shows
Agent
We do not currently hold contact details for Rich Hall's agent. If you are a comic or agent wanting your details to appear on Chortle, click here.