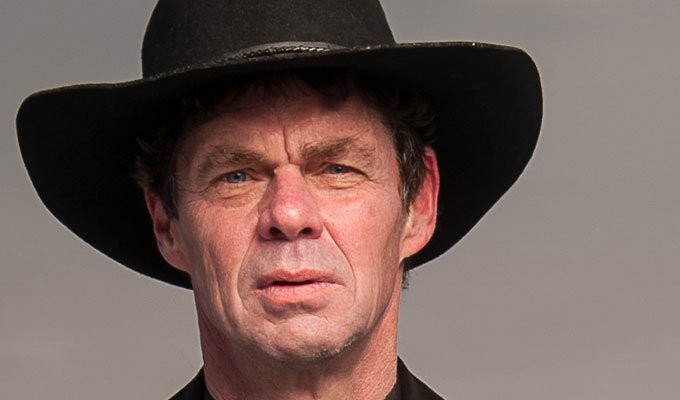 Rich Hall
Date of birth: 30-11-1953

Cray Cray Cabaret
Quite how much cabaret is in Phil Nichol's Cray Cray Cabaret might be moot… but there's no denying this is a great night out with a twist.
The concept started at the Edinburgh Fringe a few years back, but has just started a monthly residence at the London Comedy Store, opening with a line-up dominated by musical stand-ups.
The cornerstone of the gig is David Tims and The Big-Ish Band – tonight featuring Amy Winehouse's bassist Dale Davis. Every comedy show is enhanced by a house band, and this quartet rise to the occasion marvellously, skilfully improvising with the comics in the line-up, however demanding it got.
Nichol – currently appearing in the West End musical There's Something About Jamie – is in full Mr Showbiz role as host. He exudes high energy in his sparkling red jacket as he belts out songs such as his parody of oversensitive offence taking, You Can't Say That To Me.
He set the mood early doors by discovering several members of the London choir in the audience. Whatever he had planned was abandoned for an impromptu recital, sending the message that this is the sort of gig where anything could happen.
Opening act Njambi McGrath was the only straight stand-up on the bill. She used her Kenyan background to tweak the noses of the descendants of her colonial oppressors, exploiting the liberal white guilt in the room. Her demeanour is stern, but the stereotype-pricking material is a little more playful.
With a genial heart beneath his grizzled, grouchy exterior Rich Hall brought a touch of Montana to Soho as he rasped out his country-flavoured ballads – including one to the legend of Travis Perkins, a fine cowboy name if ever there was one. In another, the unlikely phrase 'fur on a stick' becomes a totem of exasperation, while the NHS worker and his Citizen's Advice Bureau-working partner in the front row become features of a semi-improvised song doling out some gnarled fireside wisdom.
Huge Davies describes himself as 'quite a difficult comedian to enjoy' – which is an absolute lie. Sure, he affects a standoffish, contemptuous attitude that doesn't seek to make friends, but the writing will win him plenty of fans. Deconstructing song lyrics is a strong suit – an old trick but artfully deployed – while his wry recreation of a DJ set is observational comedy with a twist.
Flamboyantly and fabulously dressed in an ocean of ruffles, closing act Jayde Adams embodied the showy nature of cabaret, even if she did quip that being a cabaret show meany she didn't have to tell any jokes. Compared to the other acts, she's certainly more of a storyteller, winning audiences over with the strength of her bold personality uncompromising attitude. Still, there's an underlying wit to all the tales.
She gave an all-too brief glimpse of her cracking voice too and while she lamented the fact she can't return to her old job as an Adele impersonator, now the singer's slimmed down, there's no question she would ever have to.
Finally, to wrap things up in upbeat tub-thumping style, Nichol led the audience in a singalong – or more accurately chantalong – to The Proclaimers. Cray Cray Cabaret might not quite be worth walking 1,000 miles for, but the Comedy Store is well-served by the London Underground…
It returns to the Comedy Store on October 13 with Abandoman, Javier Jarquin, Sophie Duker and Suzi Ruffell joining Nichol and his sparkling jacket.
Read More
Published: 9 Sep 2021
Rich Hall is back with a new tour, obscurely titled…
20/04/2015
Tesco had to close a supermarket in storm-lashed Brighton…
11/10/2014
He's has been coming to the Melbourne International…
8/04/2013
It's often asked why London doesn't have a comedy…
19/07/2012
This is comedy as an endurance event – the sort…
25/05/2011
Rich Hall has never been a man with a sense of occasion.…
27/09/2009
Despite the best efforts of the traffic noise leaking…
24/08/2009
Fringe veteran Rich Hall returns with another hour…
15/08/2009
Grumpily disillusioned American Rich Hall mixes an…
1/09/2008
While Rich Hall is spending the festival coolly reading…
1/08/2008
DAY FIVEAn outdoor comedy festival with Pimm's on…
1/01/2008
There's been little hoo-ha about Rich Hall's return…
1/01/2008
DAY ONE: FridayLatitude has always strived to be more…
1/01/2008
Rich Hall's second Fringe play, Best Western, is…
1/01/2007
'There's a thin line between comedy and a hostage…
1/01/2006
Rich Hall leaves every other stand-up in the dust.…
1/01/2006
It's been a while since Rich Hall performed a full-length…
1/01/2003
At the time, it was said that September 11 marked…
1/01/2002
Products
Past Shows
Agent
We do not currently hold contact details for Rich Hall's agent. If you are a comic or agent wanting your details to appear on Chortle, click here.