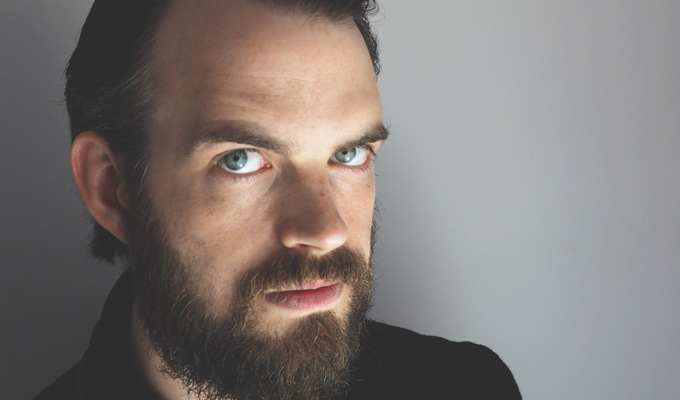 Pat Cahill
Winner of the 2012 Chortle Award for best newcomer
Read More
Pat Cahill: The Fisherman
Note: This review is from 2017
Pat Cahill has an endearing habit of dismissing his previous shows as self-indulgent folly, promising something more mainstream, then reverting to his eccentric sensibility once again.
Mind you, The Fisherman is about his genuine passion. Passed down from father to son as a substitute for emotional engagement, fishing is portrayed by Cahill as a state of mind rather than a hobby, with the presence of fish almost an afterthought.
Likening the process to comedy, in that he casts his rod into the water with a variety of unlikely bait, fishing for him is also the working-class man's escape from his troubles into his imagination.
So while his elderly drinking buddies argue the toss about Mary Quant's contributions to fashion and male desire, he's locked into his earphones and iPod, mashing up songs and distilling others down to their most distinctive parts. You'll never hear Enrique Iglesias the same way again. But you'll long to hear Michael Stipe on the theme tune to one of Britain's greatest sitcoms.
Perpetually casting doubt on this use of his time (and, indeed, on what's he done with his life), Cahill surrenders to melancholy when he accidentally kills a perch, channelling the bleak vocal style of Nick Cave's murder ballads. This, in turn, brings out his Black Dog, but there's a twist in the tale, because he's a hound of instant gratification rather than depression.
It leads to a typically catchy tune from the comic as he bounces from foot to foot, in a rather joyful surf rock style, which in turn sets up a retreat into a poignant, formative childhood memory that Cahill later punctures with exquisite finality, undermining any tedious 'message' that the show might have sought to convey.
Elsewhere, there's a return to Nick Cave for why he can't pronounce a certain foodstuff; the hilarious encapsulation of his contemporary hangovers, a social gaffe from the night before repeated in escalating tones of disbelief; and an equally brilliant rock 'n' roll number about Brexit and supposedly nice things that turn out to be horrible, called Granny Got It Wrong.
Indeed, the songs remain the apex. Cahill's likening of the breeding habits of tropical fish he kept to a couple who shared his flat is deliberately tenuous, but no more amusing because of that. But his meandering division of fish into classes is leaden, slowing the nimble spring between routines he displays elsewhere.
Despite the deliberately bathetic final story, Cahill still contrives a brilliant, on-theme ending, which rather cannily encourages the crowd out of their seats for photos and an ovation. And while it's not entirely earned, it's instantly gratifying. The Fisherman is definitely worth catching.
Read More
Published: 25 Aug 2017
He almost forgets to mention it, but the abbreviated…
6/08/2016
The latest in Sky Arts' Playhouse Presents… season…
10/09/2015
The smaller room at the Hive already has the feel…
20/08/2015
It may be becoming a December tradition, but there's…
10/12/2014
It is becoming the closest thing we have to a modern-day…
18/12/2013
From what he tells us, it's a miracle that Pat Cahill…
7/08/2013
How do you sum up a whole festival of 520 shows in…
13/01/2013
The Royal Albert Hall is, without a doubt, one of…
24/05/2012
In its home town, the Leicester Comedy Festival Preview…
20/01/2012
It might be just one medium-sized comedy club, but…
22/09/2011
After a six-year hiatus, the BBC New Comedy Award is…
19/06/2011