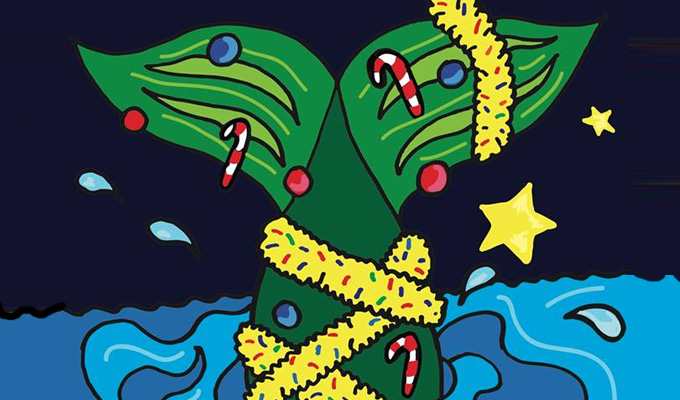 A Christmas Tail: The 2014 Weirdos panto
Note: This review is from 2014
It may be becoming a December tradition, but there's nothing especially seasonal about the pantomime staged by the ever-expanding Weirdos collective of new alternative comedians. This year's offering involves plenty of cheering on villains and booing of baddies, but their story of undersea people, very loosely inspired by The Little Mermaid, otherwise owes little to traditional pantomime.
A closer comparison might be with a junior school nativity, thanks to low-budget but inventive costumes recreating all manner of ocean life. (Is that lobster's face really made out of a toilet seat? Why yes…) And for the sort of derring-do attitude that puts good intentions and high jinks ahead of such petty affectations as slick performances, compelling plots and learnt lines, all indulged by an audience more-than willing to enter the spirit of Knockabout entertainment.
Jumping on a comedy bandwagon, feminism is (almost) a theme, thanks to our heroine, Maggie, who is proud to call herself a feminist mermaid in her No More Page Three T-shirt. Played with the perfect level of wide-eyed earnestness by Harriet Kemsley, she thinks she should take over Atlantis from her Poseidon-like father, although an evil eel and his acolytes have other ideas.
Then there's the other plot about a John Lewis advert depleting the oceans, prompting Maggie to adventure into the human world alongside her newfound best friend, a hapless and gormless lobster – Australian for some reason – played by Joz Norris. Thanks to a mischievous pre-show announcement, he bears the brunt of a barrage of abuse from the audience, the exoskeletoned twat.
Staged in the almost dangerously neglected elegance of the Heroes Grotto of Comedy, A Christmas Tail involves an impractically large cast, with plenty of stand-out cameos from the likes of Pat Cahill, Ali Brice, Beth Vyse and John Kearns, often trying to outdo each other with their character quirks. Katia Kvinge plays another key role, Maggie's vacuous and vain sister whose lazy Valley drawl becomes increasingly irritating and hard hard to understand; while Luke McQueen is the smooth, amoral advertising executive.
A gang show spirit prevails, with the comics liking nothing more than tripping each other up, or messing with the fourth wall. There are songs, original ones thanks to Laurence Owen along with snatches of party classics to set the scenes, and an abundance of marine-based wordplay, gleefully delivered. The ensemble are all clearly having a whale of a time, to add another pun, and the audience cheerfully contribute to the a climate of playful self-indulgence, happy to be in on the silliness.
The balance between discipline and subversion isn't always right, and two-and-a-half hours, with interval, is about half an hour too long to sustain a script (by chief Weirdo Adam Larter) that's constantly on the brink of disintegrating. Pity Matthew Highton trying to direct this mob, but sometimes a little more focus wouldn't go amiss.
Yet embracing the chaos is what a Weirdos show is all about, and over-discipline – if ever that were a risk – would spoil the anarchic oddness of this welcome regular feature on the cult comedy calendar.
Review date: 10 Dec 2014
Reviewed by: Steve Bennett
Reviewed at: Grotto @ The HoHo Theatre
Recent Reviews
What do you think?