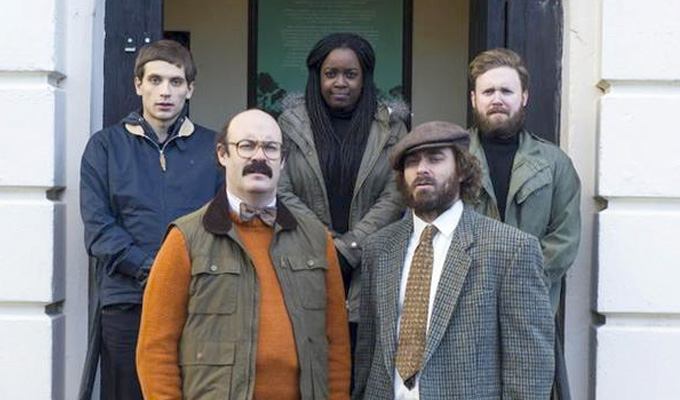 Rotters on Sky Arts
Note: This review is from 2015
The latest in Sky Arts' Playhouse Presents… season couldn't hope for a better cast, with three out of the last four Edinburgh Comedy Award winners.
But Rotters, about a hapless bunch of thieves attempting an antiques heist couldn't bring the same inventiveness to the silent comedy genre as Sam Simmons, John Kearns and Phil Burgers (aka Doctor Brown) bring to the live field.
Nonetheless, they executed their slapstick skilfully, concealing themselves from tweedy shop owner Frank Skinner (successfully playing very much against type) fumbling with the valuable heirlooms and so on.
The tone was sometimes a little more brutal than you might expect, with Kearns's more psychotic raider joining the innocent-ish dumb-and-dumber duo of Burgers and Simmons, human statues when they're not criminals. And there can't be too many shows in a supposedly silent comedy strand that starts with the continuity announcer warning of 'strong language from the start'.
The gang was completed with Daniel Simonsen, bringing the same trademark weird naivety he displayed in Vic and Bob's House of Fools, and Lolly Adefope, who might really have not been there for all she had to do. Meanwhile Pat Cahill played an officious traffic warden ensuring the getaway vehicle fell prey to the byzantine rules. In fact, there was possibly too many people here, with none of them having enough of a character to display.
Unfortunately Rotters suffers in comparison to Steve Pemberton and Reece Shearsmith's impeccable take on the silent heist in the first series of Inside No 9, which showed far more ambition and flair than this, which ran though fairly predictable scenes.
Still one or two set pieces made it worth a look, as well as the curiosity value of seeing a dream team of some of the most interesting live comics assembled for a rare TV vehicle.
Review date: 10 Sep 2015
Reviewed by: Steve Bennett
Recent Reviews
What do you think?