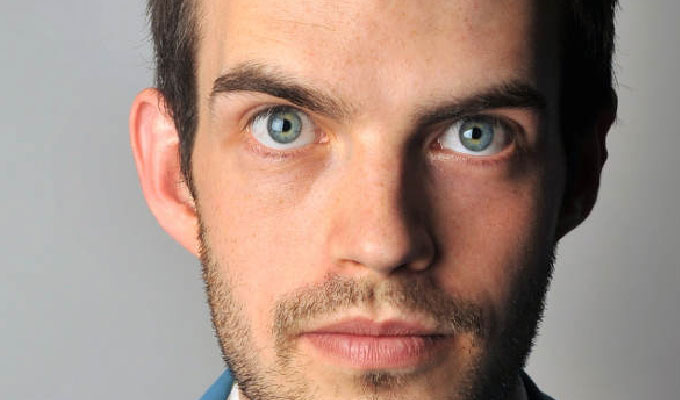 Pat Cahill: Panjandrum
Note: This review is from 2015
The smaller room at the Hive already has the feel of an Anderson shelter, which gives Pat Cahill's wartime themed show an extra authenticity.
As he dons his tin hat, he regales us with some cheery Cockney music-hall songs that kept Britain's knees and spirits up while that rotter Mr Hitler was only going and doing a Blitz on old Blighty! These a lovely parodies of the chipper spirits of the time, replete with nonsense in-jokes as if they were now lost to time – a bit like Paul Whitehouse's Arthur 'Where's Me Washboard?' Atkinson, but with their own jaunty energy. Plus, as Cahill jiggled to the beat he found the resonant frequency of the makeshift mic holder he fashions from a coat hanger, adding a extra visual gag as it bobbed up and down in front of his face.
This is not a war with Bosch, though, but Cahill's war on society, which he fights alone, trenched down in his flat in West London. Although even that idea is a stretch for a theme he grips as loosely as he does reality.
He mixed old-fashioned japery with extended flights of fantasy, a bit like Paul Merton on a good day, which relies on the audience buying into his premises. The highlight of these is a long fantasy about when trapped on the London Underground, where the beautiful isolation is quickly ruined when he turns feral. The details of this adventure provide other surreal mini-routines of their own. And speaking of surreal, his 'facts' about where colours come from nails that brief.
For all the oddness, he's just as happy with a fart joke (a bit too easy this gag) or simply banging his head with a wooden spoon – a timeless classic, this time evoking Spike Milligan if I can reference another comic influence – for the sake of a silly laugh.
Yet the individual set pieces don't build up a head of momentum, and even the best ideas can outstay their welcome – there are just too many, even, of those wartime song spoofs – suggesting he's doing this as much for himself as us.
But even so, there's plenty of offbeat stuff here to enjoy.
Review date: 20 Aug 2015
Reviewed by: Steve Bennett
Reviewed at: Heroes @ The Hive
Recent Reviews
What do you think?