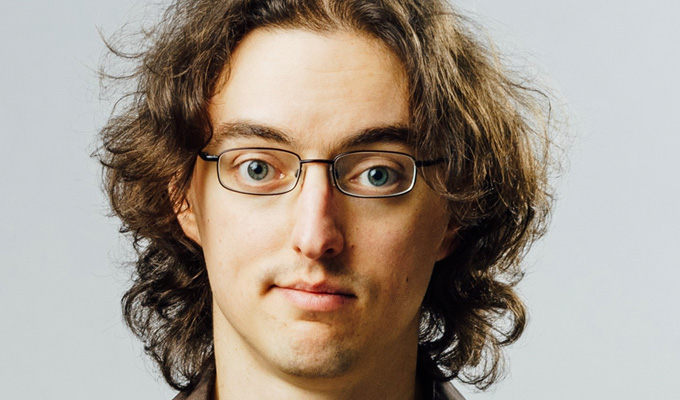 Peter Brush
Third placed in Beat The Frog World Series 2010
Read More
Peter Brush: A Worm's Guide to Immortality
Note: This review is from 2017
Reviewers always refer to the fact that bone-dry Peter Brush is a better writer than he is a performer, a point he addresses in a flippant joke at the expense of style-over-content merchants at this Fringe.
But praise for the writing comes with a caveat in this show. For while he's got inventive punchlines, he's rather less sharp on the editing side, with needlessly verbose set-ups that sap energy and momentum.
He spends a lot of time explaining the context of notions such as fake news, the echo chamber of social media, the demographics of Brexit, how science is more true than religion – rarely saying anything a modestly alert punter wouldn't be aware of, but just using ten sentences to get everyone on the same page, when one would do. Does Tinder really need explaining? Nor are there any jokes on the route, it's either padding or symptomatic of a man who wants to share what he knows and thinks before getting to the gags.
The punchlines are, usually, clever enough to be worth the wait – but that doesn't mean the wait was necessary.
At the crux of the show is the Bertrand Russell quote: 'The whole problem with the world is that fools and fanatics are always so certain of themselves, but wiser people so full of doubts.' Brush harbours such doubts, he argues, so therefore he must be wise. He's almost certainly sure of the logical fallacy at the heart of that conclusion, so he can stay in the 'wise' camp.
There's creative material about topics both nerdy – the first dog in space – and not – dick pics. A story about a relative using an assistance dog to help her narcolepsy gets an 'aah from the audience; while the matter of what happens to social media accounts when you die is a modern dilemma. Strands are pulled together at the end, slightly arbitrarily but enough to give an illusion of structure to material that shares an underlying theme of death.
His low energy means some gags don't land as well as he'd hoped, though the subsequent analysis of why they didn't, or his complaints about 'deserving better' aren't going to persuade us our reaction was wrong.
I've seen Brush be brilliant, his quiet delivery no barrier to commanding a tough room with great jokes. But here the gag rate is too low for him to shine, more mediocrity than immortality.
Read More
Published: 23 Aug 2017
Does TV need another panel show? Jason Manford seems…
13/02/2017
Reviewers always mention Peter Brush's lack of obvious…
21/08/2016
What a solo debut for Peter Brush! This is a man whose…
17/08/2015
Proof, were ever it needed, that the geeks have inherited…
11/12/2013
The final of Beat The Frog, with its line-up of new…
26/10/2010
Past Shows
Agent
We do not currently hold contact details for Peter Brush's agent. If you are a comic or agent wanting your details to appear on Chortle, click here.