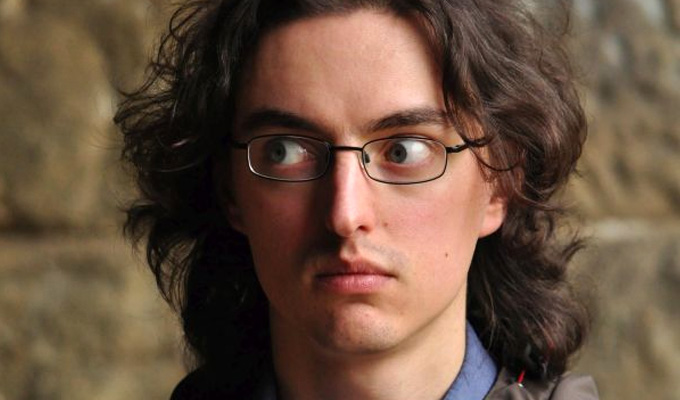 Peter Brush: Older Than The Oldest Dog That Ever Lived
Note: This review is from 2015
What a solo debut for Peter Brush! This is a man whose lack of stage presence, lack of cool, and turned-down-to-two demeanour all reverse expectations and make him compellingly hilarious.
His deadpanning and quiet delivery draws in the audience and the first-class gag writing, complex, logical callbacks and dry, self-deprecating commentary had waves of laughter rolling through the room.
Without doubt it is the funniest show I've seen so far this Fringe, with an enviable density of smart gags of which more than a few had 'wish I'd written that' status.
While he's apparently examining the big issues of mortality, fear, supernatural experience, anxiety, Freudian psychology, ageing and religion – to name but a few – it is in the niggly details of his own eccentricities and foibles that an original and achingly funny voice is to be found. He inhabits a world that is contained in the our regular one, but his preoccupations are uniquely his own and have the effect of refocusing our own thoughts.
He's not a natural performer, he didn't make eye contact nor even pretend to, electing to stare over the heads of the audience into the spotlight at the back, appropriately moving towards the light in this show about death. Or he drops his head and looks down his shirt, being engagingly awkward.
He is not so unworldly as to be unaware of the figure he cuts on stage, making the most of the attributes that probably saw him bullied rotten at school, and showing that success is the best revenge. The show is funny, knowing and has a smattering of properly funny in-jokes for the comedians who will surely be taking notice of him.
There's an acknowledged clunky Edinburgh bit (I won't spoil it) but even that awkwardness is funny. It does add something to the proceedings, but suspect it might even be better show without. Let's hope he doesn't get flattened in the rush of agents wanting to represent him now; he should have his pick.
Review date: 17 Aug 2015
Reviewed by: Julia Chamberlain
Reviewed at: Just the Tonic at The Grassmarket Centre
Recent Reviews
What do you think?