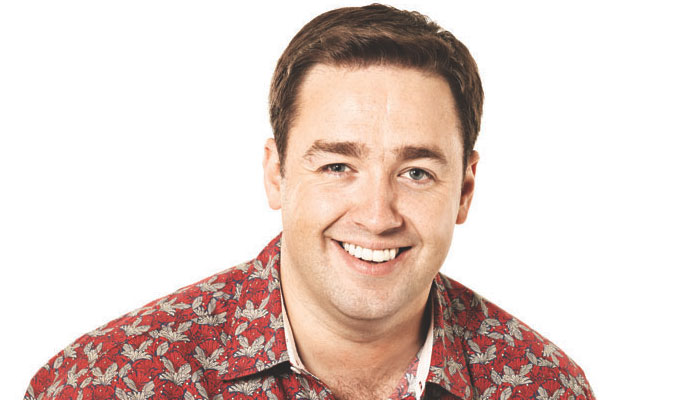 Panelbeaters
Note: This review is from 2017
Does TV need another panel show? Jason Manford seems to think so. His production company is developing Panelbeaters for what he envisages as a post-watershed Channel 4 slot.
The format – devised by comics Caimh McDonnell and Gary Delaney – has been performed a few times in comedy clubs, recorded for podcast. And these two Leicester Comedy Festival shows were videoed, too, to provide a taster tape to woo broadcasters. Hopefully they won't be deterred by the collapse of a punter in the performance after this one…
Finding a new angle in the heavily oversubscribed genre is the challenge, and Panelbusters' main gimmick is that it is adjudicated by the Grim Reaper, with his icy finger of death landing upon the contestant whom he deems to have fared worst at the end of the show.
Personified by Rob Mulholland, he gets lots of jokes about popping round to people before their time. The conceit is exploited well, with a few sly, morbid jokes, though the longevity of this device might be in question since the tone becomes repetitive over the duration of the recording, let alone a full series.
Other than Death's gruesome spectre, there's little to truly distinguish Panelbeaters' format, except perhaps the speed of some of the quicker-fire rounds. The team are asked to come up with puns based on West End musicals, which could have come out of I'm Sorry I Haven't A Clue; they are asked to complete headlines, like in Have I Got News For You; and there's even a round offering a flimsy excuse to perform stand-up, à la Mock The Week. Though of course, being live and away from the glare of Ofcom's watchdogs, the answers here are closer to the bone than what you'll see on TV.
Generic Panelbeaters may be, but there's also nothing particularly special about the format of 8 Out Of 10 Cats – which previously boasted Manford as a team captain – and that's proved to be a comedy-entertainment warhorse for Channel 4, suggesting that the players are more important than the game.
In the chair, Manford is as genial as ever, his propensity for dropping into conversational observations and anecdotes – and so encouraging the panel to do the same – offering a change of pace from the one-liners.
Of the contestants, the stars were probably Jason 'Convoluted' Cook, who proved a dab hand and the magnificently contrived pun, and Peter Brush, taking the Paul Merton role of offering imaginatively surreal slants on the questions, generating imaginative, off-the-wall answers you couldn't see coming. If I were the producer of an existing panel show, I'd certainly be looking to book him, even if his higher-risk strategy meant some lines misfired. But that's why this recording of a 22-minute episode ran for nearly two hours, right? It's all in the edit.
Laura Lexx's biggest strength lies in snappy glimpses of domestic life, especially answers with a twist of bitterness as they glancingly reference failings in former relationships, while Scott Bennett was more of an all-rounder, confident with both wordplay and first-hand stories. 
None of them fared especially well on the topical rounds, however, as the tightness of the format offers  little chance to go beyond the same old tropes such as calling Ukip 'twats' for an easy laugh or mocking Donald Trump for having small hands and orange skin (the 'orange is the new black' line got a decent reaction, but I must have seen it dozens of times on my admittedly comedian-heavy Twitter feed since the primaries).
Questions work better when they are focussed. Suggesting 'things we found on the moon but left hidden there' was a repository for all manner of forced punchlines relying on already-familiar ideas – expect to see that hit the Cutting Room floor. In contrast, 'signs you're in love' offered a lot of first-hand thoughts on a theme which built nicely together for a rounded comic picture of a long-term relationship.
For all its shared DNA with existing panel shows, the one Panelbeaters most resembles is probably The 99p Challenge, which Sue Perkins hosted on Radio 4 from 1998 to 2004, and which features an impressive cast of now high-powered comics writing gags to formula – and that was certainly an underrated delight. It'll be interesting to hear how the 22-minute version of Panelbeaters sounds.
Review date: 13 Feb 2017
Reviewed by: Steve Bennett
Reviewed at: Leicester Hansom Hall
Recent Reviews
What do you think?