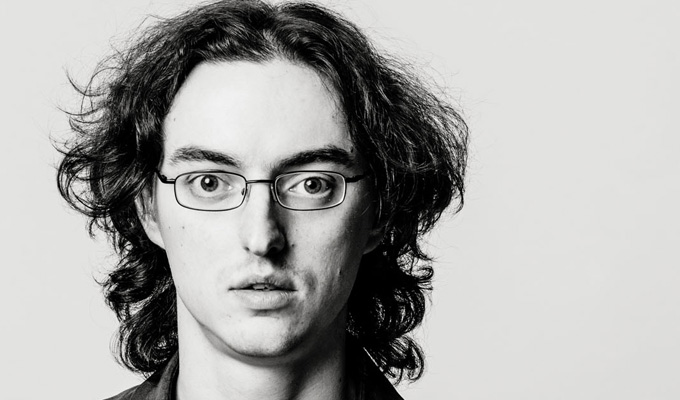 Peter Brush: Dreams With Advert Breaks
Note: This review is from 2016
Reviewers always mention Peter Brush's lack of obvious confidence on stage, suggesting he never looks like he should be there. The criticism gets to him, he admits, since this is his job – though it might be avoided if he delivered less of the set to the floor and more to the room.
Still, such reserve means he can play with the expectations, too, affecting an alpha-male swagger for one suggested show title, hilarious since it really doesn't suit. When he plays the weekend clubs, he says he always gets a battery of ironic wolf-whistles, as if it was impossible to imagine him as a sexual creature – an image again beautifully exploited for a great gag about being in a sex tape.
For Brush is an imaginative writer of gentle but funny absurdity. He has a touch of Paul Merton, in both his accent and more significantly in the mundane surrealism, spinning off into fantasies but maintaining a dry monotone, as if regaling the everyday. He suggests dreams and memories muddle in his brain, which might explain a lot.
His premise is that those dreams get less exciting now he's ageing – although he's only 31 –  so starts projecting back to his youth, and beyond, way back to when the was just a sperm, to try to figure himself out.
The images are amusing, from his vivid dreams of meeting the international star of the Where's Wally? books to the story of the time he tried to poison Santa, and there's often a sharp establishing line with each scenario.
Overall, though, Dreams With Advert Breaks is more about the interplay of ideas than punchlines that slay, though that could be a consequence of his underselling of the set with that quietly-spoken approach. Our muted reactions become something of a running joke, as he engineers applause breaks that would never otherwise happen so as to give him time to take a swig of his water.
But relax and let the rich tapestry of images and ideas pass over you, and Brush reveals himself to make up for in creativity what he lacks in pizzazz.
Review date: 21 Aug 2016
Reviewed by: Steve Bennett
Reviewed at: PBH's Free Fringe @ Banshee Labyrinth
Recent Reviews
What do you think?