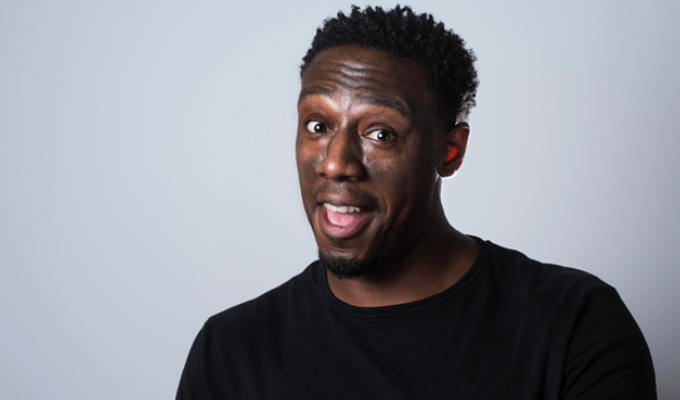 Nathan Caton
'I was stopped by police en route to a show'
First gig
My first gig was all glamour… Not! It was in a tiny dive of a bar in Old Street. I believe the place is now closed down, to which I am not surprised one bit.
The venue held about 50 people for comedy, although on the night of my first gig there were about 12 people there and half of them were the other comedians. To make things worse, at the same time as the gig there were people playing pool in the very same room! They basically had a curtain behind the stage which separated the two, because as we all know a simple curtain can block out any excessive sound right?
As bad as the set-up for the gig was, my performance was even worse. Jeez! If Nathan Caton now could go back to my 19-year old self then, I'd probably walk on stage with a blanket and gently chuck it over young Nathan before politely ushering him off the stage. But in a weird way, I kind of enjoyed that gig. Even though my material was dire and I died a terrible death, I felt comfortable being on stage. I'd like to think that now my material has got a bit better.
Weirdest audience member
A baby! And when I say a baby I don't mean a drunk audience member who's acting like a child, I mean an actual bloody baby!
It was during my 2015 Edinburgh run. I remember being on stage and hearing these weird baby-like noises. I couldn't see who it was or where it was coming from due to the lighting. At first, I didn't think anything of it as it wasn't too loud or frequent. But then as the show went on I heard it a bit more. I thought with it being Edinburgh there was someone drunk in the audience, so nothing out of the ordinary.
Then after my gig a member of the front of house staff told me there was a woman in with a baby. A part of me was flattered that someone wanted to see me so bad that they brought a baby with him when there may have been no sitter available, but another part of me was thinking "A baby?!?!"
If that baby's first words were 'your mum!' then I sincerely apologise to the parents.
Worst gig
My worst gig was doing a lacrosse festival in the suburbs of South London. Firstly, why I was booked for this gig I have no idea. I didn't know that when people look at me I scream lacrosse.
I got to the gig and in hindsight I should've known it was going to be bad. There were a bunch of people outside running about and playing the sport – well I think they were. I'm not over-familiar with lacrosse so who knows what they were doing! Of the people who were inside, some were at the bar drinking and chatting away and the rest were dancing to the heavy rock band on stage. I was told that I would be following the rock band. Yay me!
The thing is, the promoter gave me the money for the gig BEFORE I went on stage, and seeing how awful the set-up was; following a rock band, no seating, open bar, people playing outside etc I could've just taken the money and run. But I decided to do the honourable thing and do my set. Bad decision!
The audience weren't interested in comedy unsurprisingly. It was just bad. Very bad. I was booked to do 20 minutes. I think I lasted about 10. Then after the set while waiting outside for my taxi to collect me I heard someone on the mic say "Well I'll do some jokes as that comedian was absolute pants!"
Most unusual location
In a hairdressers… To this day I still can't believe that gig worked. They pushed all the seats for customers to the side and replaced the empty space with chairs. There was also a massive fish tank directly in front of me while onstage, so in a way I was performing to them. Not that they remembered. Ba-doom-tish! Or should I say "ba-doom-fish!"
The weird thing was, the gig was actually all right. Would've been better if I could've got my hair braided while I was there, though.
Strangest journey to a gig
Does getting stopped by the police count? That's what happened to me. I was going to a gig in central London one Saturday night. I came out of the barriers of the Tube station and this police officer with a sniffer dog came straight at me. I'm not a massive fan of animals so I tried to move out of the way, but the office stopped me and let the dog sniff away. Next thing I know I'm being pulled to the side on suspicion of possessing drugs. No lie.
Of course I had nothing on me, unless soft mints have been reclassified and I've not been told. He took my name and details and asked me where I was off to. I had to tell him I was a comedian which felt a bit awkward as I was being serious and not trying to be cheeky. Fortunately, nothing came of the whole situation and I was clear to go, but talk about a headfuck!
• Nathan Caton is on tour with his stand-up tour Straight Outta Middlesex. The next date is at The Lowry, Salford, on November 9. Click here for the full schedule.
Read More
Published: 31 Oct 2016
Today Chortle launches the fourth annual hunt for the…
26/09/2006
Simon Amstell is to host the final of the Chortle National…
24/04/2006
Chortle has launched the annual hunt to find the best…
21/11/2005
Architecture student Nathan Caton has been crowned…
26/04/2005
Chortle's second Student Comic Of The Year will…
20/04/2005
The last three finalists in the Chortle National Student…
4/04/2005
The finalists in the annual new act competition run…
28/03/2005
The last two heats of Chortle's hunt for the…
16/03/2005
Past Shows
Agent
We do not currently hold contact details for Nathan Caton's agent. If you are a comic or agent wanting your details to appear on Chortle, click here.