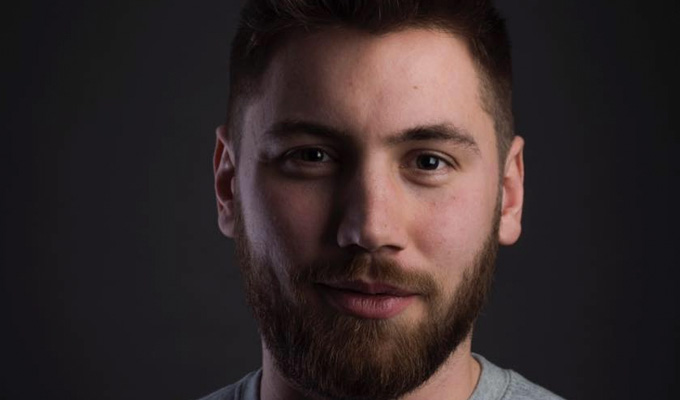 Morgan Rees
Finalist in the Chortle Student Comedy Awards 2016
Read More
Punting Comedy
Given the restrictions on gathering indoors, almost every comedy gig in these times has an unusual twist: it's a drive-in, or in a stately home… or in this case on a pontoon floating in the Thames with most of the audience on punts. 'The most Oxford thing ever,' host Harry Houseman of the local Jericho Comedy Club called it.
Necessity might be the mother of invention behind gig like this, but there's no denying there's a sense of occasion that would be missing from a pub gig – and not just because any live entertainment is a novelty these days. Laying back on the river on a cloudless summer night as the sun sets over the meadow behind, geese, ducks and boaters occasionally paddling by, is a charming experience.
The punts were all moored up, the audience sitting in alternative boats to keep suitably apart… though punters without their sea legs trying to get to and from their seats often looked on the verge of tumbling into the laps of others. Luckily it never happened. More tables were on the banks of the river Cherwell, or on a terrace overlooking proceedings
Slightly marring the experience was the sluggish, and not always socially distanced, queue at check-in. Apparently some of the audience had been confused as to whether they were buying an individual ticket or a whole punt, leading to a 20-minute delay in starting and concerns whether everyone would have a seat. In these nervous times, such relatively minor snafus can dent the all-important confidence in promoters.
Once the comedy started, though, all such concerns subsided. The face-shields of the waiting staff aside, this felt almost normal.
Morgan Rees got the gig off to a sterling start. Even though he acknowledged that the standard of what constitutes a good time has plummeted since lockdown, his charming set would have delivered the goods in any circumstances.
There are strong, good-natured streaks of both cheekiness self-deprecation in his comedy, from depicting his journey from dodgy Merthyr Tydfil (which yes, does include some the Welsh inbreeding stereotypes) to making jokes worth of a Radio 4 audience. Best, though, was the routine about his grandfather getting a young Thai bride and all the weird family anomalies that throws up, the absurdity of which he highlights with amusing incredulity.
For Chelsea Birkby, this must surely be the first time she's asked a middle-aged man punting: 'Have you done ket?' The ad-lib came during an amusing dissection of an anti-drug campaign that didn't quite have the impact its originators would have hoped.
A finalist in 2018's So You Think You're Funny, Birkby is a dab hand at extended nit-picking, as her bit about appropriating murder as the basis for jolly entertainment proves. Not quite every element of this routine zings, but it demonstrates the fruits of taking a forensic approach to single idea.
Houseman, MCing in appropriate captain's uniform, acknowledged he'd established only a tepid atmosphere in his opening of the second half. He's a cheery, gregarious bloke who, before the interval, proved his mettle in mustering a crowd and raising the spirits. But much of his prepared material is over-familiar and sometimes dated, while talking about how weird doing drive-in gigs overlooked the fact we wanted more about the here and now of this unusual situation, which he'd been so good at addressing at the start of the show.
While exploiting a bit of frisson about the inappropriate content of his act given that he's a teacher in an Oxford school, Alex Farrow's story of a bad trip on magic mushrooms unfortunately didn't distinguish itself from countless other routines about getting high, though he worked better in responding to things happening in the moment, so important in. a gig like this.
Headliner Sara Barron brought bags more attitude to the table, her brash, straight-talking American background mixing perfectly with the cynicism that makes her feel so at home in Britain, where she's lived for so long. She prefaces her material by warning that it's dark - but honest would be just as apt an adjective, especially when she forcefully demolished the supposed positivity of a woman aged 40, as she is, living her best life.
It was a strong end to a gig that will nonetheless be mostly memorable for its circumstances. It's rare enough to see live stand-up these days, let alone while lazing on an Oxford punt, like a deleted chapter from Brideshead Revisited.
Read More
Published: 21 Aug 2020
With its high ceiling, vast stage and ambient temperature…
25/08/2017
It is, as host Mark Watson said, a pressure gig. Not…
13/08/2017
A gloriously diverse bunch of new comedians, a hugely…
17/08/2016
Agent
We do not currently hold contact details for Morgan Rees's agent. If you are a comic or agent wanting your details to appear on Chortle, click here.