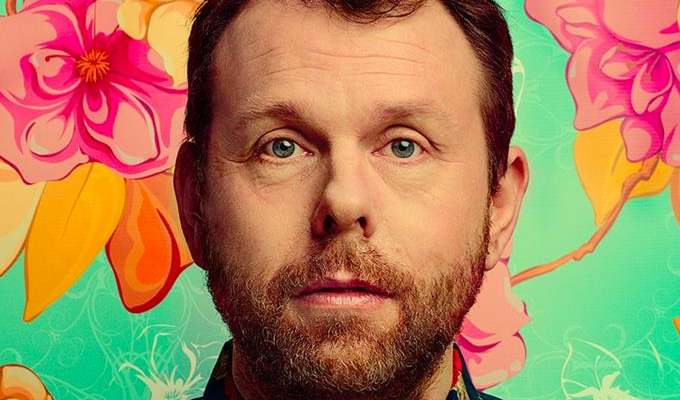 Michael Legge
Michael Legge: Jerk
The angriest man in UK comedy is back at the Fringe for another hour of spleen-venting, more misanthropic, bitter and agitated than ever. Michael Legge is surely the only man in Edinburgh who can shake his fist in anger and it not look like a self-conscious parody.
But although he has a reputation for outraged fury, there are really only two thing he hates. Other people, and himself.
He calls himself a 'real' 48-year-old man, by which he means a physical wreck, a functional alcoholic and permanently spoiling for a scrap. Not like those other pricks who look after themselves and have nice lives.
And when it comes to picking a fight, he finds a perfect enemy in Ukip supporter Simon Winger – 'that's his real name, look him up'. Winger is a fine comedy caricature, a way of making Britain's already ridiculous mini-Farages even more grotesque, via this man of such narrow ambition that Texas is his favourite band, into whose lyrics he finds support for his far-right hate. Winger's a perfect receptacle for Legge's fury.
Delivered at full throttle, with the comic leaning right over the audience so he's truly in their faces, the astringent comedy is twofold. First there's the severity of his brutal swipes at deserving targets, with jokes that are as funny as they are savage, then there is the humour in his absurdly disproportional anger at the undeserving ones. In this, Legge makes Victor Meldrew look like the Dalai Lama.
Coming from a place of very low status, he rants, for example, about hating Ed Sheehan, even though he shouldn't by rights needs to be aware of the moon-faced troubadour's existence. It's a perfect satire on the way the media feeds on stirring up anger over the inconsequential, and culminates in Legge imagining a beautifully horrific back story for the chart-topper.
More rage is directed at himself for finding himself in the Apple Store, despite every ounce of his better judgement, and the experience proving as soul-sapping as he expected. For Legge is painfully aware of his dismal existence. Even a butterfly, whose tiny insect brain he bespoils when it flies into his bedroom at the wrong time, sees him for the base creature he is.
While Legge doesn't get on with humans too well, there's a heartfelt tribute to his dog, the titular Jerk, realised through a leaden David Bowie metaphor. It's definitely too much of a stretch to work, even if the laughs are meant to come from Legge desperation at forcing the issue. But this is the only segment in this blistering hour when his persistence at getting the point across isn't wonderfully, cathartically funny.
Read More
Published: 8 Aug 2017
It's an artistic rite that's helped inspire the…
24/08/2015
Michael Legge is a famous grouch, snapping away at…
14/08/2013
The universe has clearly got it in for Michael Legge.…
13/08/2012
Farewell Gregg Jevin, we hardly knew ye. 'Legendary'…
8/03/2012
What a sloppy, unfinished mess: forgotten lines, fluffed…
18/08/2009
If you were genetically creating the ideal sketch team,…
1/01/2008
Michael Legge and John Voce purport to be the laziest…
1/01/2006
Amusing and lively Irish stand-up who's not afraid…
26/11/2000
Past Shows
Agent
We do not currently hold contact details for Michael Legge's agent. If you are a comic or agent wanting your details to appear on Chortle, click here.