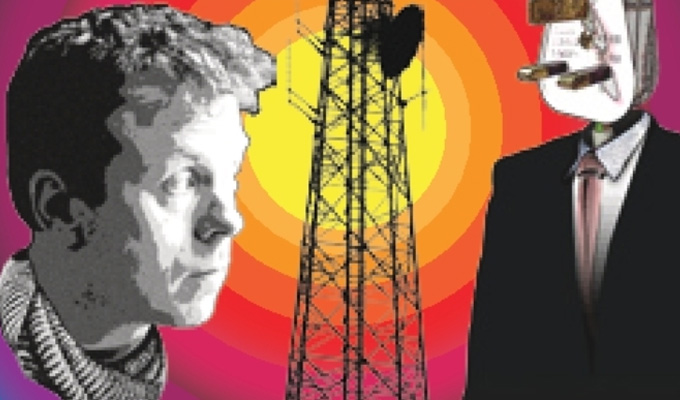 Michael Legge: Free Wi-Fi
Note: This review is from 2013
Michael Legge is a famous grouch, snapping away at all the pricks in the world, and the politeness in society that tolerates them. The only thing worse than the rude and uncouth are those who are in carefree denial of all the misery around us – such as the 'plague of joy' that is the Edinburgh Fringe – or those who tell him he must be more cheerful.
Somewhere along the line, he vows to change his ways, and determines that 2013 is the year he will be happy. But since he's never happier than when slagging off the feckless, we're in for a treat.
For three-quarters of the hour, this is a cleansing blast of righteous intolerance as the easily-angered Ulsterman unleashes the sulphur-spewing fire in his belly, running down his shit list of those people and items who have crossed him. This is vitriolic observational stand-up at its finest, as he brutally rails against miserable situations from being stuck with a friend of a friend, taking a train from London to Edinburgh in a carriage full of actors, or even the changing meaning of words such as 'device'.
The language is perfectly judged, with some beautifully splenetic turns of phrase. And the effect of all this impassioned negativity is, ironically, quite joyous, as there a precious catharsis in seeing all the idiots called to account. After all, who among us cannot raise a cheer of support when he rails against the tiresome parodies of the Keep Calm & Carry On posters? He hates so many things, that if he were to go on Room 101, they'd need extra storage space, but he despises nothing so much as Mrs Brown's Boys, and in a moment of abject self-hatred agreed to go along to a live show, only to have his every prejudice confirmed.
Perhaps for fear of bombarding us with unrelenting misery like the worst twitter whinger (he hates them, too, no surprise) that around the two-thirds mark, Legge breaks his rage to recount an very long-winded story about holiday to Bulgaria, happily wallowing in his own solitude, when he sought to find metaphor in the frogs mating in the garden. This yarn – let's call it a shaggy-frog story – changes the whole pace of the show, as it was surely intended to do, but is a rather odd interlude that doesn't raise many laughs. Still, maybe it makes the stuffed Kermit who watches over proceedings from atop a model Tardis tax-deductible.
But it's actually the Tardis that is a better analogy for Legge's show, as there is so much more in it than appears from the outside. Certainly far more jokes – he packs a gag-rate as high as the most prodigious one-liner merchant – and also the message not to be a rude, self-absorbed tosser. Cos you never know when Legge might be listening in...
Review date: 14 Aug 2013
Reviewed by: Steve Bennett
Recent Reviews
What do you think?