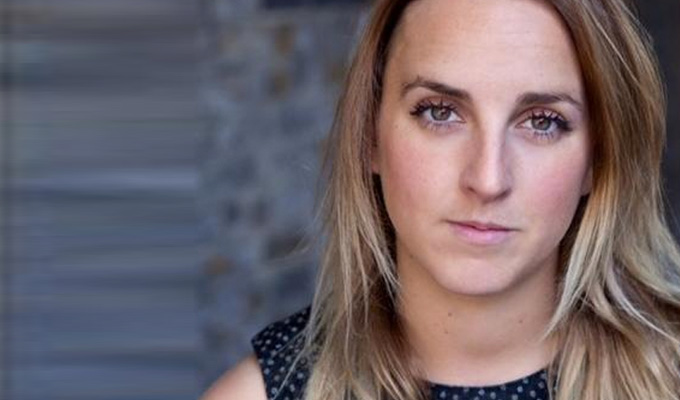 Lucy Pearman
'Do not binge this show. It will do your head in'
Spencer Jones's comedy The Mind Of Herbert Clunkerdunk returns to BBC Two and iPlayer next week with a second series of five 15-minute episodes.
As with the first series, and 2018's Bafta-nominated pilot, the oddball comedy co-stars Lucy Pearman as Herbert's wife Bobby Kindle and Dominic Coleman as his old neighbour Jonny Wallop. Other guest stars over the series include Vic Reeves and stand-ups Felicity Ward and Marlon Davis
Here's an exclusive clip from one episode revolving around a father-son fishing trip – while below are interviews with the stars.
---
Interview With Spencer Jones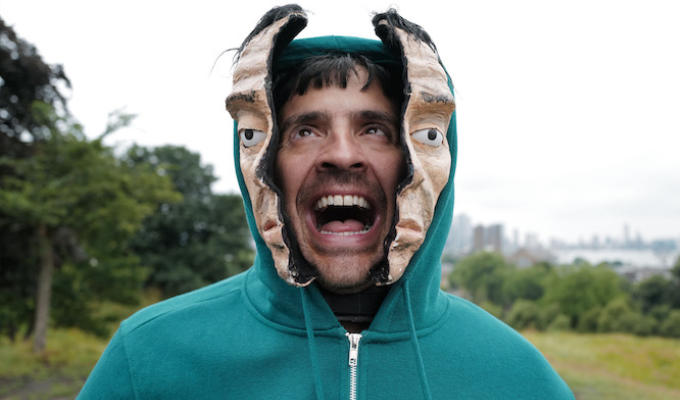 Can you give an overview of the series?
I wrote The Mind of Herbert Clunkerdunk because I needed a way to take my on-stage character The Herbert into a television narrative. People wanted to see weird stuff from me, odd visuals, DIY music, strange characters. So, I created a sitcom with elements of sketch in, where the audience can sometimes see what Herbert Clunkerdunk is imagining, be it a music video about vacuuming, a saucy window that's a puppet, or a western movie about a dodgy mechanic.
How does it feel to be back?
Very pleased to do the second series, but when I first got the call from David Simpson [executive producer with programme-makers Tiger Aspect], I wasn't sure I had enough new gags in my locker.
I started from scratch again, coming up with gags and songs and characters.
But then lockdown happened and suddenly everyone is stuck indoors, trying to keep themselves amused by making stuff, doing art, writing songs, making weird things, and experimenting. And let's be honest, people came up with some brilliant stuff.
I started to worry a bit, suddenly everyone is doing what I do to come up with new material. It was a kick up the arse for me, I would need to up my game just to compete with what the general public were coming up with.
What have you done differently?
I took all the stuff I learned from the first series and added to it. The two big changes were that I wanted Lucy Pearman's character Bobby Kindle to have more to do.
She was criminally underused in the first series. Lucy is very good at comedy but can handle anything else you throw at her. The other thing is we've put a load more music in. And I've got better at it.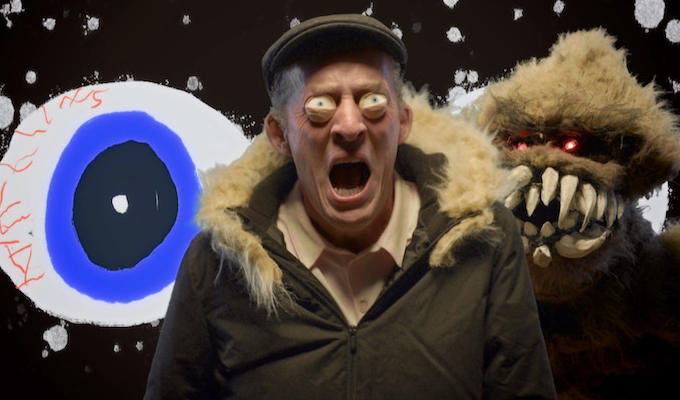 Also, Jonny Wallop is back, (above) but we get to see a slightly softer side to him. There are lots of excellent guest appearances in this series. The quality we got was so good, I really had to up my acting game. They all made me act better.
The main themes of the series are family, work and being an idiot, three things I am most knowledgeable about. There's other stuff but it's a bit more hidden.
Herbert is not in control of his mind, and neither am I, so there are a lot of themes in there: money, fame, love, mental health, the environment, children, friendship, window cleaners, denim, sexism, and stationary that makes love to itself.
How was working with Lucy and the rest of the cast?
It's a brilliant cast who I have become great friends with. To have those people around me, in that very high-pressure situation of filming where my brain is jumping from one thing to another was vital to me being able to pull this off. Like everyone, I was a mess after the lockdowns, confidence low! That's when you want good people around you, and I am very lucky to have that.
In addition to a great returning cast, we were blessed with a whole new load of people I had never worked with before. I wanted brilliant people to push me and the script as much as possible, and we got that and then some.
And the guest stars...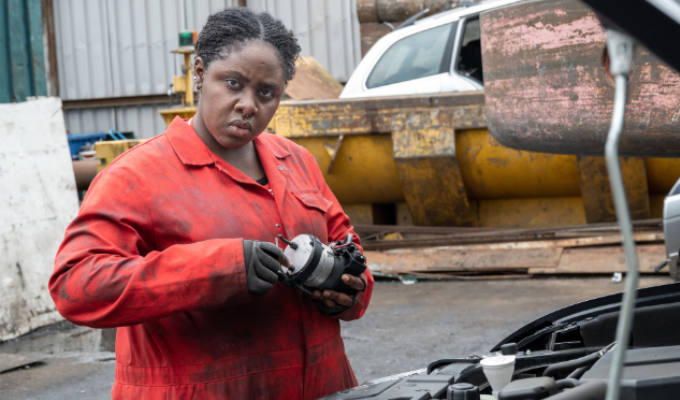 Shiloh Coke did serious, menacing, and suspicious one minute and the most glorious, grinning, lovable mechanic the next. Solid actor, but we did have to do quite a few takes when it came to throwing things.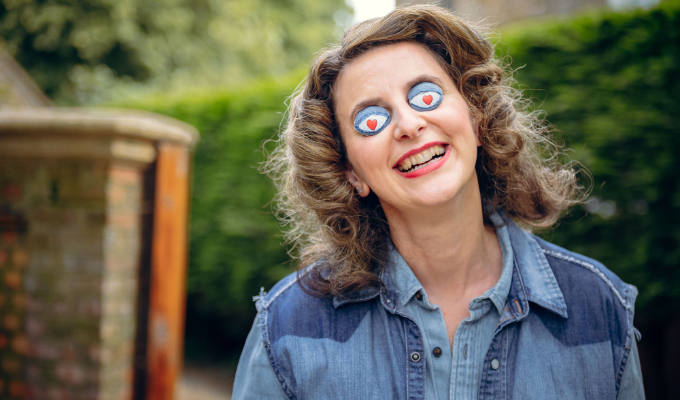 Felicity Ward gave us a treat on set, she might be my favourite dancer on the planet. She was too funny, and people were ruining takes from laughing.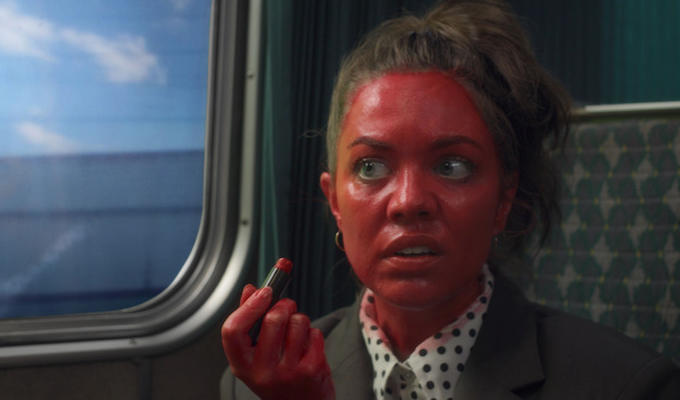 Sarah Twomey was a revelation. Originally cast as Lipstick Linda, she also became a huge hairy monster from Jonny Wallop's imagination. And her work rate saved the shoot on the very last take we did.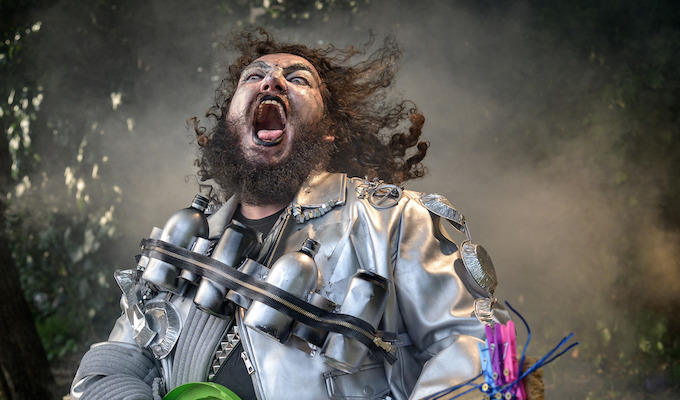 Will Seaward is an actual lovable force of nature, who we managed to harness. He is the best Goth Rocker in south-east London.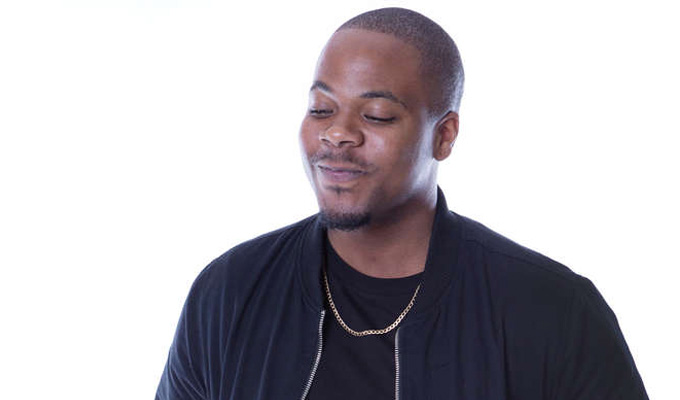 Marlon Davis's silent comedy bones get a chance to shine. We know how good he is at stand-up but, he is also a very decent physical performer.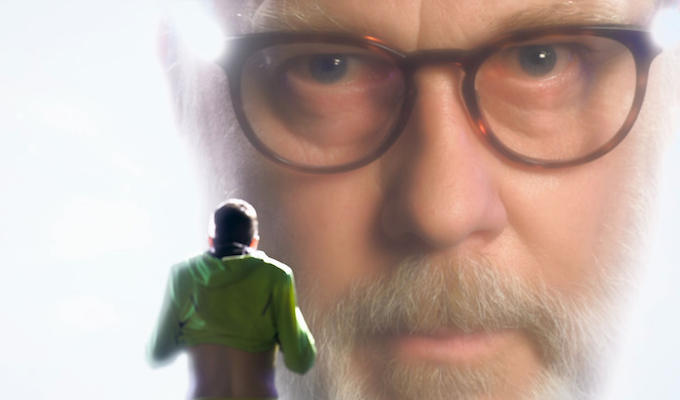 And of course, Jim Moir [Vic Reeves' real name] agreeing to do a cameo blew my mind and it still does when I think about it. Vic and Bob were the biggest influence on me as a teenage kid. I get very nervous around them, and I think I always will.
Can you talk through the puppets, props and video effects ?
As always, I have Jonny Sabbagh and Will Harper in my corner on everything that could be a puppet. From the talking front door and sexy windowsill, to an entire row of shoes, a Jagger-esque rubber mask, and the beautiful underwater fish they created for an environmentally friendly music video.
How was working with your children this time around?
My children [Sonny and Winona, below covered in marshmallow] were way more professional than me. They put me to shame. They drank a lot of tea, and they knew all the words. I was really proud of them.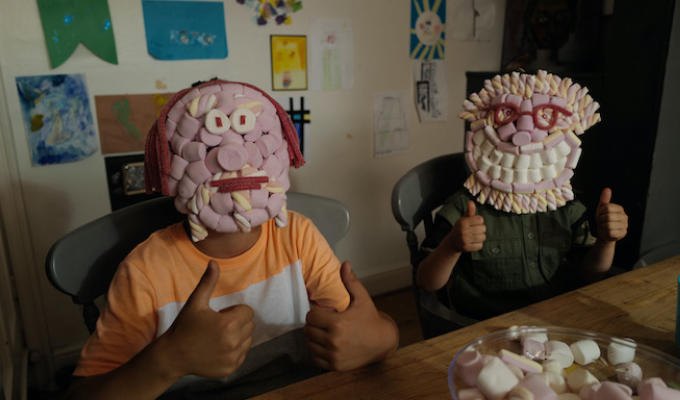 I'm not sure if they want to do any acting again, up to them, but they were the best choice for the weird stuff I needed them to do. We taped my daughter to a wall.
What do you want / hope viewers will take from the series?
I hope if they shout at me on the street, it's nice stuff. But I know better than anyone that Clunkerdunk is a strange show and won't be for everyone.
I also hope they take the title and tell other people about it. It hardly trips off the tongue, so we have a theme tune now - literally says the name of the show ten times. Perfect.
If you do watch the show, please turn up your headphones. And take breaks in between episodes. Do not binge this show. It will do your head in.
---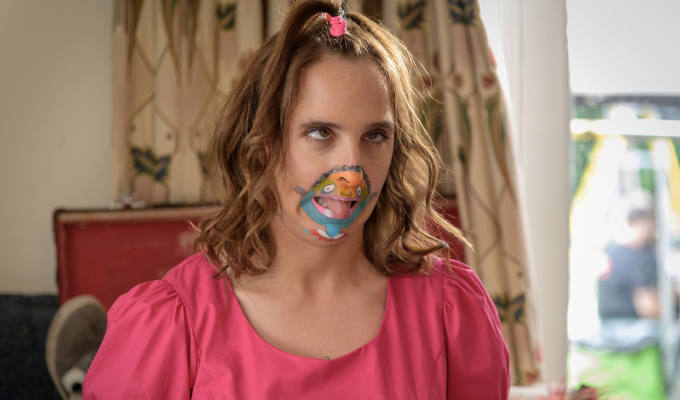 Tell us about your character, Bobby Kindle.
Bobby is Herbert's partner in crime. She's a dedicated mum who loves the kids and Herbert and she just quietly and gently keeps things ticking over.
Do you have any fun anecdotes from the set?
We had to film a scene where Bobby is wearing a cricket helmet and she kisses Herbert. Obviously, I couldn't reach him to kiss him because the face guard on the helmet was down, so I stuck my tongue out but I didn't realise how long my tongue was and it accidentally touched his tongue and we both completely freaked out. I think it's in the bloopers. I've never touched tongues with any of my best mates before and I don't recommend it!
How has the relationship between Bobby and Herbert developed?
Well, I mean they're still together! Spencer gave me a bit more to do this time, but I still managed to crawl under the bed and have a little sleep every lunch time.
They definitely work well as a team. I think Bobby is at a stage in her life where she's looking for her 'thing' now the kids are a bit older she's got a bit more time so she's thinking about going running or joining a cricket club, but she doesn't discuss this you just see her in a cricket outfit holding a bat.
Did you get involved with any of the props or effects on this series?
Well at one point I have to look like I'm floating in the air. I don't know if Spencer has seen my BBC short Please Help but I also float in that, so I think I'll just pop that in my contract now. Everything I do, I have to float, at least for a bit.
What was the most enjoyable and funny thing to film?
I love working with the kids they are so brilliant and funny and when they've had enough, they will just say 'that's it I'm done' and I honestly wish I could do that.
• The Mind of Herbert Clunkerdunk returns to BBC Two on Wednesday January 26 at 10pm. All episodes will be available on BBC iPlayer
Read More
Published: 21 Jan 2022
Past Shows
Agent
We do not currently hold contact details for Lucy Pearman's agent. If you are a comic or agent wanting your details to appear on Chortle, click here.