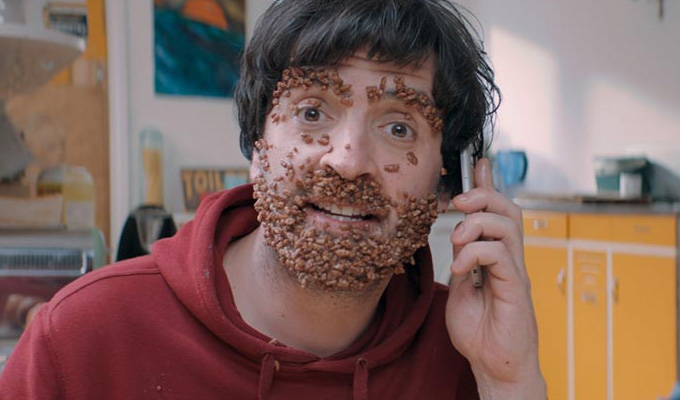 BBC picks up Spencer Jones series
The BBC has ordered a series of Spencer Jones's short comedies The Mind Of Herbert Clunkerdunk.
Their order for four ten-minute episodes for BBC Two follows a pilot last year, which was nominated for a Bafta after airing on the channel's Comedy Shorts strand.
Jones will be joined in the show by Lucy Pearman who plays his wife, Bobby Kindle. She also co-stars with him in the forthcoming BBC One series of Mister Winner, playing his fiancée Jemma.
Jones said: 'To be given a full series for the BBC is one of my ultimate dreams come true. I was so chuffed to get it.
'However, that feeling has now slowly faded away and I'm absolutely bricking it. But I'm going to use the fear to push me to make this the best thing it can be.
'I've got a brilliant team of highly skilled people around me, so if Clunkerdunk ain't "the nuts", then I can safely say it is completely my fault. How terrifying.'
Dom Coleman, who plays Henry Condell in Upstart Crow and was Officer Braithwaite in the recent Porridge reboot, also stars as the unpredictable Jonny Wallop. Filming will begin soon, with a broadcast date yet to be set.
David Simpson, who is producing the show at Tiger Aspect, said: 'I'm so thrilled that people are going to see more from the brilliant mind of Spencer Jones. He's a true original and this programme is Spencer at his very best. Wallop!"
Kate Daughton, head of comedy for the BBC, added: 'Spencer Jones has created a unique and gleefully daft world for his alter ego Herbert Clunkerdunk. We can't wait to see what imaginative tomfoolery he has in store for us in this new series of Comedy Shorts for BBC Two.'
The pilot is still available on iPlayer here.
Production credits
Made by: Tiger Aspect
Written and created by: Spencer Jones
Producer: David Simpson
Executive producers: Myfanwy Moore and Spencer Jones
Series director: Martin Stirling
Commissioned for BBC Two by: Shane Allen, controller of comedy commissioning
Commissioning editor: Kate Daughton.
Published: 30 May 2019
What do you think?