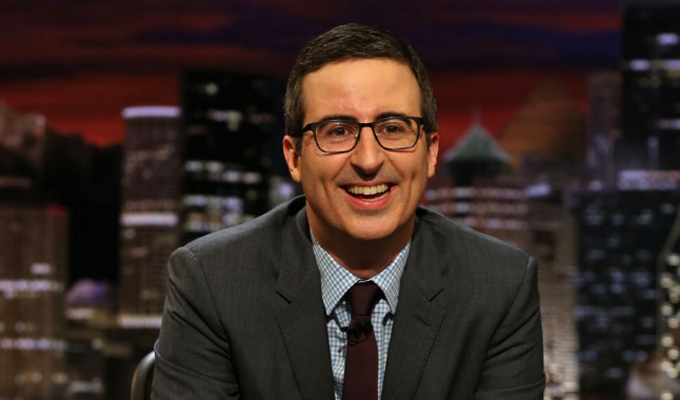 John Oliver
It's a dung deal!
John Oliver has finally got his sewage works.
The town of Danbury, Connecticut, has agreed to officially rename its waste water treatment unit the John Oliver Memorial Sewer Plant after the comedian picked a random fight with the town's mayor.
Council members voted 18-1 in favour of the change, prompting mayor Mark Boughton to post on social media: 'Yup.. It's official the Danbury Sewer Plant is now the John Oliver Memorial Sewer Plant. - Your move John. Bam!'
Officials had officially announced plans for the dubious honour as a joke in retaliation for Oliver mocking their city on his HBO show Last Week Tonight, apparently at random, Boughton told the comic he wanted to rename the facility 'because it's full of crap just like you, John.'
But Oliver challenged the mayor to follow through, dangling a £40,000 donation, to local charities as incentive.
Most residents enjoyed the back-and-forth, except John Esposito, the one council member who voted against the move as reported by the Connecticut Insider.
He said: 'While I appreciate the humour during a time when we could all use a laugh, I personally don't find anything funny about insulting our community or least of all threatening violence to our children. Sorry to be a party pooper here'.
Mr Esposito seems to taken offence at Oliver's taunt about the town: 'If you're from there, you have a standing invite to come get a thrashing from John Oliver - children included.'
But even children saw the funny side, with eight-year-old Caio P Leaf challenging Oliver to a duel 'any time, any place'
Council member Roberto Alves: 'This was a much-needed laugh If John Oliver wants a poop factory named after him, in his own words, "cool".'
The mayor, above, has invited Oliver to attend a ribbon-cutting ceremony.
Read More
Published: 12 Oct 2020
John Oliver has turned down an OBE. The comic revealed…
26/10/2019
Sky is to launch a new channel dedicated only to US…
21/08/2019
John Oliver and Jay Leno have become embroiled in a…
18/03/2019
Footage of John Oliver savaging Theresa May over her…
19/12/2018
John Oliver, Hasan Minhaj's stand-up special,…
19/04/2018
John Oliver has topped the Amazon bestseller chart…
20/03/2018
John Oliver has won a legal victory over a coal magnate…
24/02/2018
Channel 4 once turned down John Oliver as host of a…
31/01/2018
Past Shows
Agent
We do not currently hold contact details for John Oliver's agent. If you are a comic or agent wanting your details to appear on Chortle, click here.