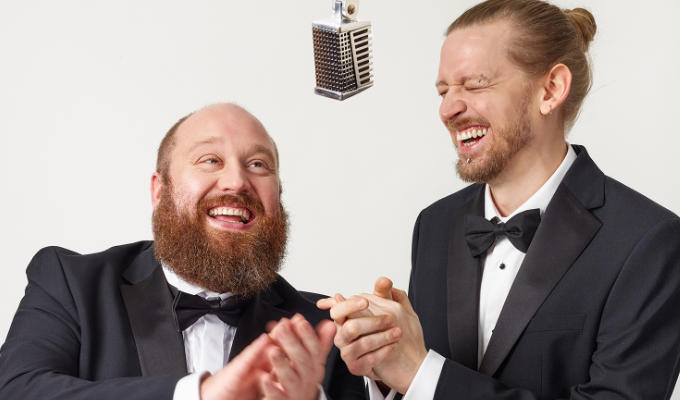 Jonny And The Baptists
Jonny & The Baptists: Eat The Poor
Note: This review is from 2017
It sounds like the dreadfully diligent project of a 1980s fringe political theatre group: an issues-based play about homelessness, inequality and the undeserving rich. Hell, it's even got a song about Margaret Thatcher in it.
But while Jonny And The Baptists are serious about their topic – and yes, sometimes a bit too serious for a comedy project – their saving grace is that they are never serious about themselves. 
Their most vicious jokes are about frontman Jonny Donahoe's looks – well, with the exception of Andrew Lloyd Webber, who flew to London just to vote for tax credit cuts, and the new Duke of Westminster who inherited £9billion tax-free. And Donahoe and sidekick Paddy Gervers (the entirety of the Baptists)  parody their left-learning tendencies and ineffectual earnestness more than anything else.
Such self-mockery means the charge of having their cake and eating it stands – aptly, as it happens, since cake plays a big part in their visual metaphor of how the nation's riches are divided up. 
To call this a play – even tongue-in-cheek, as is their default setting – is something of a stretch, but they do have a narrative as they imagine an apocryphal future in which Donahoe becomes rich and miserable and Gervers becomes poor and miserable after the break-up of the band. Also, everything's privatised, even the Moon, there are new swear words now, and the swans have got above themselves.
This story comes after a first half of jaunty songs, some with a message but with the emphasis very much on the silly, and a preamble in which they unload some facts and figures as well as explaining what they've learned from working with homeless charity Crisis, not least about how people on the street can become almost literally invisible.
The duo previously toured with Mark Thomas, and have certainly learned a few storytelling tips from him, knowing when to speak with passion and conviction – and when to go for the gag. The are laughs in the sudden contrast, while all comic moments are coated in a theatrical jolliness, demonstrated by the easy to-and-fro between both the pals on stage and the audience. And then tub-thumping protest songs are, as always, a delight, as both performers are fine and fiery musicians.
Despite their politics, the pair have quite middle-class comic sensibilities, perhaps all the better for sneaking in their message, which is perhaps a little simplistic, but thoroughly well-intentioned, and a lot less glib than last year's show The End Is Nigh.
 Eat The Poor may wear its heart on its sleeve, but  – anatomy be damned – that is also in the right place.
Read More
Published: 13 Mar 2017
All the seasonal stories these days are about the rich,…
20/12/2016
Climate change has doomed humanity, and all that can…
23/04/2016
If Ed Miliband was half as charming and populist as…
5/05/2015
There are fewer Baptists than there used to be. In…
26/08/2013
The NATYs – the new act of the year competition previously…
29/01/2013
There's a community feel to the Brixton Comedy Club.…
7/12/2012
This may be a triumph of exuberance over material –…
26/08/2012
Past Shows
Agent
We do not currently hold contact details for Jonny And The Baptists's agent. If you are a comic or agent wanting your details to appear on Chortle, click here.