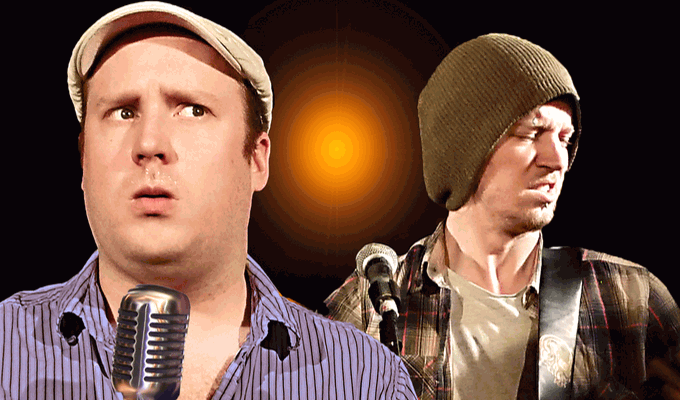 Jonny And The Baptists: Rock The Vote
Note: This review is from 2015
If Ed Miliband was half as charming and populist as Jonny And The Baptists, he'd be a shoe-in for No 10.
Though this well-mannered musical double-act are self-proclaimed socialists, the agenda of frontman Jonny Donahoe and his band (composed entirely of Paddy Gervers) seems pretty much of the broad, consensual centre-left. But perhaps the nation's political pendulum has swung so far to the right that mocking the bigots drawn to Ukip or opposing NHS privatisation really is a radical position these days.
Still, their self-awareness is part of their charm and and know just how effective Left-wing artists can be – making reference to how the Billy Bragg-led Red Wedge of the 1980s so successfully brought down Thatcher after a mere 11 years and a coup by her own backbenchers.
No, the best a political artists can probably expect is to instil a sense of community among like-minded souls. And in liberal. Green-voting Brighton, Jonny and his Baptist forge an easy bond with their own electorate just days before we go to the polls.
Yet despite the title, much of their work not overtly political. Saying we should cast a vote for out children's future is thin excuse for a song about ugly babies, while other tracks plump for the silly over the polemic. Redefining 'farage' (which they amusingly pronounce to rhyme with 'same-sex marriage') to mean 'bin juice' or making over-ambitious rhymes with Angela Merkel is far more playful than political. Perhaps they know the limits to their posturing. With more than a touch of Flight Of The Conchords' modest sensibilities, the high-impact Boom Motherfucker contrasts the swagger of the title with the ineffectual mutterings of the middle-classes when faced with real-world bigotry.
And middle class is definitely their demographic, and not just because of their audience-swelling appearances on Radio 4's Now Show. Donahoe admits he sounds like he's from 1932 – and probably the Home Service at that. But at least it means he enunciates his lyrics with crystal clarity. He also plays guitar and occasionally keyboard, with sidekick Gervers on lead guitar and laughing generously at the frontman's jokes.
Musically it's upbeat, putting the swing in swingometer, even if some of their lyrics are a little knee-jerk. Mocking the Daily Mail is easy, and their conflation of its sideboob-obsessed Online sibling and the preposterous pseudo-journalism of the Daily Express in a series of ridiculous headlines actually lets the newspaper off the hook. But other times they do attempt to challenge that complacency. A song to Donahoe's young nice has real bite as it brings up uncomfortable issues of gender inequality – as well as segueing pleasingly from Pussycat Dolls to Bob Dylan in its musical inspiration.
And in the touchingly plaintive How Did It Come To This, Donohoe confronts his father about how a man who taught him manners, respect and fairness could ever vote Ukip. A reprise, in which Gervers questions his mum's new-found devotion to the Greens is less poignant, but provides a strong structural counterpoint.
For production values are important for this pair, who are showmen above socialists. Their energy, – and Donahoe's smiling, upbeat, self-mocking banter – never flags, and ensures a cheery time is had by all. Whether they'll still be smiling once the results are known on Friday may be a different matter…
Review date: 5 May 2015
Reviewed by: Steve Bennett
Reviewed at: Brighton Komedia
What do you think?