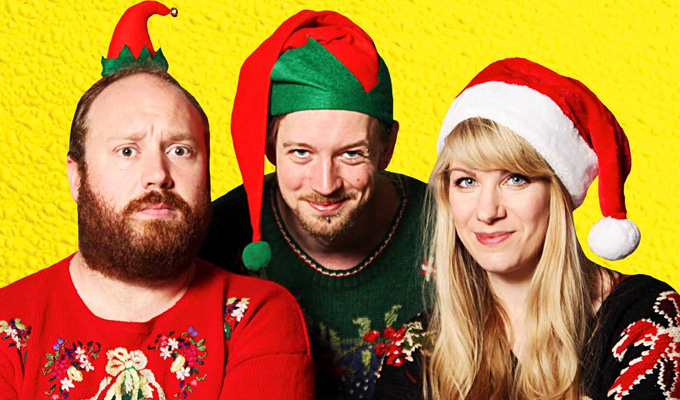 30 Christmases
Note: This review is from 2016
All the seasonal stories these days are about the rich, argue Jonny Donahoe & Co, citing the likes of Love Actually and Home Alone. So here, in 30 Christmases, is a more Dickensian tale about siblings who have virtually nothing. But are they happy? Let's just say 'it's complicated…'
What the fictional versions of Jonny and Rachel Parris, who plays his sister, do have is some festive traditions, and this play-cum-musical-cum-storytelling show begins with yarns of how those came to be, as they reminisce about their Christmases past, flitting from place to place. Errors become habits, and habits become rituals, they philosophise.
Their stories are entertainingly quirky, not least because their father, who brought them up single-handedly, was a nomadic radical Jewish, communist anarchist who didn't buy into the capitalist excesses nor even bother to explain the Nativity legend, leaving the pair to pick it up later in life with increasing incredulity.
This episodic structure is punctuated by the sort of lively foot-stompin' songs Donahoe's comedy band, Jonny & The Baptists, have become known for. Their forceful, driving rhythms and singalong lyrics well-suit Christmas songs (just ask Slade or The Darkness), with stand-outs here including their wonderfully patronising and self-serving Band Aid pastiche; Parris taking the sultry ethos of the likes of Santa Baby and I Saw Mommy Kissing Santa Claus several steps on; and the message we can all get behind: Don't Be A Prick At Christmas.
Donahoe's bandmate, Paddy Gervers here plays the siblings' guitar-strumming pal, also called Paddy, laughing along at the other pair's jokes as well as interjecting to offer an impish aside or move the story along, especially in the second half when the central storyline takes a downward turn. For the cast – plus Donahoe as writer and Alice Hamilton as director – are not afraid to let the tone become serious. While they will undercut emotion with a well-chosen gag now and again, they will also allow the narrative be as tender, awkward and moving when needs be.
Performances are loose – which isn't just a polite way of saying not all the lines have been learned. There's a casual fluidity between the stage and the audience, as the stand-up roots of all concerned are brought into play, reinforcing the spirit of fun established by the songs and the quips. It will be a real Scrooge who doesn't emerge from 30 Christmases with a smile on their face, despite the seriousness of the situation depicted.
There are a couple of glitches: not least the main dramatic pivot requires Jonny to wilfully not do the obvious thing at a crucial moment, with no clear reason why he didn't, and sometimes the socialist foundation of the show is laboured, but they always cheekily acknowledge the fact.
But even then, the message is a useful reminder that Christmas isn't the Hallmark greeting card version for everyone. No surprise, given that the show has been developed in conjunction with Oxford's Old Fire Station venue, which is closely linked to homelessness charity Crisis.
Getting the message across in a piece that's overall such a jaunty and funny slice of festive entertainment is quite the accomplishment. Extra eggnog for all concerned!
Review date: 20 Dec 2016
Reviewed by: Steve Bennett
Reviewed at: Oxford Old Fire Station
Recent Reviews
What do you think?