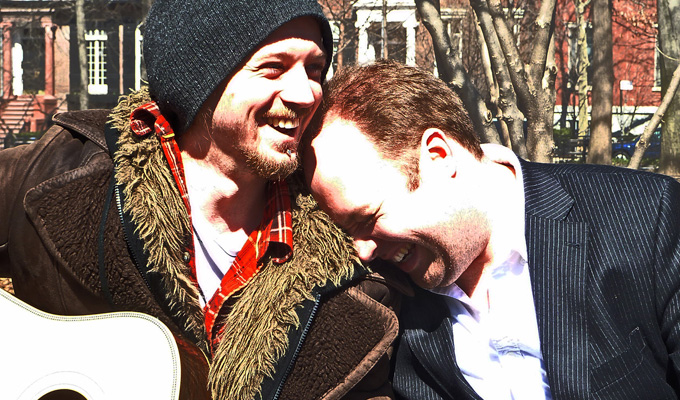 Jonny & The Baptists: The End Is Night
Note: This review is from 2016
Climate change has doomed humanity, and all that can save us now is a jaunty musical comedy duo. That's the rash promise Jonny Donahoe says he made to his four-year-old niece Isabella on behalf of himself and his one-man backing band The Baptists (Paddy Gervers). It's also the slightly rickety contrivance on which The End Is Nigh is built.
For in this show, the duo have found a theatrical ambition, setting their toe-tapping numbers around a message-bearing narrative, but with mixed results. It's a bit too sprawling, drawing tangential ideas into its tentacles, while the tone wobbles between the flippant and the preachy – sometimes hitting the sweet spot between the two, but just as often not.
The vital message of using community action to affect change suffers because of the lack of tonal focus. Where we should leave with our hearts burning with righteous campaigning zeal, the glibness of the solution dampens the fire.
Still, their underlying ideals are pure, their joyous performance infectious, and the perky musical numbers strong.
We kick off with a selection of greatest hits as an aperitif – one bemoaning the loss of traditional pubs; one about an infatuation with Angela Merkel full of deliberately forced rhymes that will probably make you smirk-le; and a protest song about libraries, tied into an inventive grassroots wheeze which kept one such resource open for real, inspiring them to promote similar tactics on the environmental issues.
First the background, as they declare democracy a busted flush, with a Conservative majority all the evidence they need. That and the fact that global warming sceptic Matthew Hancock can be made Energy Minister, which is what really gets their goat. They mischievously revive the facts that he took £18,000 in donations from a climate change denier, and flew by helicopter to meetings on the topic. He must be taught the error of his ways, they figure.
This not the only big issue on the table. Ugly babies, and the advertising campaign for Dolmio pasta sauces also get a roasting – all part of the way Jonny And The Baptists defuse the big points with silliness, sometimes all in the same song, while cheerily acknowledging that forcing the science into a tight 4/4 beat might be a challenge.
Musically, you can't fault their work. These are mostly kick-ass protest songs with catchy chorus you can really rally behind. Between them spins the tall tale, casually told as Jonny and Paddy bounce off each other, sometimes a bit indulgently ('duck butler' bit, I'm looking at you) – although generally carried by the playful exuberance of two men clearly delighted to be able to be allowed to mess about on stage.
They call The End Is Nigh a play; which might be about as accurate as calling Hotline Bling an opera. Yet despite all the things more focussed direction could have fixed, the jolly duo earned a partial standing ovation from this small studenty crowd. Message delivered.
Review date: 23 Apr 2016
Reviewed by: Steve Bennett
Reviewed at: Colchester Lakeside Theatre
What do you think?