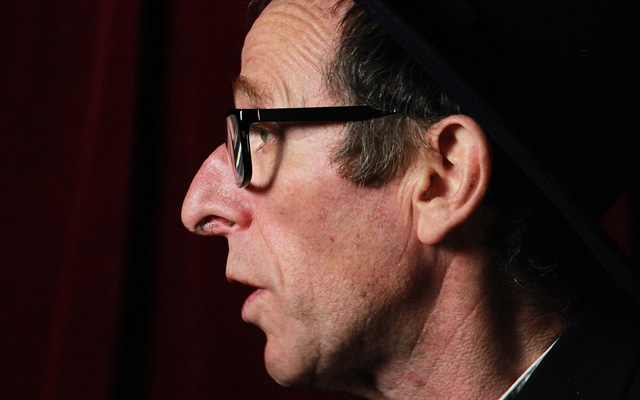 Ivor Dembina
'Alternative comedy was driven by hatred of the working class'
The idea of offence in stand-up only arose because comedy became more middle-class in the wake of the alternative cabaret boom of the 1980s.
That's according to comedian and promoter Ivor Dembina, who argues that in sweeping away the sexist and racist comics of the 1970s, the scene became prone to 'middle-class hypocrisy'.
He said the alternative circuit that started with the opening of the Comedy Store in 1979 was driven by a 'hatred of working-class people' more than genuinely progressive attitudes. And now the prejudices of the middle-classes determine what is 'acceptable' in stand up.
Speaking in a session on taste and decency at the Comedy On Stage And Page at the University of Kent in Canterbury, Dembina argued that 'taste is economically determined' rather than being driven by 'moral, social or political' factors.
Explaining the background to his argument, he said: 'When stand-up first exploded after the opening of the Comedy Store in 1979, it was venue led. You went to your local comedy club, you didn't know the names. Now it's become a product with an international audience where the hierarchy is very clear.
'Before I started in 1979, it was perfectly acceptable to make disparaging jokes about people's racial identity, their gender or their sexuality. It was considered harmless and generally affectionate. It didn't feel like there was hatred.
'Then the alternative comedy brigade come along and this acceptability came to be challenged. I thought it was a very progressive step. It's only now, looking back on it, that I think maybe there was a bit more to it than that. What I now think is that was part of an appropriation of live comedy by the middle-class. Until then it was working-class people talking to a working-class audience.
'The dismissal of racism and sexism was part of a middle-class movement. The message was that, "We don't want you. Be like us: knock Thatcher, don't tell racist jokes". But there was lot of hatred of working-class people driving that. It was a class thing, and taste is driven by class.'
He also railed against the increasing commercialisation of stand-up.
'Why is it that in the last few years are we pleased to have black comedians, women comedians, gay comedians? It's little to do with a progressive outlook, it's because these people have a disposal income they didn't have before.
'Watch a half-hour stand-up show on TV and count the number times the camera cuts away; it's always to good-looking couples aged 35 to 45. This is a message to the viewer and the advertiser: these are the kind of people who go to comedy and enjoy it - people you can sell your stuff to. This is why comedy has become a global marketing commodity. You can't move for sponsors' logos these days.
'Everyone's making a buck from comedy, and when everyone's making a buck, you want it to be as big as possible - and to do that you need it to be inoffensive as possible. Thats's why the majority of comedians today aren't very good.'
And he said that was linked to people being offended by comedians.
'Taste is economically determined; it's noting really to do with moral, social or political outlooks.
'We live in a world of corporate bollocks and comedy is not exempt. Comedy is dominated by awards and competitions when it should be all about the communication of ideas using laughs.'
Dembina further argued that there was no need for comics to pussyfoot around sensitive topics.
'Let's look at censorship,' he said. 'You can do anything in a comedy club. You might get into trouble with the promoter or audience, but you're not going to end up in jail. You are not allowed to incite racial hatred or slander people, but otherwise in comedy you can say or do anything. Comedy is the most fantastic social safety valve.'
But he warned that too many comics went for brutal jokes without really thinking what they were saying.
'Everyone thinks they can now talk about gruesome subjects under the guise of irony,' he said. 'They are really very few people who can do that. Jerry Sadowitz can do it; Daniel Kitson and Simon Munnery. But I can't do it - I've tried.'
Read More
Published: 14 Jan 2016
I hadn't yet read Simcha Weinstein's book Shtick…
30/06/2009
Veteran Jewish comic Jackie Mason has come under fire…
28/04/2008
Malcolm Hay is quitting as comedy editor of Time Out…
29/05/2007
Tony Allen has a unique place in modern stand-up.He…
22/09/2006
British comic Ivor Dembina has been detained for 'several…
13/10/2004
The Comedy Store has played host to some big names…
22/06/2004
London comic Ivor Dembina is to join a ground-breaking…
7/03/2004
Comics are to appear alongside fetish cabaret acts…
11/09/2003
Past Shows
Agent
We do not currently hold contact details for Ivor Dembina's agent. If you are a comic or agent wanting your details to appear on Chortle, click here.