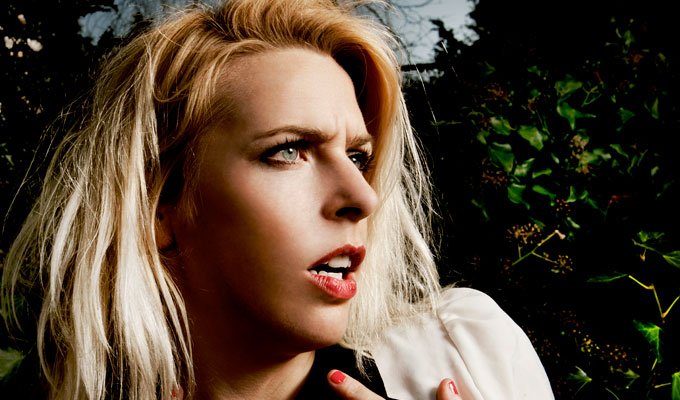 Fighting for comedians' rights
Performers' union Equity today officially launched its comedians' network to fight for fairer conditions for stand-ups.
The move follows the formation of the UK Comedy Guild, which aims to settle disputes informally, while the Equity group has the legal backing of a trade union.
Founder member Sara Pascoe, pictured, said: 'Being a comic is a wonderful job but it also leaves people vulnerable and solitary. We have to change this using positive communication and best practice guidelines.'
The group intends to fight on five issues: fair pay; safe working conditions; protection from harassment and discrimination; fair treatment in the workplace; and a standard contract for gigs.
Comic Paul Ricketts, who joined Equity this year, said the new group had emerged in response to the comedians forming their informal guild.
Speaking at a launch event at the union's Central London HQ, he said: 'The UK Comedy Guild was formed largely because of the non-payment comedians had from Jongleurs, and they were distraught.
'There was a lot of talk about forming a union. So we got a delegation to meet with Equity and the upshot was 1) that we needed professional industry representation and 2) that there was a gap in what Equity knew about the business. Out of that, this happened.'
Ivor Dembina, whose Hampstead Comedy Club is the first to adopt the new contract devised by the union, said Equity's more hands-on involvement in the live comedy scene was long overdue.
The comic and promoter said: 'Over he past 30 years the most important development in live entertainment has been comedy. Now there's a comedy night on every corner in London. This has all happened too late – but better late than never.
'All comedians are self-employed and compete with each other, but there's also a camaraderie between comics who have all gone through the same ordeal of learning how to be funny in public. Comedians are great at moaning but not so great at doing something about it.'
'My first response to the meeting which set up the UK Comedy Guild was that this would just be a sounding-off board, but I'm delighted to report that this new generation of comedians are prepared to put the effort it.'
He said other clubs had expressed serious interest in adopting the contract, including the well-regarded Downstairs At The King's Head, James Woroniecki from London's 99 Clubs also backed the contract.
Speaking at the event, Pascoe added that the new group would combat harassment and discrimination, both from employers and audiences. She said: 'The idea is that when the law is broken, we have a recourse, no matter how small the act.'
Another member said safety concerns would range from dodgy equipment to venues that employ inadequate security, and would cover the whole industry, not just comedians, citing the safety of flyerers who have to interact with strangers
On pay, comedian Ria Lina said: 'Comics can undervalue themselves. We are working towards trying to secure some sort of guarantee for performers. But we do appreciate that not every venue holds the same amount of people or charges the same amount for admission.'
The meeting heard that wages and terms and conditions have been driven down over the years, but acknowledged that some gigs ran for no money, the 'payment' being development as a comedian or within the industry. However, it was argued that open spots still need protection.
Comic Elise Harris said the aim was to introduce more professionalism into the industry. 'Many gigs are booked on trust,' she said. 'Which is fine most of the time but not so good when things go bad.' Hence the need for the new standard contract.
The new network received backing from more established names in the business, including Rory Bremner, who attended the launch. Others sent messages of support.
Jeremy Hardy said that 'with so many people considering comedy careers and so many proprietors and promoters seeing comedy as a low-maintenance attraction to fill empty rooms' comedians were 'more in need of protection than they were three decades ago,' when he started comedy.'
Alan Davies said: 'The new comedians' network is a great idea. I have been an Equity member for 26 years and wish more people would join the union. Good luck in getting the unruly herberts who work n our game to work to rule or to down their considerable tools.'
And Arthur Smith added: 'As a comedian I can accept being heckled off but not being ripped off. Th best way to prevent this is for comics to form a collective. We are alone on stage but together in the dressing rooms.'
For more details of Equity's comedians' network, email equitycomnet.gmail.com. Click here to download a coy of the standard contract Equity drew up.
-by Steve Bennett at the Equity launch.
Published: 24 Jun 2015
What do you think?