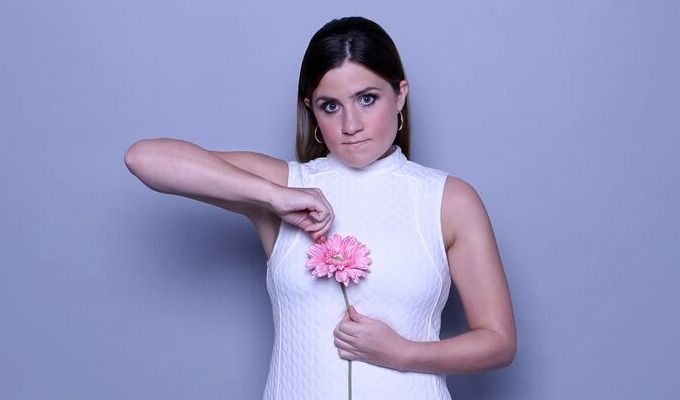 Harriet Kemsley
Winner of the first Funny's Funny Female Comedian Of The Year competition, 2011
Read More
Harriet Kemsley: Slutty Joan
The American comedy scene was at the forefront of the #MeToo movement - just ask Bill Cosby, Louis CK or Aziz Ansari. And in its wake, many comics on this side of the Atlantic have felt empowered to tell their stories too.
Harriet Kemsley is among them, admitting she wasn't planning to come to Edinburgh this year until the momentum built up by that campaign compelled her to write her fourth show, addressing her experiences.
In Slutty Joan, she attempts to untangle her avowed love of sex from an assault that left her with post-traumatic stress disorder. Seems obvious, but it involves unpacking the insidious inequalities of slut-shaming and victim-blaming that makes many women feel stigmatised and unwilling to speak out.
That's a tall order for a comedy show, but Kemsley lightens it by sharing a batch of breezy anecdotes about things that she might well be ashamed of, just to emphasise how receiving unwanted sexual contact should never be on that list.
She's made bad choices when drunk and can be ungainly and unconfident in real life, largely down to her dyspraxia. On stage, that can translate to a slightly terse and hurried delivery – apparently leading to confusion as to whether she's a character act or not among some audience members.
That nervy, staccato style is especially prevalent at the start of Slutty Joan, although she seems to relax into her delivery as the story starts to find its real focus. Nevertheless, the slightly scatty approach works well in concealing the structure and seriousness of Slutty Joan until they need to be revealed.
The titular character is fictional, dreamed up not by Kemsley but by researchers who found that women were considered to be less competent, friendly and emotionally stable if they had several sexual partners… a bogus stereotype that persists even among women who would fall into that category themselves. In contrast, men boast of their promiscuity – a dual standard she is keen to erode.
Kemsley also covers the bizarre advice she was given as a youth about how to avoid being targeted, apparently provided by convicted rapists, as well as giving her own tips for the non-sex-pest men in the room. Yet never does the 50-minute show feel like an attack on men in general.
It all makes for a personal, honest, and sadly relevant addition to the voices trying to shift the perception of sexually active women, and forcing some men to rethink their actions.
Read More
Published: 19 Aug 2018
Judging by the likes of Bridezillas and Don't…
3/08/2017
Increasingly assured in her manic nerviness and childlike…
21/08/2016
Harriet Kemsley exudes a child-like quality. Her eyes…
7/08/2015
It may be becoming a December tradition, but there's…
10/12/2014
For the opening night of its 20th anniversary year,…
3/06/2014
For a while in this year's Leicester Mercury Comedian…
25/02/2014
This is one of those shared-bill shows where neither…
4/08/2013
The Leicester Square New Comedian Of The Year award…
27/11/2012
The Laughing Horse competition can boast an absolutely…
5/06/2012
It was set up as a celebration of female comedy. But…
14/07/2011