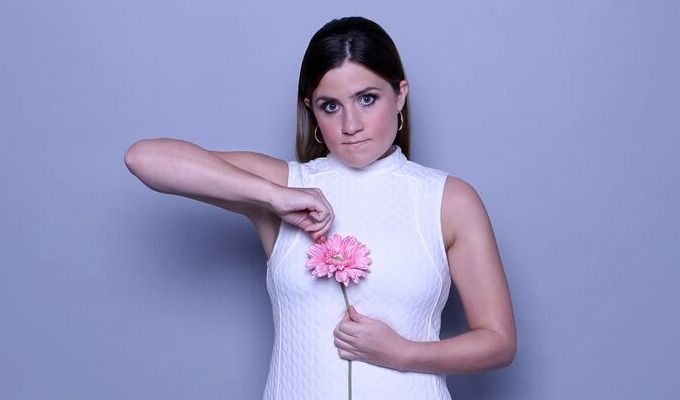 Harriet Kemsley
Winner of the first Funny's Funny Female Comedian Of The Year competition, 2011
Read More
Bobby & Harriet Get Married
Judging by the likes of Bridezillas and Don't Tell The Bride, TV audiences love prying into couples' wedding preparations, with the self-imposed pressure to make the big day perfect, unique and extravagant testing the stress lines of any relationship.
Bobby & Harriet Get Married is a comedy take on the same reality TV idea, but with bride and groom, both stand-up comics, in on the programme-making process and not just patsies for a manipulative producer.
The fact that Bobby Mair and Harriet Kemsley are both comedians of a level where they only just scrape a living also means there are tight financial constraints on the wedding. And Hello! magazine don't seem interested in funding it, however much Kemsley asks. The money situation certainly created some tension in the opening episode, with Mair fretting about how much is being frittered away.
'£600 on cake!,' he exclaims, figuring out how many gigs it'd take to cover the cost, before nipping off to Co-Op to get a cheaper alternative. As often with such shows, you feel some sympathy for the poor caterer dragged into the telly shenanigans, but Mair does have a point…
He is the practical, unsentimental type, less fixed on the traditional trappings of the ceremony. After being told the venue could be a marquee in the field next to where Kemsley's parents live, he strops: 'I want to have a wedding at a place where I can be happy.'
'Wetherspoon's?' Kemsley shoots back.
Mair revels in his cynicism. When told a wedding's a 'once-in-a-lifetime' event, he takes issue with that, citing… well, real life. But the truth is he's so riddled with insecurities that he can't believe his luck in hooking up with Kemsley, so assumes the worst will eventually happen. Broadcaster Viceland calls theirs a 'millennial love story', and there's certainly some truth in that, with all the financial and emotional anxieties that suggests.
Mair's vulnerability knocks the edge off what can often seem like arsehole moves on his behalf, and goes a long way to explaining the odd-couple romance. Certainly, Hemsley is shown as coming from a more respectable stock than him. 'Bobby's not really what they expected,' she says of her parents' reaction to her fiancé.
'They didn't expect much, based on the track record of who you've had sex with,' Mair shoots back. Told you he could come across as an arsehole – but it is funny, and in the teasing spirit of their relationship.
The show's often very amusing, but more than that, we're invested in how the pair get on. A sitcom might pack the gags in tighter, but Bobby & Harriet Get Married has the vérité feel of most high-end modern comedies… for the very good reason that it is real. Or 'heightened' real, in the lingo of broadcasting.

• The first episode of Bobby & Harriet Get Married aired on Viceland last night, and is available on demand here.
Read More
Published: 3 Aug 2017
Increasingly assured in her manic nerviness and childlike…
21/08/2016
Harriet Kemsley exudes a child-like quality. Her eyes…
7/08/2015
It may be becoming a December tradition, but there's…
10/12/2014
For a while in this year's Leicester Mercury Comedian…
25/02/2014
This is one of those shared-bill shows where neither…
4/08/2013
The Leicester Square New Comedian Of The Year award…
27/11/2012
The Laughing Horse competition can boast an absolutely…
5/06/2012
It was set up as a celebration of female comedy. But…
14/07/2011