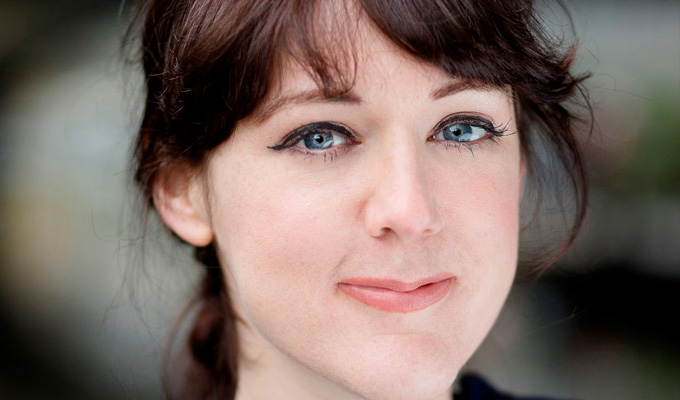 Grainne Maguire
Finalist in the 2007 Laughing Horse new act competition and the 2008 Funny Women competition
Read More
What does it mean to be a political comedian?
It's always tricky when people ask what kind of comedy you do; it' s a bit like being asked what sort of person you are. You can't be honest and tell them what you really want to say; just one of the great ones, but kind too, and down to earth. Like Kate Middleton if she started doing stand up.
Happily, I recently got much easier to categorise in the past few months, when after an appearance on Question Time, I suddenly found myself described as a 'political comedian'.
So, yes, I am a member of the Labour party, sure, I did go to their conference twice, mainly just to hang out, drink free wine and stalk Ed Miliband. What can I say? I like unavailible men in suits. Fine, yes, my life's dream is to sing Don't' Go Breaking My Heart at karaoke with Peter Mandelson and OK, during the 2010 election coverage, I did hang out at the media tent beside Westminster staring forlornly at the camera crew so I could feel 'nearer the news', but I still found being called a 'political comedian' a bit of an uncomfortable fit.
I suddenly felt like the worthy plate of vegetables on the comedy line-up. The salad next to the Happy Meals. Everyone else was the skateboarding dog, the fun cool Dad that would let you stay up late, but once you're the 'political comedian' everyone expects you to start banging on about Sure Start programmes. When you walk on stage, after being introduced 'as seen on Question Time' there's is a look of disappointment in the audience's eyes that says, for some reason, part of us thought you'd be David Dimbleby.
It was also tricky since I had obviously picked a political side. Whose to say I could even last a full 20 minutes now without shrilly bragging about having never kissed a Tory, tearfully mentioning the miners strike before breaking into an emotional rendition of the Red Flag?
Not that I don't love political stand-up, I've always found satirical comedy the sexiest of all. The glee, the giddy cheekiness, the victory over the loudmouths, the bullies and self-importance. My favourite piece of stand up ever is Stephen Colbert's roasting of George W Bush at The White House Correspondents' Dinner. The victorious rush you feel at a gig when a comedian makes a point so clever and funny you want to run around with your top over head, knowing you now have the perfect opinion on the topic. Comedy suddenly feels important and vital and wise.
But I can't talk about politics that way, I don't have any of the answers, I don't hate anyone and I have kissed so many Tories. So many. Well, Blairites and they're arguably worse.
I don't want to slag off Boris Johnson. Imagine being Boris Johnson, so clever, so obviously hardwired by self-belief, loathing and destructiveness? What must it be like BEING him? Why add salt to that wound? I'm not angry at him, I'm angry at people for indulging him for so long. Why do we like some politicians, but not see them as leadership material, hate others but think they'll get the job done. Why do we care about some issues, and only mean to care about others? Can't you talk about the fallout from David Cameron's resignation and still care about Taylor Swift's love life (feminist icon or perpetuator of out-moded gender stereotypes. Discuss.) because that's how we talk about the news in the real world, surely?
Failure, fear, denial, weird brain loops we stay trapped in for our entire lives are fascinating, whether we see it in Labour's internal breakdown or an episode of Love Island. And if we felt more comfortable, loafing from Westminster to Westfield, feeling relaxed having opinions on either, without feeling embarrassed by not really understanding TTIPS or shamed by really really understanding Cheryl's abandonment issues, maybe more people would be engaged and interested? Because if we've learnt anything over the past few months, it's life would be so much better if we were allowed to say when we really don't understand.
I guess what I'm trying to say is, if we could only have got me and Peter Mandelson to co host a news spin off show called Westminster Night where we talk about the privatisation of the NHS with Harry Styles, Brexit wouldn't have happened.
• Grainne Maguire: Great People Making Great Choices is on at the Pleasance Courtyard at 19:15 and her panel show What Has The News Ever Done For Me? is on at Heroes @ Bob's Blundabus at 15:15.
Read More
Published: 14 Aug 2016
Past Shows
Agent
We do not currently hold contact details for Grainne Maguire's agent. If you are a comic or agent wanting your details to appear on Chortle, click here.