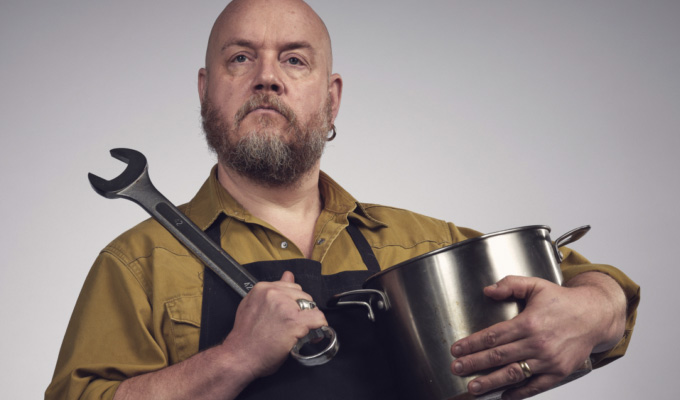 George Egg
Comedy Canteen
Sometimes it seems you can't turn on TV without catching a cooking programme or open a newspaper without reading about the latest foodie trend. Yet comedy seems slow to catch on to this national obsession – an oversight that Comedy Canteen aims to address. Even if the culinary content is dubious, it deserves a Michelin star for silliness.
Much of this is down to the not-at-all seasonal Easter Egg *unt, a character created by Cassie Atkinson for the last instalment of the show back in the spring, but way too entertaining to hibernate for the rest of the year. Dressed in a chicken costume and pulling various chocolately treats from her cloaca is a simple idea, but the mischievous commitment to subverting co-host Matthew Highton's more conventional MCing is a delight.
The tiny stage of London's Bill Murray venue is absolutely cluttered with props, including a massive home-made rig for Foxdog Studios' interactive game. In it, everyone in the audience uses their phones to take control of a tiny character on the virtual surface, where buttons control an elaborate contraption of magnets and motors to automate the process of mixing a cocktail.
It's needlessly complicated in a Rube Goldberg/Heath Robinson way, with Lloyd Henning and Peter Sutton engineering the set, doing the coding, then lugging it all down from Manchester to rebuild in a tiny pub back room. But it is as entertaining as it is ridiculous that they've gone to so much trouble.
As well as all their gizmos, the stage also contained two hotplates for a challenge to make the scariest pancake possible, using batter coloured with food dye. The lads tried to depict an actual fox-dog – literally crêping themselves, I suppose, as a punter worked on their design.
'I can't help thinking we haven't gone to the same effort as Foxdog Studios,' Sooz Kempner comments in her double-act with Eleanor Morton. And indeed their blether about what items they would save into a Brexit Box as they would be unavailable after we leave the EU, was definitely undercooked, and largely off-topic too, despite their complementary mix of enthusiasm and drollery in delivery it.
Again the handover between acts was enlivened by the spirited interruptions from Atkinson's fowl alter-ego. But after the chicken, the Egg.
This is the gig George Egg was born for, given that his tour shows revolve around practical demonstrations of him cooking using the most unlikely of tools. Here he knocked up some more mini-pancakes using only what you'd find in a hotel room – upturned irons supported by some Gideon's Bibles providing the hotplate.
The demonstration is entertaining, but funnier yet are his anecdotes of other attempts of culinary delights from the most limited equipment. There's very middle-class sort of anarchy in his impish descriptions of converting a Premier Inn kettle into a sous vide. And you have to admire the inventiveness of a mind that repurposes everyday objects in such a way.
Comedy Canteen is a fun playpen gig with comics mixing new ideas with more established routines, and with two clear purposes: food and stupidity. Long may it continue – and more often than biannually.
Read More
Published: 28 Oct 2019
For a show based upon the rigours of the scientific…
20/12/2017
He's the man who cooks in hotel rooms – George…
14/08/2015
It's a big—top themed venue that offers suitably…
24/04/2015
Novelty act George Egg attempts the cheesy bad magician…
26/05/2009
Inventive, and sometimes sick, cabaret act unafraid…
1/08/2000
Past Shows
Agent
We do not currently hold contact details for George Egg's agent. If you are a comic or agent wanting your details to appear on Chortle, click here.