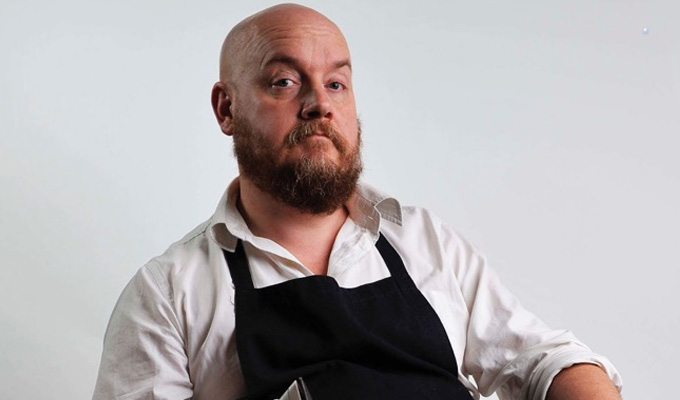 Headliners at the Aeronaut
Note: This review is from 2015
It's a big—top themed venue that offers suitably circusy entertainment at weekends. But now the Aeronaut in Acton, West London, has decided to send in the clowns, teaming up with Headliners comedy club to stage a stand-up night each Thursday.
Tonight's show, we're assured is atypical. With a tiny audience of under two dozen in a room that would fit maybe ten times as many, the atmosphere couldn't have been more subdued. The carnival is not in town tonight.
It made the comedians' job near-impossible, especially with little build-up. Promoter Simon Randall serves as compere, rather than a pro act. So almost straight off the bat, the hesitant audience is plunged into the awkward world of absurdist Mat Ewins – and they didn't much take to it.
Even in the best of circumstances, his set involves trying to wrongfoot its observers. But since the audience hadn't yet got their bearings, they were left more baffled than amused by his high-concept ideas. These include asking a volunteer to take on the impossible task of bleeping-out his profligate swear words or taking on the role of his absent (and racist) double-act partner, using the script provided. There's goodwill towards him, but little connection - and only when he cracks something approaching an old-fashioned gag is a laugh forthcoming.
Ewins was followed onto the stage beneath the Dodgems sign by another peculiar act, George Egg – a prop comic who remains silent for the first couple of minutes of his old-school set.
He straddles the line between cheesy dad gags and a more ironic take on what he's doing, but again struggled to find the audience's wavelength. They didn't seem to notice when he impossibly produced a bowling ball out of an attache case a quarter of its diameter.
There are other neat visual gags, too – and credit to him for lugging around a giant suitcase you'd never get on easyJet, even if he does sometimes seem to be trying a bit too hard to milk a prop, his mucking about with a travel pillow being a case in point.
Of the verbal material, the Stephen Hawking jokes seem as old as the universe, and he's more than willing to play out other gags even after observing, 'you know where I'm going with this, don't you?' He adds twists, but he was right about us guessing the thrust. However, he also offers a handful of neat, quotable jokes to go into the credit column of this mixed-impact set.
Yet for a relatively mainstream club, this was a strange first half.
After the interval, and Randall's admin, came Carly Smallman – who made the strongest connection with the crowd simply by being relatively normal. Ditching the musical elements of the act she usually performs, she chatted about her travails on the dating scene and the poshness of Waitrose. Nothing is groundbreaking, and there are no great payoffs, but relatable is all the audience needs at this point, and she draws them in. Perhaps she should have opened…
Closing, Jack Barry has some engaging and original material, notably about dogs that can sniff out cancer, but he doesn't seem to have a lot of confidence in some of it. Certain sections are prefaced with a lot of disclaimers, and there's an almost apologetic nervous laughter from the stage after other gags.
Yet the material is generally pleasing, from his version of changing attitudes to sexuality to his day job of managing the social media accounts of a fast-food chain (though this section does go on a bit too long). Again paradigms have not been shifted, and Barry didn't feel like a big-impact headliner, but he's a likeable, amusing comic.
The Aeronaut's a great space for comedy, if only it were fuller – and had more sense of purpose to the line-up.
Review date: 24 Apr 2015
Reviewed by:
Reviewed at: The Aeronaut
Recent Reviews
What do you think?