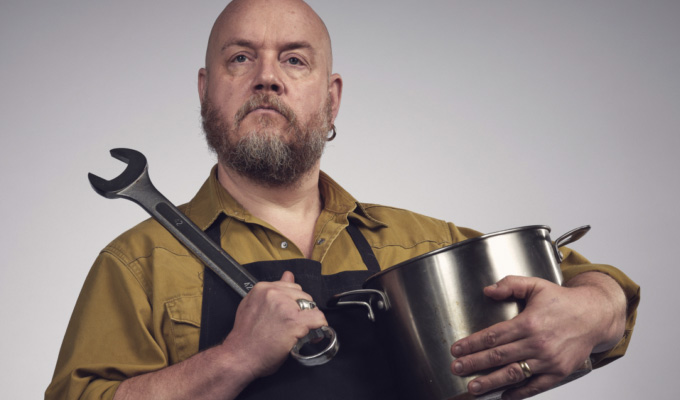 George Egg
Someone in the audience said 'shame'. I walked off, naked...
George Egg is currently on tour with his show DIY Chef, a show in which he cooks a full meal using only his workman's tools. Here he recalls some of the most memorable nights of his career so far…
Worst gig
I used to finish my show by putting a coat-hanger through my earring hole and then, to a piece of classical music, undressing and hanging the clothes on the hanger. I'd end naked, my modesty preserved by the hanging clothes until I turned and walked off when people would catch a glimpse of my bare behind.
I was booked to perform at a function for the harbour masters (or something like that) in Harwich. Just me. No compere or other acts. And when I got there I knew I wasn't the man for the job. The hallmarks of a classic private function met my eyes – giant round tables, everyone grey-haired and dressed up to the nines, no lights, 'stage area' on the carpet.
I performed the show to pretty much silence with the occasional audible sigh from the bolder members of the assembly and finished with the coat hanger thing. There were tuts, heads being shaken, a couple of people got up and left and one person actually said 'shame!'. I walked off naked.
My props were all still out there though and I had to get them back, so even though I wanted nothing more than to slink away I had to return to the room to tidy up. It was toe-curlingly awful. Nobody was talking, they just sat in their seats and watched me put my things away.
The only comrade I had was the sound guy who'd been employed to do everything including pay me and unaware of any professional etiquette he piped up 'I've got to pay you!' while I was tidying up. 'OK' I said.
He walked over took a wad of notes out of an envelope and counted them into my hand one at a time loudly 'twenty…forty…sixty' etc. By now the whole episode had become almost too farcical to feel embarrassed any more, and I was packed up anyway, so when he'd finished I brandished the money in my hand above my head and gave them all a wave before leaving.
It wasn't until I started to drive out of the car park that I realised I didn't have a code for the gate so I had to skulk back in to ask for someone to let me out.
Coldest gig
At a little comedy festival in the mountains in Norway last year I did a show in a log cabin with no electricity. There were 10ft drifts up against the side of the building and inside the only lighting was a log fire in the centre of the room and the 'stage' was illuminated by two volunteers wearing head torches. A nice touch meant that when they laughed the lighting jiggled about.
Great fun performing. Less fun lugging my props through the snow. BUT I DID!
Best food at a gig
There's a fantastic monthly show called Cabaret Boom Boom in Sheffield. It's puts on proper variety with a healthy cocktail of comedy, circus, magic and the generally absurd.
The show itself is always a joy to perform in and the audience are local and utterly up for it with all cynicism left at the door, but the best thing about it is the community spirit that purveys and which you can't help get infected by.
The performers who aren't local stay over at the organiser's house (which is right behind the venue) and when the show has finished and the audience has filled out, everyone – from the people who take the tickets to the 'headliner' – first mucks in with the tidy-up and then piles over to the house where there's a phenomenal meal laid on.
It's cooked by Stella, a friend of the outfit who is the most inspiring and inventive cook. The wine flows into the small hours until everyone crashes in one room or another to get ready for their hangover the next morning.
Best gig as a pinter
The first ever Comic Relief which I watched on TV and then again and again and again on an increasingly deteriorating Betamax video tape. I think I was about 12.
Rik Mayall particularly was utterly mesmerising. So silly, such energy. He was a brilliant clown and his performance felt so live and raw and visceral. I'd loved The Young Ones of course, it was hands-down my favourite thing on TV, but this occasion opened my eyes to what live comedy performance could really be. I was hooked.
Worst Journey From A Gig
Simon Evans and I got trapped in the snow once coming back from a gig. It snowed a bit on the way, lots while the gig was happening and then even more as we drove home. We both wanted to get back to our beds so we braved the storm and went for it.
On the A419 it started to get really really bad. The road and the fields either side became solid white and with no street lamps, and no car or tracks in front of us it was impossible to tell what was road and what wasn't. Utterly terrifying. I slowed down to a crawl but that was scary too as the snow was coming so thick and fast.
Suddenly we spotted the welcoming light of a Travelodge and we gently made our way to it. They had one twin room so we booked that and settled into our beds. They were thin beds and very tightly tucked in.
I remember as we lay there I said to Simon that it felt like we were a fancy pen and retractable pencil set, and he, as the headliner at the gig, pointed out how he was therefore the pen.
• George Egg is currently on tour with his show DIY Chef, which includes two dates at The Warren as part of the Brighton Fringe on Thursday and Saturday next week. The schedule is here.
Read More
Published: 17 May 2018
Past Shows
Agent
We do not currently hold contact details for George Egg's agent. If you are a comic or agent wanting your details to appear on Chortle, click here.