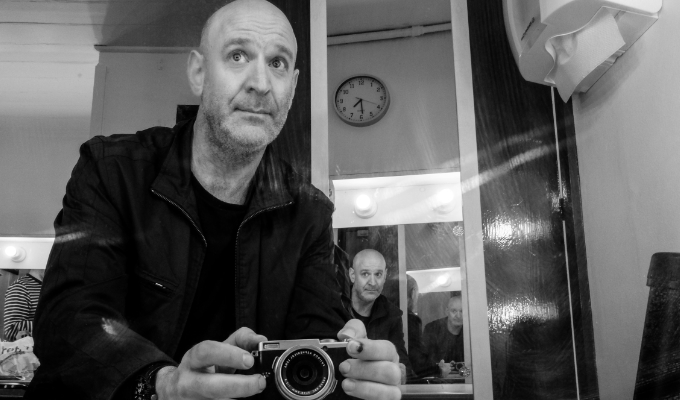 Comedians, by Steve Best
This is, quite simply, a gorgeous book: embossed, Bible-black cover and 236 heavy, glossy pages rich with atmospheric, monochrome images of comedians at work and backstage: nervously waiting to go on, or relaxed in the company of their comrades once the battle has been won.
In his foreword, Harry Hill nails what gives Steve Best's photographs the edge – not just the access he has, but the fact that behind the lens, he's another comedian. That not only gives him an instinct for what his subjects might be feeling, but also allows him to fit in within the dressing room. 'We stop trying to impress or be funny - no mean feat for a comic,' Hill writes. 'And CLICK! he's got us.' Like a fake penguin a natural history film crew have concealed a camera in, Best captures his subjects unobtrusively, when they think no one's observing.
In evocative black-and-white, his shots have a timeless quality. With shabby sofas in front of peeling paintwork and dog-eared posters, detritus strewn around, the green room settings could almost be any time in the last century, although most were taken five to seven years ago. A few shots are posed, but most are not.
Where comics share the backstage space, the camaraderie is palpable. One of the best candid shots – though it's hard to choose – has three comics in a line: Dave Johns in uproarious laughter at something a grinning Johnny Vegas has said, as a detached Michael Redmond, whose drooping moustache drags the rest of his face down with it, looks glumly away, embodying his morose stage deadpan.
Similarly, Sara Pascoe, Dara O Briain and Seann Walsh are captured in unselfconscious joy – a rarity in a profession where laughter is commodified. But others are caught in a moment of pre-gig tension. Jack Whitehall bites nervously at his pen; Ardal O'Hanlon gazes seriously at his notes; Ian Moore stands with his head resting against the wall. Mike Gunn sits with a hand on his, staring at the floor.
On stage, though, Best's subjects are animated, alive. But alone. In some shots the illuminated comedian is surrounded by blackness, emphasising the solitude of the situation. Yet in other, more intimate venues, they are shown within touching distance of an adoring audience, reinforcing the connection those in this contradictory profession can make.
A couple of comics, Mike Gunn and Lee Mack, are captured in thin vertical strips between the dark flaps of the wings. In one on-stage shot, Paul Thorne and Julian Clary exchange a priceless glance, right with unspoken meaning, as one yields the stage to the next.
This collection is a visual delight, and while the price tag is sizeable, it's reflected in the quality of a fine-art quality book that will take pride of place on any stand-up fan's coffee table this Christmas and beyond.
Here are some of the pictures from Best's portfolio. Expand to full screen for the best effect.
• Comedians by Steve Best is also available from Amazon, priced £42.91 at the time of writing
Published: 6 Dec 2022