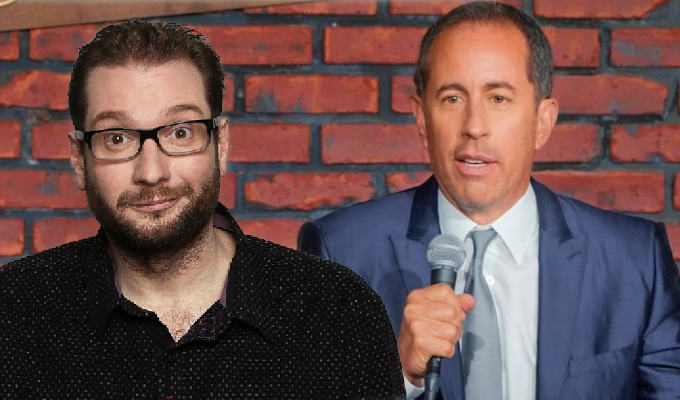 Is This Anything by Jerry Seinfeld and Pundamentalist by Gary Delaney
Is This Anything? has been 45 years in the writing. Yet despite covering Jerry Seinfeld's entire professional career, don't be expecting much in the way of revelations about his life, his indisputable hunger for comedy, or his struggles on his way to the very pinnacle of the artform.
Sure, a few short paragraphs set up each decade, giving a tantalising glimpse into the man behind the suit, but he is largely content to let the material do the talking with only a glimmer of memoir. The 'about the author' chapter reads, in full: 'Jerry Seinfeld is a stand-up comedian. He lives in New York City with his family.'
For this is a collection of observations drawn from the reams of yellow legal pads on which he has scribbled his ideas down the decades, fastidiously filing them away in accordion files from struggling club comedian to mega-wealthy arena-filler.
And while the book's very title might be the phrase almost every comedian uses as they try to figure out whether the germ of an idea might be funny or not, each routine here is the fully-formed final version, honed in front of countless audiences. They are even double-spaced, to impose the correct rhythm of delivery on the prose as you read.
Seinfeld has come to epitomise that brand of observational comedy that dwells on the minutiae of life, the oddities of everyday behaviour exposed in page after page. The index boasts 12 entires for 'cereal', for example, while his musing on airports include 'anxiety on way to', 'cart people in', and 'faucets in bathrooms in'.
A few routines reflect the times and his situation, from struggling singleton to married life and fatherhood, to the joys of not feeling the pressure to try hard now he's in his 60s. And through the meticulousness both of the original observations and the way he he crafts them into tight routines we can't help but get to learn a little about the character of Seinfeld.
But his aim is to amuse, and that he does time and again in this substantial book: from famous routines about warning labels in Superman costumes to lesser-known bits, like the thickness of paint on his apartment walls.
Aspiring comics could surely learn from studying the wording and pacing of the finished routines, even if his route there remains mysterious. For everyone else, it's a marathon Seinfeld gig in published form, a definitive collection of the output of one of the most successful and respected mainstream stand-ups there's ever been.
'Is this anything?' Of course it's something. Quite something…
Even more taut than Seinfeld's short routine are the quirky, silly, super-imaginative one-liners of Gary Delaney, collected in his first book, Pundamentalist.
A certain pandemic has given the Mock The Week regular the time to wade through 20 years of notebooks, phone memos, tweets and gig recordings to compile this anthology of nearly 1,000 gags.
For a collection of good old-fashioned gags, it's one of the best out there, a rich buffet of inventive wordplay that's best savoured a little at a time to fully appreciate the joy of these perfectly-constructed morsels.
The temptation is just to quote a few. And it's a temptation I'll happily succumb to. How about: 'Sad news: the British simile champion has died. We shall not see his like again'; or 'the more I read about confirmation bias, the more I think it might be true'; or 'Genius is 1% inspiration and 99% perspiration, which explains why Prince Andrew is so stupid.' And there really are plenty more where that came from
Sometimes Delaney flirts with bad taste, but it's done so impishly, and so obviously born from the love of a good phrase, that you'd have to be determined to take offence. And likewise you forgive the odd line that drifts perilously close to 'dad gag' territory.
A lot of shoddy joke books swamp the market this Christmas as hastily-conceived stocking fillers. But for original, hilarious gags you'll want to share, this is the real deal.
Pundamentalist by Gary Delaney is published by headline, priced £12.99, and is available for £10.99 from Waterstones; Is This Anything? by Jerry Seinfeld is published by Simon & Schuster priced £25, and is available for £14.99 from Amazon.
• Delaney is taking part in the Chortle Comedy Book Festival on November 18, with other comedians over the week including Frank Skinner, Adam Buxton, Richard Herring and more. Full details here.
Published: 29 Oct 2020
What do you think?