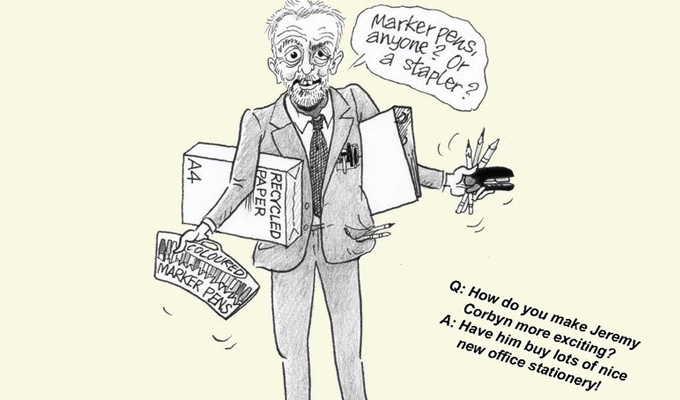 The Absolutely Essential Book of Jokes About the Left by Philip Dunn
Comedy has a left-wing bias, which almost certainly gives liberal ideas an easier ride when it comes to satire.
Combine that with the wider backlash to what's seen as the all-pervading influence of excessive political correctness with 'snowflakes' demanding 'safe spaces' and the like – and maybe the political right does deserve to claim more ground in comedy.
'We lack the advantages of humour and mockery,' says Philip Dunn in the introduction to The Absolutely Essential Book of Jokes About the Left. 'For too long the left have monopolised these instruments, and sarcasm and insults continue to be part of their modus operandi.
'What can we do about this unequal situation? Well, we can turn the tables on the lefty stand-ups for starters – by using jokes, wit, invective, humour, and sarcasm; or, better still, some upcoming, non-left political stand-up might.'
All very well and good, but this is the most dismally humourless book from an author who may be well-versed in the finer points of obscure political theory, but wouldn't know a joke if it fell out of a Christmas cracker..
Start with your best line is a maxim of comedy. Dunn's first gag, setting out the raison d'etre of the book, is:
'Question: What do you normally get if you have a Conservative or former Blairite minister and a left-wing comedian appearing jointly on the BBC topical debate programme Question Time?
'Answer: A government minister who is at a disadvantage because she/he doesn't know any anti-left comedian jokes, of course.'
The book is pervaded with mean spirit – which is fine comic fuel, you'd never accuse the likes of Frankie Boyle of being warm and generous in his jokes – but no concept of how to channel that visceral dislike of the left into a well-crafted punchline.
There are scores of 'lightbulb' jokes, which a only rarely the source of great hilarity even without any political agenda. A few get repeated, too, which is probably sloppy editing: 'How many socialists does it take to change a light bulb? The answer is Socialism!' 'How many Militant Tendency activists does it take to screw in a light bulb? The answer is Socialism.' That's part of Dunn's problem - he thinks 'socialism' is punchline enough, he needn't concern himself about the mechanics or rhythm of a joke.
All this is before we get to lines about how many 'Foucaultists', 'neo-Zapatistas' and 'Brahmins' does it take to change a light bulb. You'll need Google to understand some of the set-ups, let alone the punchlines.
Before – ill-advisedly – becoming a self-styled humorist Dunn was museum curator concerned about the growth of 'neo-Marxist critical theory' in that world, and it appears to be from this point of view that he's started, rather than much wit.
So there are rib-crackers like: 'While you might readily get a public art gallery curator and museum keeper to say 'Foucault's concept of "empowering exhibitionism"' (especially in London), you won't get an archivist to say 'Foucault's concept of "the Archive"', I can tell you, especially in Manchester and Salford.'
Bet that slays at the archivists' convention. While universities could probably set essay questions to comprehend: 'Doctor, Doctor, I've got compulsive dialectical materialism disorder. What can you give me for it? Take this dystopia. Up the dosage if it gets worse.'
Here's another 'How do you spot a left-liberal intellectual? They frolic in a kind of word field.'
Alongside the arcane, academic references, he takes aim at comedians he feels are too left-wing such as Al Murray.
In a section entitled 'questions to perplex or annoy certain leftists' he suggests Marcus Brigstock [sic] should be asked: 'Marcus, is it true Laurie Penny discovered that you concealed on your person Men Are From Mars, Women Are From Venus?'
I think quite a lot of people would be perplexed by that, for sure. He also suggests, in three separate bits, asking Jeremy Hardy, Mark Steel and Frankie Boyle about their favourite canapes would be hilarious too.
Wading through the turgidity we get more: 'What's the difference between an owl and Chris Packham? The wise owl would vote for a mainstream MP, even if Chris Packham was voting for a Machiavellian barn owl, and the wise owl knows there are plenty of those. Two claws and one beak good? Two legs, a small nose, and Parliamentary Acts bad? The wise owl needs no thesis on that one.'
Or another 'In her post-Trotskyphilia days – the moniker for Paymaster Primarolo: "Red Dawn", then "Red Dawn Rising". Oh, dear. Well, it's just the press. It's not surprising.'
Huh?
If these are jokes, Donald Trump is a dignified statesman. The left's grip on comedy looks safer than ever…
• The Absolutely Essential Book of Jokes About the Left by Philip Dunn, illustrated by Sally Artz, is out now by self-publishing house The Choir Press priced £6.99 on Amazon.
Published: 13 Nov 2017
What do you think?