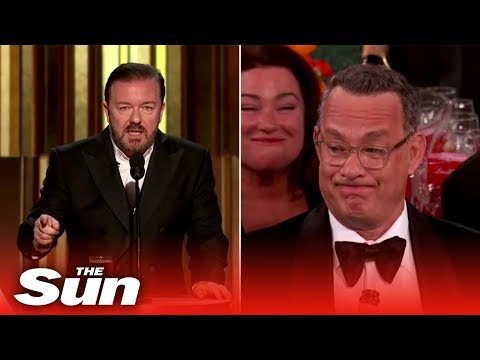 Ricky Gervais: His best jokes from the Golden Globes
Here are some of Ricky Gervais's best lines from last night's Golden Globes monologue.
The routine included quips about paedophile priests, Jeffrey Epstein and the fake sheen of wokeness that covers Hollywood.
He referenced Apple TV's The Morning Show and its theme of morality, adding that was 'rich coming from a company that runs sweat shops in Asia'.
Stars in the firing line included Leonardo DiCaprio – with Gervais quipping that he attended the premiere of the three-hour-long The Irishman – 'and by the end, his date was too old for him'
And - not included in this clip – he called James Corden a 'fat pussy', a reference to his role in Cats. Honest.
Every time the audience reacted with a gasp, Gervais said bluntly: 'I don't care'.
Published: 6 Jan 2020
Recent Videos
What do you think?