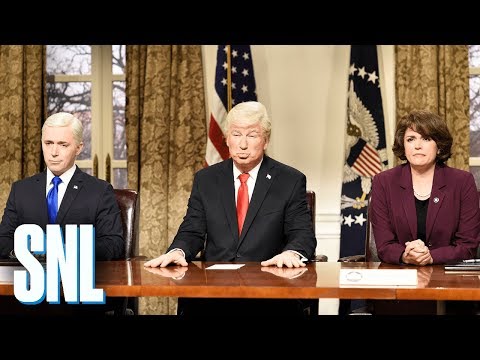 'I have the healthiest mentals'
Alec Baldwin returned to Saturday Night Live as Donald Trump yesterday, the day after the President slammed his portrayal.
On Friday, the leader of the free world took time away from sparking global trade wars to tweet: 'Alec Baldwin, whose dying mediocre career was saved by his terrible impersonation of me on SNL, now says playing me was agony. Alec, it was agony for those who were forced to watch. Bring back Darrell Hammond, funnier and a far greater talent!'
Although the originally called him 'Alex' in a hastily deleted version of the tweet.
Last night Baldwin mocked Trump's wavering on the issue of gun control and his boast that he would run unarmed into a school to confront a gunman
'We have to take a hard look at mental health, which I have so much of,' Baldwin's Trump said. 'I have one of the healthiest mentals. My mentals are so high.'
He also stated: 'I always said I was going to run the country like a business. That business is a waffle house at 2am: Crazies everywhere, staff walking out in the middle of their shift, managers taking money out of the cash register to pay off the Russian mob...'
Published: 4 Mar 2018
What do you think?