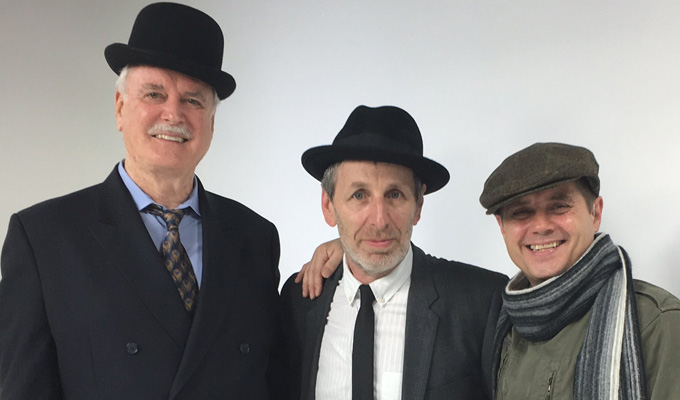 John Cleese remakes 'I know my place' sketch
John Cleese has recreated his classic 'I know my place' sketch as part of the Hacked Off campaign against the press.
In the new version comedian Ian Stone and actor John Alford take the place of Ronnies Barker and Corbett – with a canned laughter track added.
The original – written by Marty Feldman and John Law – parodied British class attitudes and aired as part David Frost's satirical comedy programme The Frost Report on 7 April 1966.
It starts Cleese uttering the line: 'I look down on him [Barker] because I am upper class.'
Barker says: 'I look up to him because he is upper class, but I look down on him [Corbett] because he is lower class. I am middle class.'
Corbett then says: 'I know my place.'
In the new version Cleese plays a wealthy man, Stone a newspaper editor and Alford an 'Average Joe'.
The new version starts with Cleese saying: 'I look down on him because I can afford to sue him' and makes the case for a change in the law to make it easy for ordinary people to take action against newspaper.
Writing on Twitter, Stone said: 'When he said "I look down on him" and looked at me, it was a very surreal moment. Thrilling though'
The video is part of Hacked Off's campaign to get the government to enact Section 40 of the Crime and Courts Act 2013, which Hacked off says will curb press abuses
The law would require newspapers that are not part of a regulator to pay legal costs of people suing them, even if the court finds in favour of the publication. Press owners fear this would lead to a rush of speculative claims with no merit, stifling genuine reporting.
Critics also say that even newspapers who sign up to the approved regulator could face multiple arbitration claims, which could still cost them up to £3,500 for each complaint.
There are also concerns about the agenda of the approved regulator Impress, which is primarily funded by the wealthy former Formula One boss Max Mosley.
Here's the new sketch:
• An earlier version of this story incorrectly stated that the regulator would be 'state approved'. Also, a couple of sentences have been rewritten to be clearer.
Published: 3 Nov 2017