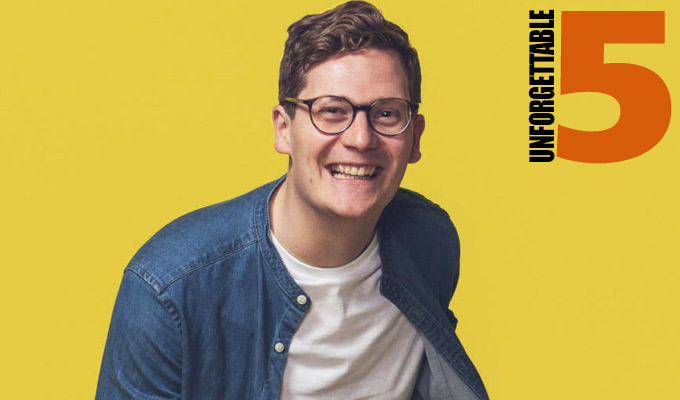 And then the booing started...
Robin Morgan – a comedian and Mash Show writer who has supported comics including Rachel Parris, Ellie Taylor, Iain Stirling and Stephen Bailey on their UK tours, hits the road himself next week with his new show about what makes a good male role model and father figure in the face of toxic masculinity. Here he recalls some of his most memorable gigs.
Worst gig
Jongleurs (RIP) in Covent Garden, June 2013.
My first paid 20 for them. Front row: stag do. Second row: stag do. I went on stage and my opener got nothing. At that point, another stag do filed in.
I tried to 'banter' with them. They did not enjoy it. I then proceeded to die on my arse for 10 minutes. The booing started at 11 minutes. I saw the best man on the front-row apologise to the Stag for me ruining his evening, as if I was the final nail in the coffin that had been his weekend.
Another man went to the bar (which of course was open during the show), bought a beer, brought it to me as a way of paying me off. I left the stage at 13 minutes, used all of my drink tokens on one big whiskey, then got the Megabus back to Cardiff. RIP Jongleurs. RIP.
First gig
Drones Club, Chapter Arts Centre Cardiff, July 2010 (coming up to ten years, oh boy time makes fools of us all).
I was booked by my now best friend Clint Edwards who is as handsome now as he was then. I didn't tell anyone about it but my girlfriend found out, turned up, we shared a bottle of rosé (it was 2010) and I think I did fine? I spoke incredibly quickly and think I did a bit of material about editing Dave Benson Philip's Wikipedia page. (It was 2010).
Least welcome post-show comment
This has happened a fair bit over the years, but it literally happened last night as I'm writing this.
So, I've just come off stage, it was a nice chilled Thursday night, and a drunk couple went out of their way to walk up to me and say: 'We think what you do is very brave. Putting yourself up there. With all the criticism. Ignore the dickheads. They were being dickheads. You keep going.'
I thought I'd had a nice gig…
Strangest audience member
There's been a few. Most of them off the back of previewing this show, given the subject matter. In Machynlleth, two men walked out when I started talking about the Gillette advert, I was quite worried I'd upset them until they came back in and told their wives to leave the show too. What fun, not controlling men!
Also in the running: the man in Coventry who told me mid-show I should read some Jordan Peterson who looked suspiciously like Jordan Peterson.
Gig That Changed My Life
Downstairs At The King's Head, early 2014. I hated travelling to London from Cardiff to gig because of the number of times I'd spend 4 hours on a coach only to find the gig cancelled. But I did DATKH and had such a lovely time, it genuinely made me want to move to London and see whether I could 'make it'.
My girlfriend and I moved that summer and without that move, I don't think I'd still be doing it. Got engaged a few months after too. Don't think that was directly linked to the gig, but it was definitely down to the move. Thanks, Peter at the King's Head!
• Robin Morgan kicks off his tour – What A Man, What A Man, What A Man, What A Mighty Good Man (Say It Again Now) – at The Bill Murray in London on February 5, ending at the Glee Club in Cardiff on Sunday 31 May - the venue where he used to work at behind the bar. Dates here.
Published: 29 Jan 2020
What do you think?